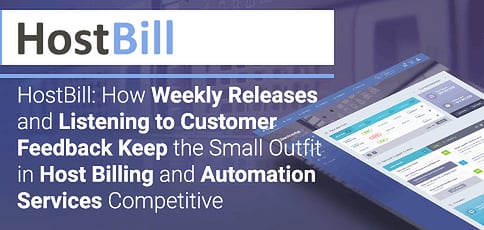 TL; DR: Managing a hosting-related business involves using many different tools and processes. With HostBill, sysadmins at companies in the hosting, cloud services, and domain name and SSL reselling businesses can perform multiple aspects of their work using a single platform. The small team combines automation, billing, client management, and support functions with more than 500 integrations and features — most of which are created in response to customer feedback and the team's own experience in the hosting business. Kris Pajak, founder and CEO of HostBill, chatted with us about how weekly releases keep its customers' operations running smoothly and why flexibility with billing is one of the most important aspects of the product.
While working as a developer in the web hosting business, Kris Pajak became frustrated with the lack of automation and integration of different tools needed to manage hosting operations.
"The platform that we were using back then was missing a lot of features that could make our daily operations easier," Kris said.
His experience in web hosting lead him to build something from scratch that could do just that. In 2009, Kris founded HostBill to provide a more seamless and pain-free experience for system administrators in the hosting, cloud solutions, and domain name and SSL reselling businesses. And keeping a close eye on these markets still guides the company's progress.
"From day one, the way we differentiated from other competitors is that we focused mainly on integrations with third-party vendors," Kris said. "Our approach is to bring the end customer a single-pane-of-glass experience. When he looks into the billing portal, he can manage all the aspects of the hosting — like email boxes or FTP — from the one single panel without learning all the logins or the new control panels."
With integrations as the company's main focus, HostBill has released more than 500 integrations with an array of tools, including cPanel, Plesk, DirectAdmin, Enom, and Open SRS. More recently, its developers have focused on building feature-rich integrations with OnApp and OpenStack.
"In this year alone, we've introduced 20 new integrations to our marketplace," Kris said. "As we grew as a business and as the market grew, we focused more on more complex aspects of the hosting business — datacenter integrations and cloud hosting in general."
The company's goal is to build out as many integrations as needed to allow for seamless system administration for online businesses. Kris told us HostBill aims to provide a service platform with automation, billing, and client management and support functions that can meet the needs of many different companies that provide a variety of products and services.
"This is one key ingredient for the billing platform to be as flexible as possible, since no companies are selling just one product," he said. "It's not just hosting nowadays. People are doing consulting, management, cloud, VPS hosting, and more under one brand. Billing platforms should be capable of billing all those things."
Envisioning Solutions for All Hosting-Related Businesses
Kris has lead HostBill's team to develop a billing system that adapts to the different ways hosting clients calculate their use of resources. These methods include subscription-based, hourly, metered, power, and bandwidth billing.
"HostBill can do metered billing, where it can measure resources consumed over time by a customer," Kris said. "It can also do power billing, so we can measure the power consumed by a server or the rack by connecting to the power distribution unit in your datacenter."
HostBill's bandwidth billing approach collects data usage information from third-party applications Cacti and Observium and uses those numbers to charge the customer. These apps can also show customers their individual usage graphs.
"We added another layer that is missing for those applications," Kris said. "We can bill for the data coming from them."
HostBill offers four different tiers of the product at a one-time cost. As the level of service increases, customers get additional support cases, integrations, and apps. HostBill releases a new version of the software each week to make sure customers get the most from it no matter which price point they choose.
"Our other approach to software, in general, and to the automation software is to release as often as humanly possible because, with software, bugs do happen," Kris said. "Not only does it fix any bugs, but we also introduce new features and new integrations."
The weekly update is a simple process for customers since HostBill introduced automatic updates in 2014.
"The weekly release wouldn't be so effective for our end customers if they would need to update HostBill manually," Kris said. "The staff member just clicks on the update button, and he gets the latest HostBill version automatically. He doesn't need to go through all the hassle of updating files and making sure everything is OK after the update."
New Plesk Integrations Ease Pain Points for Sysadmins
Having worked in the hosting industry before developing HostBill, Kris and his team have a solid understanding of what hosting managers need to keep customers happy and working efficiently.
"We've been there, and we know the downfalls of being a system administrator and doing the daily routines," Kris said.
Many sysadmins use Plesk as their web hosting control panel. To accommodate them, HostBill has built integrations that focus on improving the user experience. The company recently launched a new set of tools that integrate with Plesk. One of these tools, the Plesk Service Plan Sync tool, helps sysadmins synchronize different service plans in one Plesk installation.
"The idea behind this is that no hosting company is running one Plesk installation," Kris said. "Most of them are running 10 or 20, or more, depending on the size of the company."
A major pain point for sysadmins has been that, when service plans change, such as an increase in mailbox size, it creates manual work for them. Admins must go through each of the old installations and make sure they are updated with the new service plans. The Sync tool does all of this automatically.
"We introduced a simple plugin-in concept you can use to install one Plesk installation that would serve as a master for all the service plans," Kris said. "Just hit 'synchronize,' and it will do all the dirty work for the staff member."
Another new tool, the Plesk Key Administrator, allows users to resell Plesk software licenses and add-ons. HostBill creates the licenses, provisions them and then terminates them automatically, and facilitates automatic renewals, billing cycles, and account management. The Plesk DNS Helper allows HostBill clients who use Plesk to connect with HostBill-supported DNS services in multiple Plesk instances on a single, master DNS server.
"It makes the system administrator's life a hell of a lot easier," Kris said.
Placing Product Development in the Hands of Users
The key factor that determines what new features are included in HostBill is customer feedback. HostBill's website includes a Feature Request section that is a primary source of the company's innovation.
"We've listened to them from day one, and they've never been wrong," Kris said. "They may have some crazy ideas, but, if we see that the ideas keep repeating and people are asking for the same thing, it would be silly not to integrate something."
The company also runs market research campaigns to see how customers are using HostBill, what they like and dislike, and what other products they're using. While Kris said HostBill avoids copying what its competitors are doing, the company follows what its customers say they need.
"We discover what's new and what's hot," Kris said. "If a customer says a competitive hosting company has some cool new feature, and asks 'can you do that for us,' we can integrate it into our platform or we can do custom development."
Staff members at HostBill also sometimes develop new features in response to the team's own requirements because they use the platform in their day-to-day operations, too.
"We are scratching our own itch with new features sometimes," Kris said. "If some new software or ticketing feature is coming out, it's most likely because we needed it — just to make our lives easier."
Being a small company may have its drawbacks, Kris said, but it also enables the company to respond quickly to the market and to customer requests.
"We can bring new integrations and features to the market quickly," Kris said. "Part of what enables us to do so is that we are small. We're nimble as a company, and we can change and adapt our software as it's needed."
Integrations and Features to be Offered À La Carte
In its early years, HostBill worked primarily with smaller customers, but, since gaining more attention, it is serving some big players that have more and bigger requirements. One way it has successfully catered to clients with different business strategies is by designing its billing platform to allow billing by individual components. This solution has been particularly useful for datacenters and colocation services.
"The main challenge for datacenters was that every business is doing their automation a bit differently," Kris said. "There is no one group solution because there are different offers across the market."
By allowing customers of companies using HostBill to select individual components of a product, rather than preselected products, the platform can provide products that suit the requirements of most businesses.
"It's easy to create a product where the customer selects a particular component — say RAM or disk space — and compose it during the order process," Kris said. "We shifted the workload from the sales team to the customer, since the customer composes a product by himself during the order phase."
As HostBill expands, it's looking for ways to make features and integrations more customizable to offer flexibility to its clients. Similar to the adaptive billing solution it developed, HostBill is creating an á la carte service plan that will allow its customers to choose exactly which features and integrations they want.
"We plan to implement a bit of change in our plans, or possibly a new plan, allowing you to customize what you actually need from HostBill," Kris said. "If you go with enterprise edition, you have Plesk integration included, but not everyone needs everything."
Staying true to its focus on flexibility, HostBill will implement this change to allow its customers more control over their particular instance of the platform.
"What we plan to do is make some sort of wizard where you can select what sort of integration you're going to use and what features you are going to need, and, based on that, we will create a custom plan for you," Kris said.
Advertiser Disclosure
HostingAdvice.com is a free online resource that offers valuable content and comparison services to users. To keep this resource 100% free, we receive compensation from many of the offers listed on the site. Along with key review factors, this compensation may impact how and where products appear across the site (including, for example, the order in which they appear). HostingAdvice.com does not include the entire universe of available offers. Editorial opinions expressed on the site are strictly our own and are not provided, endorsed, or approved by advertisers.
Our Editorial Review Policy
Our site is committed to publishing independent, accurate content guided by strict editorial guidelines. Before articles and reviews are published on our site, they undergo a thorough review process performed by a team of independent editors and subject-matter experts to ensure the content's accuracy, timeliness, and impartiality. Our editorial team is separate and independent of our site's advertisers, and the opinions they express on our site are their own. To read more about our team members and their editorial backgrounds, please visit our site's About page.