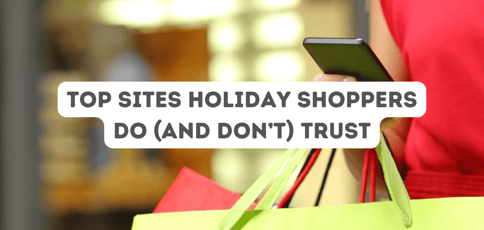 HostingAdvice survey reports that women (10.9%) are about half as likely to trust Google Shopping as men (20.2%).
As Black Friday ads promote dozens of websites designed to create a safe and trustworthy holiday shopping experience, a new study from HostingAdvice found that Americans overwhelmingly view Amazon and Walmart as the most secure websites to find holiday deals.
Baby boomers reported having the least trust in online retailers, including Wish (1%), Facebook Marketplace (4%), and Google Shopping (5%).
Only 16% of Online Shoppers Deem Google Shopping Trustworthy
The survey revealed that 72% of respondents chose Amazon and Walmart (49%) as the top retailers for offering the most secure online holiday shopping experience. Other top picks included Target (35%), Best Buy (22%), and eBay (21%).

However, while consumers overwhelmingly trust sites like Amazon, Walmart, and Target with their online security, survey responses showed a number of sites have a bad rap.
Those surveyed said they were far less likely to trust Google Shopping (16%), Facebook Marketplace (12%), and Wish (11%).
Amazon Alternatives to Find the Perfect Gift
Amazon is not the only secure source for buying holiday gifts this season. Many online retailers offer a secure, user-friendly shopping experience.
With more than 140 Black Friday ads touting deals for the holiday shopping masses, HostingAdvice.com has hand-picked these websites for gift-seekers looking for a safe shopping experience to find unique gifts for their family and friends.
Barnes and Noble
Build-A-Bear
Craft Warehouse
Gamestop
Music and Arts
Newegg
Northern Tool
The Children's Place
Udemy
ULTA
Big retailers may seem to have everything and make it easy to find deals, but the sheer number of similar items from the large variety of known and not-so-known brands can make it difficult for consumers to know they're getting the best value.
For those overwhelmed with endless choices, dozens of very secure websites offer a more unique experience and selection.
Keep Yourself Safe This Online Shopping Season
With all the hustle and bustle of the holiday season, it's easier than usual to fall prey to scammers trying to collect your personal and banking information. Scammers know people are distracted during the holidays, and they rely on that fact to trick you into falling for their phishing attempts.
Follow these security best practices to protect yourself online:
Only shop on websites that use HTTPS encryption (look for the lock icon in the address bar)
Keep your antivirus software updated
Use strong passwords
Consider using a VPN when you're browsing on public wifi
These tips can't block hackers from targeting you completely, but they can help prevent your information from falling into the wrong hands.
Survey Methodology
A national online survey of 1,036 U.S. consumers, ages 18 and over, was conducted by Propeller Insights on behalf of HostingAdvice in October 2023. Survey responses were nationally representative of the U.S. population for age, gender, region, and ethnicity. The maximum margin of sampling error was +/- 3 percentage points with a 95% level of confidence.