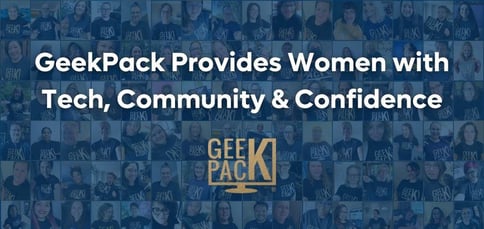 TL; DR: When pursuing a new career, finding the right community is often as important as getting the best education. And that is especially true in the tech community. GeekPack understands the importance of community-supported training and offers people the tools and resources to thrive in their tech careers. GeekPack provides education and post-education support on everything from coding to marketing a business. We spoke with Halley Moore, Partners Program Manager at GeekPack, about the organization's initiatives and impact.
Julia Taylor was a military wife when she first realized the problem. Like many other military families, she and her spouse were always on the go, chasing the next base assignment. But all this traveling came with its challenges. Never having a steady location made it difficult for Julia to land a high-level job despite her education and background in Intelligence.
So she went after a career that could give her two things: time flexibility and location independence. Tech ended up being the answer. Delving into coding, she taught herself WordPress programming and started her own business. But something was still missing.
As a self-taught programmer, she didn't have a strong community and found it challenging to find a tech space where she felt welcomed. She needed a place where she could feel free to ask questions, learn new skills, and discuss industry updates. So Julia created her own solution, GeekPack, in 2018.

"The goal was not only to provide an opportunity to learn in-demand, transferable skills to take control of your life but also to create a community where people feel engaged, and there's no such thing as a stupid question," said Halley Moore, Partners Program Manager at GeekPack.
GeekPack is an organization that provides women with the tools and resources to pursue or advance their tech careers. Here, women and other students can feel empowered to trade knowledge, chase after their dreams, and thrive in the tech space.
Tools and Resources for Women to Thrive in Tech
GeekPack prioritizes three pillars: tech, confidence, and community. These pillars allow GeekPack to create a space where members can feel safe and comfortable to grow at their own pace while trusting they will find the knowledge they need to advance in the tech industry.
GeekPack offers products covering multiple career areas, including coding education, digital skills, client relationship management, and business skills. With this comprehensive curriculum, the GeekPack team helps prepare members for the real world and sets them up for success. One of its most popular products is WP Rockstar, which focuses on WordPress development.
"WP Rockstar is a business-in-a-box curriculum that teaches the basics of coding, WordPress, marketing, and building their business. We also have a whole coaching program where people have access to experts in sales, marketing, and SEO," said Halley.
Its other product, GeekPack Collective, is a monthly membership offer. GeekPack Collective goes beyond WordPress teachings and provides in-depth information on SEO, copywriting, machine learning, and other programming languages, among other topics. Users can leverage the membership to hone in-demand digital and tangible skills so they can upskill within their careers.
But everything within GeekPack goes back to one thing — community. "All of our products have a community space. So there's a dedicated community space for people going through the WP Rockstar program. Afterward, if they want to continue to engage and have that support, they can continue with a membership," said Halley.
Partners Program Opens Doors for Other Communities
People often say there's strength in numbers. GeekPack proves they're right. By putting community at the forefront, GeekPack allows budding tech professionals to find the support they need to reach the next level. GeekPack also goes a step further and works with other mission-driven organizations to expand resources for underserved communities.
"We partner with them to create specific learning paths and programs for their communities. It's built on the same community-supported foundation of pure knowledge sharing, interacting with people, and doing live facilitated cohorts on the materials so they can feel engaged," said Halley.
Under Halley's leadership, GeekPack formed the Partners Program, which is a new initiative. The pilot program is currently underway with the Wyoming Women's Business Center. GeekPack has developed custom digital marketing training for the group to offer its members.

The Partner Program has also been an excellent opportunity for the GeekPack team to learn more about resource gaps and community needs and enter the conversation on how to serve those needs. In a larger sense, the team can talk to everyday people who aren't in the tech ecosystem and figure out how to help them break into these careers.
GeekPack understands that many organizations have the drive to close the skills gap, create opportunities for women, and bring minority voices to the table. But they may not always have the means. So the Partner Program was designed to establish the response to those needs.
"Many organizations have the mission but don't have the people or infrastructure — like hiring an entire training department. It's just not feasible. So, for us to come in and fill that gap between mission and execution helps them achieve their goals and allows us to reach a wider audience," said Halley.
Advice for People Looking to Take the Leap into Tech
GeekPack has grown exponentially and has seen 20% yearly growth since 2020. This has significantly impacted people's lives. And GeekPack will continue to be a viable opportunity for people who want to enter the tech community. The current need for digital skills is sky-high, with 93% of all US jobs requiring these skills. So the current and future workforce will need GeekPack's resources.
"We have a lot of people who are in transition and looking for marketable and attainable skills. We have people who may be stay-at-home moms who had to leave their careers. Or COVID had to make them figure out an entirely new way to live their life," said Halley.
GeekPack helps people from all walks of life discover their potential in tech. Halley said many people hesitate to pursue tech, thinking it may be too daunting. But she said most people have more skills than they think, starting with their innate soft skills.
"You can learn a lot if you have the right support. Community and confidence are the two pillars of everything we build because I truly believe that can launch you toward so much if you have that foundation," said Halley.
GeekPack is more than serving women but creating an inclusive space for people to prioritize learning, share experiences, and feel comfortable asking questions.
"Even though we often are speaking to women, our communities are built for anyone who is seeking a space to be seen and heard and values learning, collaborating, and open communication — where there's no such thing as a stupid question," said Halley.