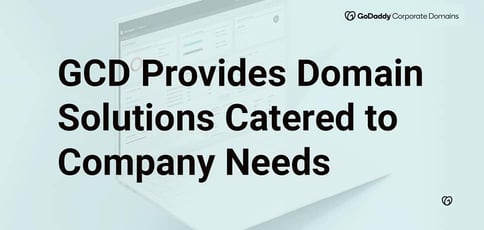 TL; DR: GoDaddy Corporate Domains streamlines domain portfolio management by deploying a suite of solutions tailored to a company's needs. GCD provides distinctive features that simplify corporate domain duties, including consolidated billing, advanced security, global TLD coverage, and dedicated client services. Its innovative Brandsight platform offers data insights that companies can leverage to gain visibility into their domain use and determine the value or purpose of their domains within their operations.
When I created my first website, the journey wasn't all smooth sailing. It required research, creative planning, and an endless number of YouTube tutorials before I could even decide on a website builder. Then the real journey began, and the first step was choosing the best domain name. This step was critical because I wanted a unique and memorable name that was tailored to my brand. A phrase that visitors would remember me by and that I didn't have to change the following year.
For most businesses, their domain name is their namesake. It reflects their image and leaves a lasting impression on their audience — usually the first impression. Customers refer to it when telling a friend or family member about their awesome new find. So it's no surprise that many companies want to protect and manage such a valuable piece of their brand.
Trademarks are one of the methods most employed to protect brand reputation. It allows companies to build public goodwill and stop others from using their signature assets. GoDaddy Corporate Domains helps companies combat domain abuse and manage their domain name portfolios. Elisa Cooper, Head of Marketing at GoDaddy Corporate Domains, told us that many companies have thousands to tens of thousands of domain names, with some having upwards of 50,000 names.


"If you're a well-known brand, typically your domain portfolio consists of variations, misspellings, typosquats, and infringing names you've recovered from others. So domain name portfolios can be very large and typically grow over time," said Elisa.
International brands have the most extensive portfolios because of their ccTLD holdings, but online brands also have many domain names that include variations, typos, misspellings, and so forth. When companies have so many domain names, management becomes more complex, and typical retail registrars won't be much help in this process. This is where GCD steps in.
Going Beyond the Bounds of Retail Domain Registrars
Companies with large portfolios can turn to a corporate registrar like GCD to obtain management assistance tailored to their specific needs. Since its launch in 2020, GCD has helped brand owners tackle registration tasks and simplify their domain journey. The company goes a step further by addressing issues and maintenance functions that retail registrars can't, including consolidated billing, advanced domain security, global coverage, and dedicated client services.
GCD's global TLD coverage allows companies to meet standards and fill the gaps in their complex portfolios. Some top-level domains require trademarks, local presence, or business registration numbers. Managing these requirements can be time-consuming and manual. GCD offers a solution by helping companies better track these requirements and discover TLD opportunities.
"Those TLDs are typically not offered by retail registrars but by corporate registrars. Corporate registrars provide that full breadth," said Elisa
GCD also takes security to another level. Clients can leverage support for multiple security measures, including single sign-on, access restrictions, and granular user permissions. These measures allow users to restrict what others can and cannot do, and limit access to their domain management portal, which gives them more control.
As companies add additional domain names, billing also becomes more complicated. While retail registrars typically receive payment via credit cards, GCD facilitates billing by creating monthly consolidated invoices. This solution streamlines processes so that domain professionals can focus on managing their domain portfolios instead of tracking payments.
Deploying the Brandsight Platform to Optimize Portfolios and Mitigate Risks
GCD offers multiple technological advancements in domain management. But Elisa told us the company mostly prides itself on its Brandsight platform, which allows domain managers to gain valuable domain insights. Most companies leverage the platform for two reasons: to optimize their portfolios and mitigate risks. And the platform's benefits can't be found anywhere else.
"It provides unprecedented insight into how domain names are being used. We bring over 70 different data points, and that's unique, something that our competitors don't do. And we built this product based on talking to a lot of corporate domain professionals," said Elisa.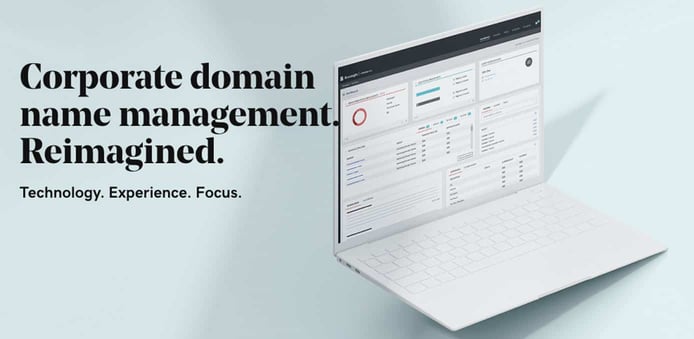 By going straight to the source — i.e., domain experts — GCD obtained relevant information on what would make the management process more efficient. Many domain professionals would collect data and manually input it into spreadsheets. But by the time they gathered this information, it would be outdated. GCD simplifies this process by harvesting data for them and generating the data fields.
GCD's Brandsight platform enables clients to understand how to wield domain data for better value and purpose. Users can find the answers to pressing questions, including information on locking status, DNS setup, SSL certificate associations, and http status, among others. GCD also harvests data for names not under its management so clients can add any domain name to gain insight. Users will also appreciate the consolidated view and features they can leverage to organize their data fields.
"The platform allows our clients to group names, categorize them, and tag them so that they can let certain users see certain sets of names and other users see other sets of domains. Clients can also capture additional information themselves," Elisa said.
Catering to Customer Needs With Dedicated Client Services
One of GCD's biggest differentiators is its dedicated client services. Navigating the domain management process alone can be intimidating, and factoring in your goals makes it more difficult. Thankfully, GCD assigns a dedicated client service manager to each of its accounts to understand every client's needs and ensure client objectives are met.
"Some companies are focused on building large portfolios that contain a lot of defensive registrations," said Elisa. "Others are focused on their coverage and the TLDs that they're in or interested in trying to pare back. So their dedicated client service manager will help them to achieve those things. It's a true white glove service."
Customers can rely on GCD's white-glove approach to accomplish almost anything domain-related. And no need to worry about onboarding. GCD develops a transfer plan based on client needs and breaks the domain names into different groups. Every client signs off on the trajectory before GCD initiates moving the domains over. Client service managers help clients maintain a vital balance of their domain name portfolios.
GCD also has a VIP program that brands can use to combat fraudulent name use. The program provides an escalation path for prevetted brands to address abuse by leveraging an email name created for them to submit and follow up on any issues with its IP team. The VIP program is invite-only, but well-known companies can request an invite.
The GCD team makes a habit of listening to and answering customer requests. The company used customer feedback to develop an alerting functionality that monitors changes to tracked domains and sends an email to alert the client. By leveraging customer input, GCD continues to improve the data they gather and how they report it.
"In terms of our own product and service pipeline, one of the things that we have is a customer advisory board, a select group of clients that we meet with about once a quarter. And most of our product road map is derived from their needs, so it's constantly changing," said Elisa.