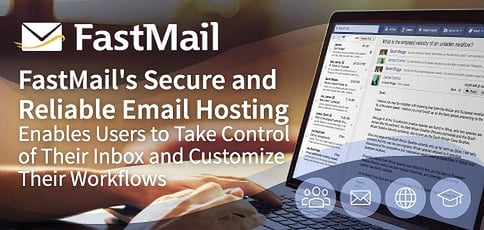 TL; DR: The largest independent email provider, FastMail brings inbox management software to more than 150,000 customers around the world. The company's top priority, in an age of inbox overload, is to make email feel less like work — by making it work for the customer. FastMail and its related products give users the flexibility and power to control the flow of information in and out of their email. Helen Horstmann-Allen, COO at FastMail and long-time email services veteran, chatted with us about the unorthodox notion of making work emails a shared resource and how the company plans to take up less of its users' time.
Helen Horstmann-Allen doesn't have the typical response when you ask how she came to work for FastMail. After running email services Pobox and Listbox for nearly 20 years, she approached the independent email hosting platform about buying her company, thinking the company would be able to take her vision even further.
"When you have your own company there are lots of reasons to sell it and lots of reasons not to," said Helen, now FastMail's Chief Operating Officer. "For me, I wanted to make sure that my customers were going to go somewhere where they would get treated the same way that I would treat them."
FastMail's values of privacy and owning one's own data aligned with hers, and the two groups decided to merge platforms. Since then, the FastMail team has enhanced the products that Helen's company brought in and has devised new ones that are changing the way people think about email.
From the beginning, FastMail has been centered on making a quick and easy web email interface. Over time, the company's vision has evolved beyond email to how email fits into the bigger picture of a customer's workflow.
"FastMail is really about how fast we let you be," Helen said. "Lots of websites out there are really focused on capturing your eyeballs for as long as possible. We're at the far opposite end of that spectrum. The value proposition that we give to customers is that we're not trying to take up more of your time."
Preserving Individual Email as Cultural Memory
Email is like an electronic cultural memory. It reminds teams of past interactions, drives future innovation and decisions, and keeps current projects on track. FastMail's newest product, Topicbox, takes this cultural memory and preserves it by placing it in a shared environment from the start.
"Think about what is in your email: It's everything you've done, it's everywhere you've gone, it's everybody you've talked to, and it's everybody you care about," Helen said. "Now, think about it at work. If somebody leaves your team, you get a copy of their inbox or their folders and it lives in some directory somewhere that maybe the IT guy can get at, but it's essentially gone."
With this in mind, Topicbox allows for the sharing of messages sent and received by anyone in the company and provides customizations to keep inboxes manageable. Message threads are assigned to different groups, and users can choose how many and what types of emails they receive from each group.
"If you've got a team that's all in the same time zone, you can just use a chat because they can all talk to each other," Helen said. "But once you start moving people where they aren't working at the same actual time on the clock, it's doesn't work."
In addition to its predicted success among established commercial and nonprofit organizations, Topicbox also resonates with smaller teams across a variety of markets, Helen told us.
"If you're a small business, if you're a startup, you want to see who your colleague is talking to as a potential client you're pitching," she said. "The part of the group discussion that the person had with that client is really valuable."
The notion of deprivatizing email can take a while to get used to, according to Helen, but clients overall see improvement in communication and workflows.
"It's a little bit of a mindset shift," she said. "Email is still one to one, but it can be accessed well beyond that."
Understanding Customer Workflow to Fine-Tune Functionality
In the never-ending quest to figure out how FastMail can make life easier for customers, Helen said the answers often come from everyday interactions with clients.
"I love to talk to customers," she said. "I don't think my ideas are the only ones that make sense. Often, you talk to customers, and you start to explain something to them, and they give you this confused face. You realize, 'Oh, this is not how other humans think about this problem.'"
One feature that came out of such conversations is the ability for people to customize their notifications on the mobile versions of FastMail's products.
"With most systems, either you can get pinged a zillion times a day, or you can turn them all the way off," Helen said. "We want to give them a little more flexibility so they can say, 'Actually, I'd like a notification from these important people or this important folder.'"
The customer support team is intentionally overstaffed so team members can spend more time individually with clients. They're constantly engaged in casual daily research on what makes customers tick and how they interact with the products.
"Our support team is very explicitly not trying to get through as many tickets a day as we possibly can," Helen said. "These are the people who actually talk to our customers the most, so they are going to be the first ones who hear new ways that customers think about and talk about our products and email in general. We make space for them to do something with that information, from blogging to working with our developers to make improvements."
Collaborating to Build Open-Source Solutions
Not only a leader in the email industry by way of its high-performing products, FastMail also collaborates with other companies and organizations to make email better for everyone — regardless of the platform they're using.
"Our technical teams work in industry groups on email and calendar standards, in anti-spam and anti-abuse groups, and in the open-source community building email tools used by thousands of organizations to power their own products," Helen said.
As a foundational technology used by everyone with increasing volume, email demands new and improved ways to make it more efficient. Being part of building standards and open-source tools enables FastMail to take solutions beyond its customer base to understand and address concerns of all emailers.
"Open-source work is terrific because the value isn't just the technology," Helen said. "It's important for us to be part of building the standards and building the tools that say this isn't a technology that's limited to just one place or just one company."
The collaborative culture at FastMail lends itself to open-source work. From customer service representatives to software engineers, all voices are heard to get a holistic view of problems and potential solutions.
"Empowering them to do more I think is incredibly valuable in terms of how we talk about our product to our customers, but also how we think about it and build the next generation of it," Helen said. "You get all these different people with different experiences in the room, and you can go to a lot of places in a short amount of time."
Innovation Focused on Productivity and Privacy
In an effort to get past the mundane email communication to focus on innovation and mission-critical work, businesses are retreating from "always-on" communication tools and optimizing efficient workflows, according to Helen.
When it comes to innovation at FastMail, reducing the time spent in email inboxes is the top priority. New features in development include snooze and undo send capabilities, as well as a system to help customers categorize their emails more effectively.
"I think if you look at the email space, that's what people are interested in now," Helen said. "They're interested in tools that make them more productive."
Customer privacy is also a primary consideration when developing new product features and enhancements, Helen said. With security issues involving various free email and social media services making headlines, privacy is at the forefront of business and technical conversations in the email industry.
"In the era of Facebook, people are coming to realize more and more the high cost of free," Helen said. "We've seen a huge trend in customers moving away from the free providers because they want to know that their data is private, and their providers are working for them, not advertisers."
Because the company has prioritized privacy since its founding more than 15 years ago, it's in a position to stay ahead of those vulnerabilities. Like many other online providers, FastMail recently completed preparations for the GDPR (General Data Protection Regulation) — a European Union regulation intended to give citizens increased protection and control of their personal data — but it mostly involved creating documentation instead of changing business practices to come into compliance.
"Our longtime focus on customer privacy has allowed us to be a standard-setter in terms of what our customers expect from other providers," Helen said. "Being part of the standards community is part of making sure that we are continuing to build and put our best effort into the next generation of the technology."
Advertiser Disclosure
HostingAdvice.com is a free online resource that offers valuable content and comparison services to users. To keep this resource 100% free, we receive compensation from many of the offers listed on the site. Along with key review factors, this compensation may impact how and where products appear across the site (including, for example, the order in which they appear). HostingAdvice.com does not include the entire universe of available offers. Editorial opinions expressed on the site are strictly our own and are not provided, endorsed, or approved by advertisers.
Our Editorial Review Policy
Our site is committed to publishing independent, accurate content guided by strict editorial guidelines. Before articles and reviews are published on our site, they undergo a thorough review process performed by a team of independent editors and subject-matter experts to ensure the content's accuracy, timeliness, and impartiality. Our editorial team is separate and independent of our site's advertisers, and the opinions they express on our site are their own. To read more about our team members and their editorial backgrounds, please visit our site's About page.