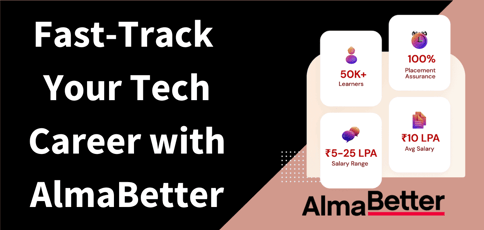 TL; DR: AlmaBetter, a growing online learning platform, has a clear mission: to bridge the gap between tech education and employability. Shivam Dutta, CEO and Co-founder AlmaBetter, tells us about its accredited tech programs, which include courses like the Full Stack Developer Certification and Masters in Computer Science. AlmaBetter has also cultivated a vibrant community, hosting live sessions, master classes, workshops, and a valuable knowledge hub, making it a perfect online option for aspiring tech professionals.
If you own a television, you've probably seen the commercials about furthering your education with online courses or degree programs. And chances are, you've thought about returning — whether as a fleeting thought or a growing curiosity.
If so, you're not alone: Around 60% of American adults have considered returning to school. But not everyone takes the leap to go back. That's usually for a few reasons, including the main hurdles of finances and lack of access to classes.
But there's never been a better time to further your education, especially if you're interested in computer science, web development, and information technology.

Technology is one of the fastest-growing and highest-paying industries today — and you can dip your toes in with something as simple as a certification or continuation of your degree journey.
AlmaBetter is an affordable, flexible, and institution-accredited option for anyone interested in a technology career who needs to spruce up their education first.
Shivam Dutta, CEO and Co-founder of AlmaBetter shares with us how this platform has successfully connected thousands of students with 700+ hiring partners, including prominent names like Amazon, Uber, Target, and JP Morgan.
AlmaBetter Bridges the Tech Employability Gap
Intended as a play on "alma mater," AlmaBetter was founded to bridge the gap between education and employability within the tech industry.
It offers five online-only, institution-accredited certificates and degree programs with various tools, events, and resources.
"We recognized the evolving demands of the job market and the need for practical, industry-relevant skills, so our journey began with a vision to empower learners with the knowledge and expertise required to excel in the ever-evolving tech sector," explained Shivam.
Now, AlmaBetter's mission is to provide valuable, outcome-based education that prepares students for high-growth careers with tech certification programs and degrees, including:
So far, the enrollment numbers have been impressive. Shivam says it's because there's been a high demand for certifications and degrees thanks to the rapid expansion of the tech industry and the need for job-ready skills.
AlmaBetter is based in India but serves international students from anywhere with US-, EU-, and Canada-recognized institutions and European Credit Transfer and Accumulation System accreditations — so you can take these courses and get a job anywhere.
But if you're interested in working out of India, you're in luck: The country's tech market has seen signs of growth, with 70% of companies looking to add to their teams in 2023 alone.
"There's now a constant need for skilled professionals," Shivam said. "The flexibility of online education, like AlmaBetter, allows learners to upskill or reskill while balancing other commitments, making it an attractive option in today's dynamic job market."
Embarking on the Path to Educational and Career Advancement
Looking at the current industry trends and job market demands may seem like an obvious step before nose-diving into a new career path. But Shivam suggested doing some research on the actual education paths as well.
"Spend time researching the degrees that best suit their needs and ensure that the institute they opt for offers high-growth careers and relevant skills," he said.
He also advised doing research on the institution before making any major decisions. AlmaBetter is an international online institution specializing in technology education, but its team also takes it a step further with round-the-clock support and extra resources.
"We offer 24/7 access to a support lounge for query resolution, ensuring that students from different time zones can get assistance whenever they need it," Shivam explained. "Our instructors and mentors work closely with international learners to address their specific learning needs."
Don't just take Shivam's word for it: AlmaBetter's placement statistics say plenty more.

According to its research, AlmaBetter freshers — a term describing a fresh graduate looking for new job opportunities — consistently receive higher than standard salaries when they enter the workforce.
Although online degrees and certificates offer a flexible and convenient way to acquire new skills or enhance existing ones, making the decision to pursue that step is a different story.
"I advise prospective learners to leap into online education confidently," Shivam said. "By embracing online education, learners from anywhere can unlock new opportunities and remain competitive in today's rapidly evolving job market."
AlmaBetter Offers Tools and a Community Beyond the Classroom
In addition to two certification programs, two Master's programs, and a Bachelor's degree, AlmaBetter also provides an inclusive, supportive, one-stop-shop community for anyone enrolled in the institution:
"We provide extensive study materials and a collaborative learning environment to foster a sense of belonging and support among our diverse student body," Shivam explained.

AlmaBetter will soon unveil a few more resources for its Bytes feature. Students can watch expert-led videos that break down complex topics, sign up for free courses to further enhance their expertise, and practice with interview preparation resources, mock interviews, and résumé tips and tricks.
AlmaBetter's commitment to a smarter workforce is more than evident: Its thoughtful programs equip students with the skills and knowledge needed to stand out amid today's growing yet competitive tech job market.
So what are you waiting for? Jump-start your tech career. Explore the AlmaBetter courses today.