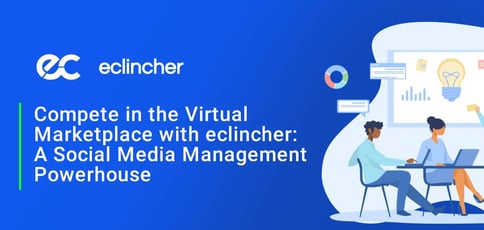 TL; DR: If you need a full-service social media management tool that will keep you afloat in today's churning ecommerce waters, look no further than eclincher. The powerful all-in-one SaaS product, hosted in the cloud, contains all of the tools social media marketers need, from collaboration, publishing, and scheduling solutions to social listening, monitoring, and analytics tools. Moving forward, eclincher will continue to provide solutions befitting both its SMB and enterprise clients, including a robust brand reputation management solution that's currently in the works.
Before the rise of ecommerce, brick-and-mortar retailers turned to traditional marketing channels — think direct mail and magazine ads — to stand out among the competition spanning bustling malls, shopping centers, and outlets.
But that market is nothing compared with the sea of advertising noise that is the internet, especially amid an ongoing pandemic. Many businesses have been forced to shift their sales and marketing strategies online, accelerating growth in the ecommerce industry — and making the internet's sales environment all the more crowded. In this new landscape, the advertising channel of choice is undoubtedly social media.
"The internet is now larger than the biggest shopping mall you've ever seen," said Jenn Guidry, Director of Marketing at eclincher. "A lot of companies are figuring out how to define engagement and measure success on social media. It's one thing to figure out how to get started online, but it's another to flourish."
Tools like eclincher, an end-to-end social media management tool, are helping businesses do just that. The Software-as-a-Service (SaaS) platform, conveniently hosted in the cloud, makes it possible for everyone — even those with limited resources and online knowledge — to maximize their potential.
The robust yet easy-to-navigate solution empowers marketers to save time and boost their bottom lines by automating their strategies, engaging with audiences, and tracking campaign effectiveness. It also allows them to leverage an entire catalog of tools for creating content, publishing to multiple social accounts, accessing and editing images, monitoring live feeds, streamlining workflows, and receiving analytics.
The company's partnerships with the biggest names in social networking — including Facebook, Instagram, Twitter, LinkedIn, Google My Business, YouTube, and TikTok — make managing and organizing a social media presence even easier.
"eclincher is a value-rich, end-to-end social media management platform at the nucleus of your digital marketing strategy," Jenn said.
If you've recently gone through the process of choosing a host and designing your site, read on: eclincher's digital market solutions will help you spread the word about your online presence.
Tools for Boosting Customer Service and Measuring Success
Jenn told us she's noticed an uptick in new customers since the pandemic broke out. Now, more than ever, business leaders recognize the importance of online presence and engagement.
"We're seeing a huge shift in interest on the part of companies and industries that we would never have expected — from the recruiting and education industries to educational institutions," she said. "The adoption of remote environments by both B2B and B2C businesses and organizations has sparked a period of growth, for sure."
As eclincher's customer base continues to expand and diversify, the company's goal is to solve for a wide range of pain points.
"Everyone's different, but in general, reputation management is becoming big, video content is still booming, user-generated content is everything for companies right now, and design aesthetics have changed," Jenn said. "So, it's imperative that our product encompasses all of those features in one place."
eclinchers centralized platform also unites engagement efforts, saving time while providing an easier means of communication across all social media channels.
"We live in a right-now society," Jenn told us. "If you aren't responsive to your users, you're losing. With eclincher's live unified inbox, any interaction, any conversation, any like, any mention comes to one place. That's a massive time-savings, and you're also increasing your customer service by being available."
Data is also essential for measuring performance across all channels. With eclincher's advanced analytics reporting, users can track and analyze unlimited reports and charts, including information on competitors.
"AI has brought analysis to the forefront," Jenn said. "You have to determine whether your social media efforts actually create conversions. It's important that you choose a tool that helps you not just win on social media, but also set the groundwork for your entire business strategy."
Listen, Create, Publish, and Collaborate
eclincher goes far beyond its robust engagement and analytics features, of course. The social media management platform makes it a breeze for teams to collaborate internally or with clients, create content, set publishing schedules, among other essential tasks.
"eclincher helps you quantify social ROI and save time across your entire digital marketing strategy," Jenn said. "When I say save time, I mean hours each week or more. You'll increase your productivity tenfold."
Jenn's favorite feature, known as customized channel, allows users to modify each post for various social media channels all in one place.
"We educate our users not to post the same thing on different social media networks — it looks lazy," she said. "Instead, take your message and add different graphics or media. Maybe you have a GIPHY on a post or a video that you want to share on Instagram, and then on Facebook, you share a blog you wrote about that subject. eclincher lets you formulate your customizations in one window before you push them out to the world."
Jenn told us that eclincher users are also turning to RSS feeds to automate their content management strategy. To make the process easier, the company recently introduced an Autopost with RSS feature, which automatically publishes new content, such as a blog post, on multiple social media channels and accounts according to user specifications.
"A lot of our users love that it is a time-saver," Jenn said. "You can be asleep and still sharing your blog on autopilot. I love that! I also think streamlining your posting schedule with the visual calendar, helps, especially for grid planning on Instagram."
In terms of collaboration, eclincher's cloud-hosted status means employees and clients at any endpoint can connect with just a browser, no downloads needed.
Differentiation Through 24/7 Live Chat Support
In addition to supporting brands and agencies across their campaign life cycles with cutting-edge publishing, collaboration, and data analytics tools, eclincher provides consultation services and around-the-clock support at a value that supersedes other offerings in the same space. The company also hosts an informative blog that gives marketers a look at the latest trends and best practices.
"I think one of the many ways we set ourselves apart is through our 24/7 live chat support. Any day of the week, any time of the day or night, can hit up our chat support team for help," Jenn said. "They're going to have timely answers to whatever challenges or suggestions that you may have."
Jenn knows precisely how exceptional the customer experience at eclincher is because she's used the company's tools herself, as a former customer.
"I came from an enterprise marketing agency where I used eclincher," she said. "It blew everything else out of the water. I truly can say that eclincher's platform and its support services should be central to your digital marketing strategy in general."
When it comes to internal development, eclincher takes client feedback to heart, working to identify pain points — ideally, before a customer even needs to point them out. Jenn said eclincher's developers regularly update the platform and add new features accordingly.
"There's not a lot of red tape at eclincher, and our team is made up of engineering geniuses, so if a scalable suggestion comes in, we can make things happen a lot faster than some of the others out there," Jenn said. "We move very fast; we are very agile."
Up Next: Taking Social Listening to the Next Level
As for the future, eclincher is focused on providing an even wider range of solutions that will serve clients of all shapes and sizes.
"Right now, we are focused on small and medium businesses and agencies, but there are many enterprise-grade features within the tools," Jenn said. "We want to provide enterprise companies more of what they need."
The team is currently at work on an exciting new feature, though details remain under tight wraps.
"What I can say is that it's a huge feature related to social listening and reputations," Jenn said. "It's going to provide a more robust solution in that area than is currently available on the market."