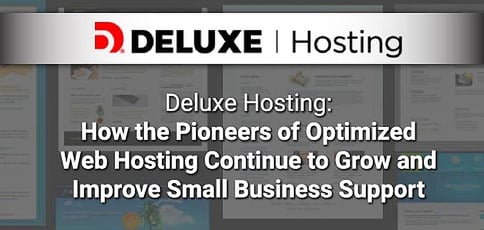 TL; DR: Every online business needs a reliable hosting platform — but when it comes to the specific tools and services required to grow an online business, many entrepreneurs can quickly be daunted by the nuance and jargon. That's why Deluxe Hosting offers a full range of services specifically tailored to small business success. Ranging from domain name registrations to logo design and payment processing, Deluxe Hosting serves more than 800,000 websites at an above-average 99.99% uptime rate — meaning online stores are always available to interested consumers.
Businesses have varied goals when getting online. Some brick-and-mortar operations just want an attractive website that will get customers excited to come and visit their store or office. Wedding planners want to show potential customers exactly how amazing their big day will look. People who craft and sell one-of-a-kind products want their customers to be able to buy their wares with a single click.
No matter the objective, Deluxe Hosting provides a hosting platform that empowers small businesses. Entrepreneurs can register multiple domains, create stunning logos, and use dependable payment processing tools and innovative email campaign programs. Behind it all is Deluxe's core product — a reliable and fast-moving hosting service powered by solid-state drives.
"We're all about having a secure and stable service that enables our customers to add additional products and services onto our core hosting product," said Damon Fieldgate, Vice President and General Manager. "With 4.5 million customers, we serve a huge variety of people with a wide range of needs; but our customers aren't looking for the bare minimum. We offer great support to busy business owners. While our product is competitively priced and a great value, it's also not for anyone who thinks a $1.99-per-month bargain is better than a solution that actually works."
A Wide Variety of Services for Smart and Demanding Customers
Deluxe Hosting's business-oriented plans come with up to 40GB of SSD storage and 700GB of bandwidth, along with unlimited domains and around-the-clock support. Entrepreneurs looking for strong security, domain management, and email automation can seamlessly add and install products from SiteLock and other partners.
Deluxe Hosting's email offering relies on the platform of sister company Vertical Response, which enables users to schedule and streamline follow-up messages, test different subject lines, and capture advanced reporting metrics. For new companies looking for a premium custom logo, Deluxe Hosting will connect customers with a dedicated designer who will deliver a variety of design concepts within five days.
"We're in the process of adding our products and services to the customer control panel, so they can go in, see what's available, and then add them to their account as they see fit," Damon said. "The last thing we want to do is push our solutions down customers' throats, but it's our responsibility to create awareness around what we offer and what we do. There's nothing more frustrating than hearing a customer say, 'Oh, I wish I had known you did that!'"
Always Improving Through Net Promoter Scores and Customer Feedback
Instead of waiting for customers to contact the company's support teams, Damon told us that Deluxe Hosting proactively seeks out feedback and ways to improve the platform.
"We rate our Net Promoter Score every single month, across all of our services," he said. "I always read it, and the team uses that information to drive improvements in both our products and our customer service. Sometimes, we get insights that we use to refine our control panel. Other times, there will be a particular tool that could use an enhancement."
The team also pays close attention to customer comments. They've built a process that reaches out to customers who have both positive and negative comments. Damon said,
"We contact every single customer who has feedback," he said. "If someone gives one of our solutions a low score, then we talk to that person. We have a conversation about the issue and use the information they give us to solve problems, add features, and update tools."
A Support Team Focused on the Customer's Challenges and Experiences
While the company's support team focuses on customer challenges, Damon said it's also interested in teaching customers about potential issues and solutions.
"Our customer support and sales team work with our customers every single day," he said. "When someone reaches out to us, it's important that the first thing we do is solve whatever problem they have, whether that's from the technical side or a usability standpoint. If we can prevent a future issue before it happens, even better."
Deluxe Hosting employees are currently working to build awareness around website security and vulnerabilities, as exploits happen more frequently than many customers typically understand.
"If our customers don't address those issues now, then they're going to face overwhelming problems sooner or later," Damon said. "Our support professionals are geared up to solve whatever challenges customers have within a reasonable time frame, while also educating about risks that are just over the horizon."
Deluxe Hosting Provides Services Tailored to Business Objectives
Deluxe Hosting designs its products to be useful to a wide variety of businesses — because not all small businesses are the same.
"Different companies have different objectives," Damon said. "Some mom-and-pop shops actually don't want to grow their business. They're pleased with where they are. Their main objective is to keep their customers happy. Of course, that doesn't mean they're resistant to new things, and we can help them make their good business even better."
At the other end of the customer spectrum, Damon said Deluxe Hosting also serves the entrepreneurs who want to shoot for the moon.
"Some of our customers are focused on pure growth," he said. "That has a big impact on the kind of products and services they need. If you're looking to grow your organization, you'll have to optimize and drive traffic to your website, generate leads, and create sales. Our solutions will transform the way you work."
Regardless of the business, however, a few common threads emerge. Security and email marketing are the most tangible products, but Damon said they both contribute and support the business mission of simply supporting and connecting with customers.
"I talk to a lot of entrepreneurs whose primary goal is to better engage their customers," he said. "If they can build a stronger relationship with the customers they have, they'll simultaneously build a stronger business. Again, we deliver a toolset that will make that happen."