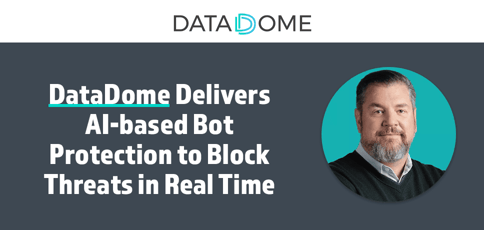 TL; DR: DataDome delivers AI and ML-based bot detection and prevention solutions to help users protect their online operations, mobile apps, and APIs from malicious attacks. Its simple and integrated platform enables companies to save time on bot management with autopilot protection and real-time attack reports. The DataDome software can detect a threat within a request in less than two milliseconds, preventing downtime and stabilizing end-user privacy. In 2022, the company released its own CAPTCHA to combat the stealthiest bots and enhance user privacy.
The rise of bot attacks has infiltrated the online landscape, prompting frustration for companies and users alike. It's apparent how prevalent bots have become through typical online and app-based activities. Maybe you're a Facebook user combing through the comments only to see a thread of bot messages luring users to click on suspicious links. Or you're a retail business owner who falls prey to a bot attack tying up sales after months of preparing for one of your biggest launches. Bot attacks seem to be everywhere and ready to launch at any moment.
Bot attacks have become an increasingly common tactic for cybercriminals to launch against unsuspecting users, with bad bots making up more than 20% of corporate website traffic. Companies can be susceptible to a litany of attack forms, including DDoS threats and inventory denial schemes. By addressing bot attacks before they hit, businesses will have a better chance to protect themselves from these malicious threats and save time, as it can take more than a week to remediate a botnet attack.

DataDome, an industry leader in AI-based bot detection and fraud prevention, leverages a sophisticated approach to prevent bot-driven online fraud. "Our machine learning solution protects enterprises' mobile apps, websites, and APIs from fake account creation, card fraud, account takeover, DDoS, credential stuffing, content scraping, inventory scalping, and more," said Paul Scanlon, VP of Product.
On a mission to eliminate the web of fraudulent traffic, DataDome provides users with a complete security platform to tackle bot attacks through automated solutions. DataDome simplifies bot prevention and mitigation using an ML engine and AI to enable IT teams to focus on what's important instead of dealing with daunting security tasks. But what separates DataDome from its competitors is its efficiency.
"Unlike other bot management solutions, DataDome detects and responds to attacks with unparalleled speed, accuracy, reliability, and expertise, augmented by our 24/7 SOC. One of the best measurements of efficacy is the operational consistency and time regained from fighting bot-driven fires," said Paul.
Blocking Layer 7 DDoS Threats in Real Time, Every Time
Bad bot traffic usually hits its peak during the holiday season, with threat actors looking to exploit businesses during the busiest times of the year. This tactic is something DataDome is familiar with, as it helps its own clients combat these ongoing attacks. With bots on the rise, threat actors continue to find ways to disrupt digital business operations and put data security and CX at risk.
"During the 2022 holiday shopping season, we observed a 60+ percent increase in bot traffic across our eCommerce customers selling "hot ticket" items, with spikes of more than 10 million bad bot requests," Paul said.
Paul also mentioned the shortcomings of the highly publicized Sony PS5 launch that wasn't adequately secured. Malicious actors used bots to hoard inventory, making it nearly impossible for real customers to shop. Whether for DDoS attacks or inventory denial, DataDome has a solution built on AI and ML capabilities to beat these attacks in real time and prevent downtime. One of the platform's most impressive feats is its ability to block Layer 7 DDoS threats.

"We look at every request to your mobile app, website, and API and compare it against a massive – and continually refreshed – in-memory pattern database of supervised, unsupervised, and semi-supervised models that are used and stacked up to detect bots from the very first request," said Paul.
DataDome safeguards every interface, from websites to APIs, with unique detection models. With AI and machine learning, DataDome layers its detection models to order and classify every event. Its DDoS detection software can distinguish whether the request came from a human or a bot in less than two milliseconds, while a parallel set of models evaluate behavior at specific endpoints of the application.
"All of which provides a network of detection context that allows DataDome to continuously understand the application's operating environment. As a result, we help our customers alleviate computing and scaling restraints and improve their infrastructure availability and stability," said Paul.
Offering Simple Server-Side Integrations for Smooth Performance
DataDome makes it simple to implement its platform with server-side integrations. Customers won't have to worry about complex setups or how DataDome will fit into their architecture. The DataDome team ensures compatibility and seamless performance every time. And it all starts with the setup.
"Our online fraud and bot management solution can be installed in minutes with simple code optimized for our customers' architecture. It is also compatible with 100% of all major web technologies, including multicloud and multi-CDN setups, and offers unified protection of complex architectures," said Paul.
Users receive a frictionless experience with no performance interruptions since its integration doesn't cause any latency. DataDome is a force multiplier for companies as it combines easy integrations, autopilot protection, a 24/7 SOC team, and an intuitive dashboard.
Bot management comes easy with DataDome's solutions. While DataDome continuously refreshes its database, it also keeps users up to date with extensive insights and threat analytics with real-time reports. The team also guarantees a low false positive rate, with its rate sitting below 0.01%.
"These are all attributes that reflect our team's commitment to providing the most accurate detection while also ensuring our customers' website/applications perform, regardless of the degree of bot pressure," Paul said.
Empowering IT Teams With Tools to Save Time on Prevention
Notable names, including TripAdvisor and Rakuten, trust DataDome to protect their digital assets from bot attacks. It's no surprise that many customers leverage DataDome's platform with its thorough and sophisticated approach to bot and fraud prevention. The cybersecurity company proves its legitimacy not only through its high-profile client base but also through the benefits it offers.
"In a world where teams waste 100+ hours per month on manual bot mitigation, DataDome cuts time spent mitigating bots back 90% while reducing infrastructure load up to 40%," said Paul.
Designed to save time, the DataDome bot management solution allows teams to focus on revenue-driven operations and reduces infrastructure costs through its autopilot protection. It also shrinks bot management time by up to 90% while preventing downtime and protecting server loads.
The DataDome team also accomplished a substantial undertaking by launching the industry's first privacy-compliant, user-friendly, and secure CAPTCHA to thwart today's stealthiest bots. Its CAPTCHA is compliant globally and integrated into its detection engine for a seamless user experience. Paul said DataDome is the first vendor to ensure that 99.99% of human users will not see a CAPTCHA. The DataDome CAPTCHA is also faster than Google's reCAPTCHA and delivers unmatched accessibility for the visually impaired, making it a complete and well-rounded tool.
"We have seen over 80% adoption of our CAPTCHA from alternative solutions in just seven months of being available to our customer base. This adoption rate and feedback of our customer's improvement in filtering aggressive bot activity has been a real bright spot for us over the last year," said Paul.