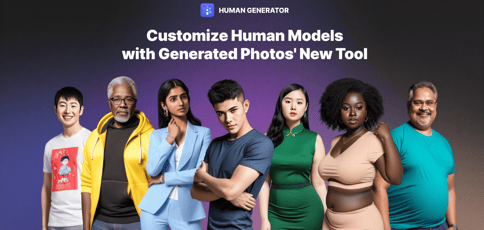 TL; DR: Generative artificial intelligence (AI) is one of the hottest topics today — and for good reason. Its capabilities now range from generating realistic human-like text and images to assisting in complex problem-solving tasks, and it's revolutionizing industries across the board. Generative AI has shown its potential to augment human creativity and productivity, and that's where Generated Photos comes in. This human modeling tool is on the cutting edge of AI innovation with life-like and full-body photos for creatives, machine learning engineers, law enforcement, and everyone else. Alena Bitton, Director of Strategic Partnerships at Generated Photos, told us about its new feature, Human Generator.
One of the most fascinating features of artificial intelligence (AI) lies in its creative potential. Its capability is constantly evaluated in programs like OpenAI's ChatGPT and Microsoft's Bing, which are counted among the world's most sophisticated large language models (LLMs). These LLMs can provide answers and research, reference prior conversations, and generate content based on user-defined parameters.
AI-driven image editing has also gained significant popularity in recent years. While the technology has been around long before, non-tech savvy users dove into the world of image AI with the introduction of mobile applications that allowed users to alter their appearance with "beautification" tools.
These apps evolved into something even more impressive: AI photo generation. (Does anyone remember playing "What Would Your Baby Look Like?" with their middle school crushes? Just me?)
One of the most impressive representations of how far AI's human generation capabilities have come is Generated Photos. Generated Photos is a web application that empowers users to produce human model images entirely generated by AI.

HostingAdvice chatted with Generated Photos back in 2021. Since then, a new feature has been added: Human Generator. This tool uniquely combines facial and body features with customizable parameters, making it a game changer for creating highly personalized human models.
Alena Bitton, Director of Strategic Partnerships at Generated Photos, said the tool came from the huge demand for full-body representations. "We've released Human Generator, a tool to generate people photos with various poses, clothes, hairstyles, etc.," she said.
Introducing Full-Body AI-Generated Photos with the Human Generator
Generated Photos is not new to the AI/photo game. It has more than 2.6 million pregenerated diverse faces and 100,000 realistic full-body images.

You can play around with any of its four tools, including Human Generation — its newest feature:
"One noteworthy feature of this tool is its simplicity. Users can easily set up details like hair color, hairstyle, clothing, and other characteristics," said Alena. "Prompts can still be used for more specialized features to fine-tune the result."
Creating accurate and inclusive pre-generated bodies is also at the forefront of Generated Photos' priorities. Developing this requires advanced AI training, but Alena said the team is dedicated to continue providing quality and diversity with their generative AI.
Create Your Own Full-Body Generated Photos for Just About Anything
Many people use Generated Photos to create pictures of themselves that weren't actually taken in real life. They do this by creating images that look like them but aren't actual photos. Some uses include getting a new LinkedIn profile picture or dressing up as a princess warrior in a digital image.
"People like getting variations of themselves instead of going to photoshoots and partaking in expensive clothes and makeup," Alena explained. "There's definitely an element of entertainment with the platform."

I could kill an afternoon playing around with the tools on Generated Photos, but its purpose goes far beyond mere entertainment. Alena said that there are a few distinct groups of people who rely on these tools, including:
Designers, UX/UI professionals, and advertising agencies that create product and web pages, demo profiles, commercials, and other designs
Game developers who need to create a large number of human characters
Journalists and authors who prefer to stay anonymous and use a virtual identity
Academics studying visual communication, perception, cognitive biases, and other things
Law enforcement teams generating decoy profiles for investigations
"A lot of our customers come from gaming," Alena added. "Many developers also want to create secondary characters who show up in crowds. Many sports game developers need an entire team of football or baseball players and stadiums to populate."
The game Beyond Humanity is a perfect example. It used Generated Photos to simulate thousands of virtual citizens within the online application. Players can also create their AI-generated portrait with technology backed by Generated Photos.
Upcoming Features for Its AI-Generated Models

With the surge and advancement of AI, Generated Photos has more on the horizon.
Alena mentioned the team is actively developing the capability to animate the generated models. This added feature could alleviate the burden on developers who may have to customize the bodies to enable movement within their games or websites.
"We have ambitious plans to keep enhancing the environment and adding more features so that AI-generated humans can go into any environment," Alena said. "It will take some time because every visual aspect requires extensive training so the AI understands how the tool works. But we're working on so much more to come."
Generated Photos is also developing a feature aimed at assisting eCommerce businesses. This feature lets them showcase their apparel products on a virtual model so business owners can upload images to their sites and show what their products look like on a model.
"It's an exciting place to be. It's amazing to think just a few years ago, during my last interview, we were at the beginning of this journey. We're looking forward to the future and all the progress ahead," Alena said.
Create your own avatar, character, or AI version of yourself using the Generated Photos Human Generator tool. It's free for personal use, but if you want to incorporate generated humans into your project, its team is ready to work with you to develop the perfect API.