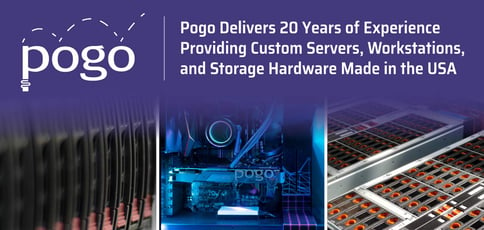 TL; DR: Pogo leverages 20 years of experience to provide corporations, government institutions, and universities everything from a single Linux server to a fully stocked datacenter. The company's scalable systems, custom configurations, and top-notch support ensure that organizations of all sizes find hardware solutions that complement their individual workloads. With an ongoing focus on cutting-edge technology, such as hyperconvergence and NVMe storage, Pogo makes it easy to navigate the rapidly changing IT landscape.
When taken at face value, cutting-edge infrastructure may seem expensive. But, as many companies have learned the hard way, the cost of poor IT performance is exponentially higher.
Between productivity loss, data breaches, and reputational damage, network inadequacies can severely hamper operations and negatively impact the bottom line. According to Gartner, just one minute of IT downtime costs the average business $5,600 per minute, which equates to more than $300,000 per hour.
For a chance to compete in today's digitally driven landscape, businesses need greater overall value in the form of custom configurations, cutting-edge technologies, and exceptional support.
Pogo knows this — and so do its customers. Companies like Kato, Inversoft, Blue Box, Impulse, and GoWireless have enjoyed exponential gains — from the ability to serve more customers to significant performance increases — after implementing the company's server and network storage solutions.
"We're unique in the fact that we can design a system around a specific project — we know that one system may not always fit all," said Chris Stevenson, Vice President of Operations at Pogo. "You can be confident that it is going to do what you need it to do, and be supported and shipped right here out of the U.S."
Pogo has two decades of experience providing organizations with everything they need to suit their workloads, from a single Linux server to an entire datacenter. Ultimately, through cutting-edge hardware and top-notch support, the company's goal is to help its customers navigate the rapidly changing IT landscape with confidence.
Hardware Solutions for a Single System or an Entire Datacenter
Pogo was founded in 1999 by Tim Lee and Erik Logan, two University of California, Berkeley students who observed a growing demand for dual boot Linux and Windows workstations. The company's name represents a pogo stick bouncing back and forth from Linux to Windows.
"At the time, a lot of people were looking to get away from the Microsoft side of things, and Linux was new, open-source, and not the big fish in the pond, so to speak," Chris said. "So they started building those budget-friendly, Linux-friendly boxes after school, and it just grew from there."
Chris said it also helped that Red Hat was gaining popularity in the early 2000s, bringing more Linux to datacenter environments. In 2001, the startup had grown to the point where Tim and Erik could turn it into a full-time gig. To enjoy a lower cost of living, they then relocated from Silicon Valley to Redmond, Washington, where the company remains today.
Over the past two decades, Pogo evolved from a reliable systems integrator and Linux hardware provider to a time-tested global specialist in custom servers, workstations, and storage hardware. In that time, Chris said the company has observed some significant shifts in the infrastructure and hardware space.
"The transition from traditional spinning media to solid-state drives (SSDs) has obviously been a huge shift," he said. "But the biggest was when server virtualization started coming out: We started to see more utilization of the hardware stack because of virtualization, instead of a massive amount of systems geared to a specific use."
Upgrade Your Server with the Intrepid Modular System
In recent years, cloud computing has caused many businesses to transition their workloads off-premise via public clouds. But as we enter a data-driven digital economy, many IT departments will need to rely on advanced yet flexible hardware for next-generation computing needs.
That's where Pogo's new Intrepid Modular Intel Servers come in. The modern rackmount server systems are designed to bring agility, flexibility, and value to today's on-premises workloads.
"One of the key differentiators of our new Intrepid systems is the ability to run some of these new emerging technologies from Intel, such as the second-generation Xeon processors," he said. "But the biggest thing for us is their modularity."
For example, Chris said that the Intrepid Modular Server System allows users to upgrade a single server with forward-compatible technology add-ons, rather than purchasing a new one.
"We see a lot of customers who will buy a system for a workload that they have now, their focus shifts, and they realize the hardware that they purchased no longer fits their workload," he said. "Our Intrepid systems have a great deal of flexibility, which gives customers the ability to scale up within the systems they've already bought and not lose out on prior investments."
For instance, if a company were to buy a basic machine now, it would have the option of upgrading the system to a high-speed non-volatile memory express (NVMe) protocol without having to swap out the new hardware. This helps increase value and improve the total cost of ownership.
"You can feel confident that you're not going to be stuck buying new hardware if your workload or your needs change in the future," Chris said.
Custom Configurations from a Team of Experts
Pogo takes pride in the fact that the company is based in the U.S., with all hardware built in-house in Redmond, Washington, by the company's tenured team of production engineers. The company also listens to customers' business missions, tailors solutions around them, and employs an extremely stringent test process.
"There are so many use cases across the board," said Rawee "R.K." Kambhiranond, Marketing Director at Pogo. "You can't just use a shopping cart configurator and be able to purchase a system that's going to work for you."
Pogo provides an initial framework that helps customers get an idea of what solution might work for them, but they also have the opportunity to work closely with the Pogo team to ensure that the solution will fit their networking and compute needs.
"We encourage our customers to engage with our hardware and solutions experts if you're not sure what you need or would like validation on what you think you may need," Chris said. "There are a lot of scenarios where we can help reduce the cost or find a better fit than what the customer may have in mind."
Coming Up: A Focus on Hyperconvergence and NVMe Storage
As for what the future holds, Chris said the company intends to focus on cutting-edge technologies, such as hyperconverged infrastructure (HCI), into 2020 and beyond. Also known as the software-defined datacenter (SDDC), hyperconvergence is a data storage approach that increases scalability, flexibility, and efficiency by virtualizing storage, compute, and networking into one unit.
"We have observed a huge shift toward converged storage solutions, and the next transition will go into that hyperconverged space where the virtualization and stack are coming together," Chris said. "That's next on our list, and it's what we are investing in now."
The company also plans to focus more on NVMe storage. "Within the next few years, I think you'll see much less spinning media in servers, and almost primarily NVMe storage, just due to the crazy speeds you can get out of those drives."
Rawee said Pogo will also continue to leverage its long-standing relationships with technology vendors and OEM partners, such as Intel, AMD, Western Digital, and Seagate, to ensure it can provide the infrastructure clients need to build top-notch solutions.
"We're always staying up-to-speed on the latest technology, whether it's NVMe, the newest data center server processors, or Intel's second-gen processor," he said. "Our goal is to create options to ensure people can be successful with whatever project they're working on."