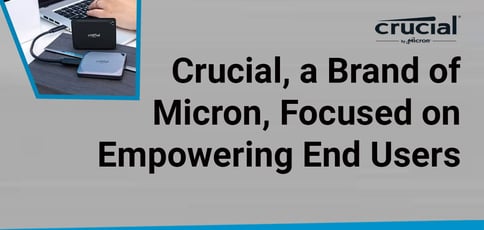 TL; DR: If you're tired of mismatched technology or slow speeds from manufacturers who promise fast speeds, then say hello to Crucial. Micron's consumer-focused brand Crucial brings a new era of speed and memory to gamers, creatives, and small businesses. We chatted with Jonathan Weech, Sr. Director of Product Marketing and Management, to learn more about how Crucial stands out among its competitors — and why it and Micron have remained a trusted brand for the past several decades.
I'm one of the 122 million people who watch YouTube nearly daily. There's a little bit of everything there, from gaming streams to true-crime episodes to rabbit-hole documentaries. Some of my favorite channels recently began dropping video premieres at midnight, rallying thousands of viewers to watch the new video together in anticipation. (Remember cable, anyone?)
But when one of the premieres I tuned into recently counted down to 00:00:00, nothing happened.

This disappointed me and the thousands of others who eagerly set aside time in their day to support their favorite creator. The live video couldn't stream, so the premiere was postponed. But this is where experts like Crucial come in.
Crucial creates tools and technology that understand the importance of lightning-fast performance for content creators, gamers, small businesses, and anyone who craves speeds beyond basic. After all, many of us have relied on the internet since the days of dinosaur desktops. And now it's evolved into a community hub where people can gather, share, and experience content together in real time — similar to those midnight premieres on YouTube.
Crucial: Micron's Consumer-Driven Brand
Micron is a mega-tech producer that's been around for nearly 50 years. It's famous for producing computer memory and data storage solutions for datacenters, equipment manufacturers, and major enterprises. In the past couple of decades, Micron has expanded its line to be more inclusive toward other customers who may not operate at such a high level.
One of those expansions is its sub-brand, Crucial, founded in 1996. Crucial's goal is to empower the average creator — whether they be gamers, creatives, or your regular Joe — to improve their computers with its do-it-yourself memory and storage upgrades.
"Micron focuses on those huge customers, like OEMs and enterprises," explained Jonathan Weech, Sr. Director of Product Marketing and Management. "So while we're a brand of Micron, we have a line of products specifically targeted at the consumer and small business."

Crucial handles manufacturing finished goods like SSDs and DRAM modules, which can be installed by end-users upgrading their systems or by builders who make custom PCs for clients. Ultimately, the company's goal is to remain simple so even the most novice user can figure out how to upgrade their computers with Crucial's products.
"We've always said if we can convince people to make that first step, it's our job to make it as straightforward as possible," said Jonathan.
Gaming, Streaming, and AI Demand the Most from Hardware
Whether they're gamers, podcasters, musicians, designers, or developers, any creator or developer knows the videos should be perfectly clear, the audio crisp, and the speeds next-level.
It should come as no surprise that the gaming and streaming industries are taking over the internet, with an expected annual growth rate of 10.44% between 2023 and 2027.

But Jonathan also theorizes that artificial intelligence (AI) will soon be another leading reason behind the need for better hardware.
"There will be situations where AI will drive the need for more memory, more storage, and even more custom applications, like generative fill or tasks that could help with audio or video production," said Jonathan.
Thousands of companies are integrating AI into their products, services, and software, and that comes with plenty of responsibility, including the need for high-performance hardware like graphic cards, SSDs, and memory modules.
Crucial recently introduced a few cutting-edge products as part of its Crucial Pro Series line to meet the ever-growing needs of creators and businesses.
"We're excited to share that we've refreshed our memory product line with the Pro DRAM and the internal storage product line with the introduction of the T700," said Jonathan.

Here's what you need to know: The T700 is a Gen5 SSD designed to satisfy gamers, content creators, and workstation professionals with a plug-and-play functionality that reads/writes up to 12,400MB/s and 11,800MB/s, respectively. It is also built with Micron's 232-layer TLC NAND to maximize performance and dependability.
The X9 and X10 Pro Portable SSDs also have plug-and-play capabilities but instead offer secure storage and backup of videos, photos, and files without requiring cloud or internet access. That makes it perfect for consumers craving high-capacity storage solutions, such as tech startups that are integrating AI into their software.
"Just in July, we introduced our X9 and X10 Pro Portable SSDs, which are made up of a tiny factor about the size of a matchbox," added Jonathan.
This makes the X9 and X10 the owners of the highest storage density per square millimeter of any product in the market — and with 4TB capacity. The X9 can sequentially read/write speeds up to 1,050MB/s, while the X10 can read/write up to 2,100MB/s and 2,000MB/s, respectively.
Crucial's Promise of No Fuss, Just Fast
Micron and Crucial have been leaders in the tech manufacturing industry far before many of its consumers were even born. Still, Jonathan stressed that your trust in a brand should go beyond age: It's about what it brings to the table.
"It's essential to have a trusted brand in today's market. You can go on any retail website, and tons of products are available, but you might not always know whether you're getting the best quality."
That's why Crucial emphasizes it's all about "no fuss, just fast" when delivering high-quality, reliable, and compatible products. This promise may be why it's been awarded and recognized by publications, including PC World, Real Hardware Reviews, CDR Info, and HostingAdvice.
"We've got this worldwide presence that we're going to stand by our products, so people trust Crucial for its compatibility and dependability," said Jonathan. "And they know when they're buying an SSD or DRAM module from us that we're vertically integrated."
Vertical integration means that Crucial is part of every aspect of the process, from manufacturing individual parts to assembling the final products.
"Today, Micron is the only US-based storage and memory solutions manufacturer. And only a handful of companies are involved in the whole process," Jonathan explained. "We're not just making the modules for the SSDs — we're making the chips that go inside those too."
Since Crucial has the utmost control over its components, it can bring innovative technologies to the market faster than companies that rely on external suppliers while guaranteeing compatibility and consistent performance.
With such a solid commitment to delivering high-quality products, it's no wonder people trust Crucial for their compatibility and dependability. So why wait? Upgrade your computing experience and explore the power of Crucial today.