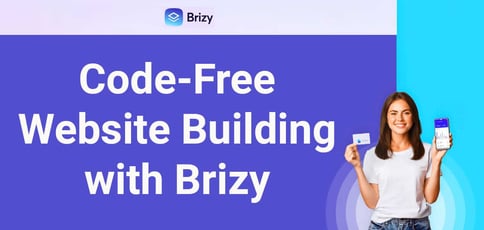 TL; DR: Maybe you've toyed with the idea of diving into web development and coding. After all, there's something hypnotic about a beautiful website with a user interface (UI) that is *chef's kiss* just right — but if there's one thing that stands in the way of website glory, it's the learning curve of coding. Learning to code can feel akin to deciphering a whole new language. Mastering it takes quite a bit of time and effort. That's where Brizy steps in. Brizy stands apart from the typical no-code website builders in more ways than one. We sat down with Veronica Melinti, Marketing Manager of Brizy, to explore what exactly the technology has to offer.
I might be dating myself, but does anybody remember those MySpace days when everybody suddenly became a coding expert because they could customize their profiles? I don't know about you, but my 14-year-old self felt like a web-building mastermind just because I learned how to change my layout's background image and font colors.
But even something as simple as HTML coding took a ton of practice to get the hang of, and apparently, I'm not alone. The consensus is that coding is hard, even for widely used programming languages (PLs) such as JavaScript and Python. I'm sure countless coders dream of magically creating a flawlessly designed website with the snap of their fingers.


One study says that low-code and no-coding solutions can reduce development time by a whopping 90%. But I'm not talking about the ever-popular no-code builders like Wix and Weebly; I'm talking about Brizy, which according to several G2 reviews, blows those other web builders out of the water. Users consistently say Brizy meets more of their needs, has better product support, and offers useful features and functionality.
Veronica Melinti, Marketing Manager of Brizy, said its mission is simple: "We're here to contribute to the world by creating no-code web tools that empower anyone to create an online presence without as much effort."
So without further ado, let's dive into the world of Brizy.
Never Experience the "Website Yips" Again With Brizy's No-Code Builder
Let's be honest: The tech landscape has no shortage of no-code website builders. From the ever-popular Wix and Weebly to the tried-and-true WordPress, the days of relying on a pricey team of professionals to build a website are long gone. And that's exactly what Brizy strives toward. Its mission is to enable people worldwide to establish an online presence effortlessly – without coding skills.
Business owners, individuals, agencies, marketers, and developers can build and manage websites by using intuitive drag-and-drop components that require zero coding. This system can save valuable time because if there's just one inconsistency in the coding, the whole website can be compromised, and it could take a layperson a lot of time to find that error if they don't know where to look.

Thanks to solutions like Brizy, we're seeing a new era of democratization in web development. Now, everyday users have the opportunity to showcase their ideas, portfolios, stories, and products online at their own pace. The platform gives people the ability to play, design, and perfect their brand the way they want without having to communicate back and forth with a team of designers.
Brizy is unique because it has a dual-product approach that can satisfy the needs of two entirely different customers. Brizy WordPress works well for those who prefer to work out of WordPress, and Brizy Cloud works for users who want to use the in-house cloud hosting platform.
"Brizy is an installable WordPress plugin where you can create anything on WordPress using our templates, themes, and other tools," explained Veronica. "Our cloud platform is an all-inclusive host where you can easily store your data, access a client management system, and collaborate with other team members."
No matter which solution you opt for, you can create themes, block kits, and popup designs.
Block kits are a unique feature within Brizy that not every drag-and-dropper has. The user can choose from 500+ block design kits to highlight new products, newsletters, discounts, or blog posts. These static blocks stay on your webpage — so if you're looking to highlight a special sale or promotion, you can also opt for popup kits.
Diverse Solutions with Brizy's Dual-Tailored Approach
Unlike many other no-coding web builders, Brizy isn't "one size fits all." Instead, it caters to both WordPress and cloud-based platform users that allow for different solutions, including:
For example, small businesses and individuals can use Brizy to create personal websites and digital projects. Or agencies and professionals can use the no-code solution as a collaborative tool and white-label websites and brands for their clients.
"This diversity makes us quite useful for work with specialists, marketing, web building, and agencies," Veronica explained. "So, on one end, it can be a collaboration on B2C where people create an account and build their products on their custom website. For B2B, people build the products too, but for agencies and clients, they can easily manage it all from one account with our client management system."
Let's break down some of Brizy's other products, features, and solutions:
Web stories are a unique concept that I love. If you've spent time on Instagram or Snapchat, you'll notice that web stories aren't too different from social media stories — they're just designed for a website instead of an app. Your visitors can scroll through a several-slide "story" that you created on any topic, whether it's "5 Tips to Work From Home" or "How To Increase Conversions."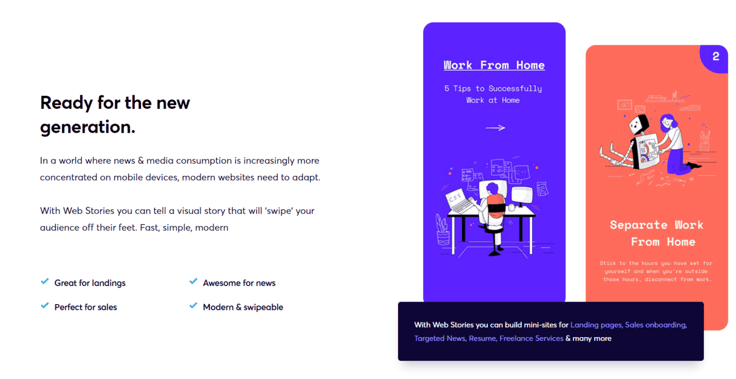 Veronica said while websites serve as marketing tools, these stories are particularly beneficial for long-term investments. "With these web stories, you have a fantastic opportunity to craft a captivating web story, share it, and initiate your campaign."
Brizy also offers white labeling, which allows you to take Brizy's powerful tools and present them as your own to enhance your brand's image. So, for example, if you're a web designer and have a handful of clients who need websites built, you can use Brizy's tools but white-label them to match your clients' brands. White labeling is a great way to make your website stand out without expensive customization.
Brizy's Supportive Ecosystem is Like Living on Cloud Nine
Brizy is designed to be easy-breezy and intuitive to use — but even with the most straightforward features and tools, questions might crop up, such as, "Can I make a block appear on every webpage, except on this one?" (Hint: Yes, you can.)
"A challenge we face is that often our resources sometimes aren't used to their full potential, so we have the Academy, Support, and even a YouTube channel," said Veronica. "Our team is constantly uploading new videos so we can stay as relevant as possible to what our users might be interested in."
The Brizy team has worked hard to develop an entire support ecosystem for their users, with free, unlimited access to:
Brizy aims to make creating websites even simpler for users through the introduction of application programming interface (API) integrations. This could involve integrating WordPress features directly into the Brizy interface so users can get even more functionality with the platform.
Automation is even on the horizon: Veronica told us the Brizy team has seen the benefits of artificial intelligence (AI) in products similar to theirs, so the goal to integrate AI may help automate or answer some of the most common questions from users.
"When our users get to a point where they don't know how to solve something or operate a specific option, they will go to our support team for technical help. It's a puzzle we're looking to address, and AI might help automate those issues," said Veronica.
Whether you're a small business owner or a web designer with a plethora of clients, creating websites has never been easier or more fun. And the best part is that you can try Brizy today — for free.