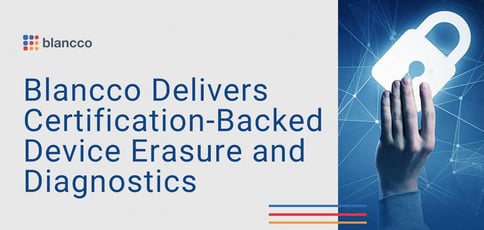 TL; DR: At a time when electronic waste is becoming a growing global concern, Blancco Technology Group is stepping up to the plate with secure data sanitization methods that allow assets to be reused, resold, or donated. The leading global provider of mobile device diagnostics and secure data erasure solutions provides thousands of organizations options throughout the data lifec ycle. With a methodology that has been tested, certified, and approved by governing bodies, Blancco also ensures businesses achieve compliance with regulatory standards.
You've likely heard of many proprietary eponyms, though no one refers to them as such: Band-Aid used to describe adhesive bandages, Kleenex for facial tissue, and Bubble Wrap for packing material.
From a business perspective, this everyday use of your brand-name identifies that you're doing something right — representing your product or service so well that you're essentially becoming an industry mascot.
Such a term may be emerging in the digital sustainability arena, where it's used to describe certification-backed erasure for electronic devices and datacenters.
"A lot of our customers are saying they've Blancco-ed their digital assets," said Alan Bentley, President of Global Strategy at Blancco Technology Group. "It's really exciting for Blancco to become synonymous with data erasure and certification because we've invested all of our brainpower into it."
Blancco is setting the standards as a thought leader in the emerging data erasure and diagnostics space. By properly ensuring and certifying that data is securely deleted, electronic devices can be repurposed rather than sent to landfills.
"Offering our certificate and tamper-proof audit trail alongside the service is critical," Alan told us. "Our data erasure solutions have been tested, certified, approved, and recommended by multiple governing bodies."
In addition to device and datacenter erasure, Blancco provides numerous services in the mobile space, including buyback and trade-in options, mobile insurance, and fault resolution. The company also provides IT Asset Disposition (ITAD) companies with the ability to add additional security levels to existing physical destruction programs.
Setting Standards in the Data Erasure Space
It takes no stretch of the imagination to consider Blancco a pioneer in the data erasure industry.
"Blancco has a rich historical tapestry that started nearly 20 years ago in Finland," Alan said. "We still had floppy disks at that point, and we found that software erasure wasn't being addressed in the market."
Blancco initially worked with local customers in the ITAD market that were managing reverse logistics for large enterprises and smaller organizations. The company assisted these customers with their hard drive erasure needs.
"We were helping ITADs effectively be able to say to a customer, 'I can take your kit — and don't worry, I'm going to ensure that any data that is resident on that drive no longer exists. And I'm going to give you a certificate to prove that is the case. I can then repurpose that kit and sell it for a profit.'"
Blancco began building a customer base in Finland and the Nordics before setting up joint ventures in France, Germany, the United Kingdom, and Japan. At the same time, the company advanced its technology in alignment with changing technologies.
"Our beginnings were in drive erasure," Alan said. "But we kept building out technology, going from hard disk drives (HDDs) to solid-state drives (SSDs) and eventually expanding our capabilities from a software erasure point of view."
Blancco now handles devices of all kinds — from laptops and smartphones to servers. Over time, the company also expanded its reach to the enterprise space, broadening its total addressable market. In 2014, after a series of acquisitions, Blancco became a Public Limited Company (PLC) traded in the U.K.'s Alternative Investment Market (AIM).
Helping Organizations Prioritize Sustainability
Today, Blancco's global operations span North America, EMEA, and APAC. The company focuses on three core markets: ITAD, mobility, and enterprise. On the mobility side, Blancco focuses on mobile diagnostics and erasure for mobile processing companies, remote device condition assessment and valuation solutions, insurance, and retailer workflows.
"We're very much focused on diagnostics and erasure of assets, whether they're mobile devices or IT infrastructure," Alan said. "We cover extending the life cycle of a device, data sanitization in the enterprise, virtual machine erasure — every part and composite of an organization's infrastructure."
Blancco is one of the first companies to earn the Green Economy Mark on the London Stock Exchange, which signifies companies that derive at least half of their revenue from solutions that directly impact the climate.
Alan said data privacy regulations and increased awareness around the environmental impact of e-waste have thrust data erasure into the spotlight in recent years.
In addition to governmental actions, many organizations are diving into corporate social responsibility (CSR) initiatives that mandate they safely and securely dispose of technology. Socially conscious investors are also increasingly concerned about satisfying environmental, social, and corporate governance (ESG) criteria.
"Sustainability is becoming front and center in terms of personal requirements," Alan said. "There's been a lot of soul searching and momentum around climate change that's making its way to the marketplace."
Besides devices, massive amounts of accumulated data are becoming problematic in terms of carbon footprint.
"People think about sustainability purely from the view of an asset's end of life, but data is a significant part of the story," Alan said. "The exponential amount of data that's getting stored week on week and month on month is stored on physical servers using electricity. That's one of the topics we talk with businesses about — erasing noncritical data and repurposing the storage device."
Building Consumer Trust and Extending Device Life Cycles
Blancco's value proposition varies within its three core focus areas. In the ITAD space, the company enables lean processing, boosting operational productivity.
For enterprises and datacenters, software-based erasure provides a way to permanently remove data from laptops, drives, servers, and virtual machines in compliance with data retention and sanitization regulations. But what ties everything together is a focus on prolonging device life cycles.
"Everything we do is about elongating the life span of the assets that you currently own," Alan said. "And once you don't want it, it's about leveraging data erasure and giving it to somebody else. When they don't want it, they can give it to somebody else. That way, it takes a lot longer for that asset to end up crunched in a landfill."
Blancco reinvests a significant portion of its earnings into research and development — and aims to do so more than its competitors.
"We're continually looking to improve our technology, reach, and capabilities through R&D," he said. "And we'll continue to do that because that's fundamentally what keeps us ahead of the curve."
Alan said that he believes the cloud is the forward for many reasons, including reduced expenses and improved business continuity in unforeseen situations like the pandemic. Blancco's goal is to help enterprises sort out relevant data compliance issues as they undergo digital transformations from on-premises servers to the cloud.
"For us, one of the key compliance issues around data migration is that the bare metal server is still there, and there's a copy of the data still there when you migrate to the cloud," he said. "So you need to have a cleanup operation there, too. And, of course, when you get to the cloud, there's a whole other conversation around who is responsible for the data."
A Continued Focus on Thought Leadership
Moving forward, Blancco will continue forging a path in device erasure and diagnostics.
"You'll see us continue to drive conversations about the correct methodologies around data sanitization and educating people as to what you can and can't do."
The company aims to raise particular awareness around physical device destruction.
"In this day and age, there are instances where you do need to physically destroy your hardware, but they're nowhere near as often as you think they are," Alan said. "It's an educational process which we will continue to drive."