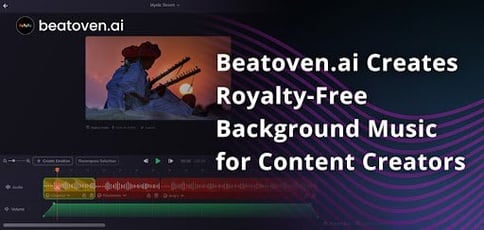 TL; DR: Content creators and marketers often have to traverse the muddy waters of copyright infringement and company policy to find the best background music to accompany their videos and other projects. The complexity behind these claims can often make you feel like you're walking on eggshells. If you have trouble avoiding copyright issues associated with music, you can look to Beatoven.ai. This AI music generator provides users with royalty-free and exclusive background music that can be customized to your video's specific mood and genre. We spoke with Mansoor Rahimat Khan, Co-Founder and CEO of Beatoven.ai, about the platform, its benefits, and its relationship with artists.
Only a few composers have left a legacy as great as Beethoven's. Some may put Bach or Mozart in the same realm of legend or maybe a spot above him. But one thing is certain: Beethoven cemented himself as one of the greatest classical composers to ever live. His musical talent was so innate and groundbreaking that he even overcame progressive deafness to produce some of his most notable works later in life.
Beethoven's influence has forever changed the music landscape. He widened the scope of the sonata, symphony, concerto, and quartet by breaking the conventions of classical music. And something else is ramping up to make a similar revolutionary impact in the music industry — artificial intelligence. Although none of us can possess the musical prowess of Beethoven, AI can help us create sounds without possessing the knowledge of music composition.

Beatoven.ai is an AI music generator that helps content creators produce background music and scores for their videos. "Beatoven.ai is a creation tool for content creators making videos, podcasts, and games and need to score royalty-free background music by themselves," said Mansoor Rahimat Khan, Co-Founder and CEO of Beatoven.ai.
Beatoven.ai's mission is to democratize music creation and allow users to generate music for their projects without running into copyright obstacles. Its platform enlists the help of independent music producers to feed its models and help users generate new music.
Allowing Creators to Produce Unique Sounds
Content creators are careful with choosing background music because of the consequences that come with copyright infringement. Rights owners can hit creators with a copyright claim or strike and demonetize their videos. This is why many creators and marketers try to avoid copyrighted material at all costs.
But most social media videos aren't complete without a sound to set the mood or complement the content. This is where Beatoven.ai steps in. With its platform, users can quickly generate music that fits the needs of their content without worrying about clearance. Mansoor said Beatoven.ai has three primary audiences.
"Our biggest use case is YouTube short films. These creators use it for better scores. The other use case is people using it to make Lofi and ambient playlists, like calm listening. And we also see game creators. So indie game developers use our tool to make music for their games," said Mansoor.
Beatoven.ai makes the music creation process easy. Users only have to follow four steps: choose a genre and a mood, drag and drop their video, make adjustments, and hit compose. Beatoven.ai takes care of the rest. Users can also make edits and cuts to the tracks to fit the flow of their videos better.
Mansoor said Beatoven.ai is all about giving control to the users, which explains why the team uses small AI models to power the platform. It's easier to run into errors with larger AI models because they're harder to control. Beatoven.ai uses a more controllable ensemble model, which consists of multiple smaller models that complete different tasks within the platform.
"We give the user the ability to tweak, edit, and play around with the audio as much as possible to get to the sound they have in their mind. So that level of control is possible with only smaller models than large ones," said Mansoor.
Giving Artists a Platform to Showcase Their Musical Talent
Behind every AI are humans. For Beatoven.ai, those humans include musical artists. The team works directly with independent music producers and instrumentalists to create unique beats to accompany user stories. Beatoven.ai's work wouldn't be possible without the efforts of these artists and the sounds they have submitted to the platform.
"We work with 250-plus independent artists, who are compensated for supplying data to the AI platform. So we are one of those few companies in the world that have pioneered this model where artists get paid for supplying data to AI," said Mansoor.

Beatoven.ai has a team that evaluates the quality of submissions before adding them to its catalog and feeding them to the AI models. If the artist passes this stage, Beatoven.ai will send them a contract and complete a full buyout deal. These contributions have helped Beatoven.ai get smarter over time and provide easy-to-license music.
Beatoven.ai also showcases its contributing artists on a dedicated webpage on its site. Users can go through a directory of artists and click on their bios to learn more about their backgrounds and music styles.
Many members of the Beatoven.ai team have a background in music, and they understand the challenges of music production. This first-hand experience is what led them to launch Beatoven.ai. This is why the team also supports and helps artists. Mansoor said Beatoven.ai periodically announces new creative funds dedicated to artists. Beatoven.ai currently has a $50,000 fund to provide passive income opportunities for independent Indian artists.
Balancing Support for Music Producers and the Evolution of AI
Beatoven.ai is India's first and only AI-powered music tech startup. And its platform has helped many content creators and marketers find exclusive, royalty-free music to fit every part of their story. Thanks to AI, users can customize and mix tracks without any musical knowledge. Mansoor thinks AI's role in music won't be slowing down any time soon.
"The music industry will see a lot of use for AI. From an artist's point of view, I think it will be more of an ideation tool. People would want to use AI to get some ideas to start and then build music on top of it," said Mansoor.

Mansoor said he sees AI as a way to support artists going forward. Voice cloning is already a popular trend on social media, with people pairing different artists' voices with those in other artists' songs to create fun music covers. Mansoor also said he believes it can be a great approach to preserving an artist's legacy.
"Let's say you want to hear how an artist would sound like in 1960. Or if the artist does not exist today, can you still make songs in the voice of that artist? A lot of the major catalog owners will also have to work with the Sony's and Universal's of the world to figure this out," said Mansoor.
These concepts are ambitious, some may even say controversial. But AI's future is undoubtedly bright. The Beatoven.ai team also has some ambitious plans up their sleeves. It recently released an innovative feature called Supervise that can run a sentiment analysis of a scene and identify visual and tonal cues to generate a unique track that matches the mood of the content. The feature is already in beta and available to paid subscribers.
"The emotion is automatically deducted from the audio, and the music is scored specifically to those spots in that emotion. So it's completely automated. You can just bring a video and get a video plus music. And this feature will be live next month," said Mansoor.