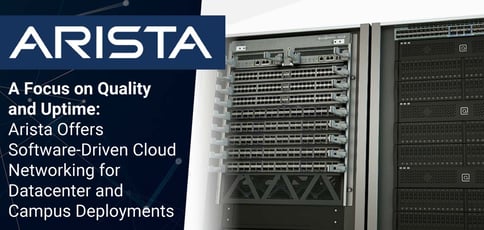 TL; DR: Arista provides low-latency, high-performance cloud networks with minimal power consumption for large-scale datacenter and campus environments. The company, known for its multilayer network switches and a proprietary, Linux-based network operating system, has served as an alternative to industry giants since 2008. An agile approach to setting trends and a continuous focus on performance has helped Arista make a lasting impact in the age of cloud networking.
Few words strike fear into the hearts of today's business leaders like downtime. Once seen as an inconvenience, outages now carry an average price tag of $5,600 per minute, according to Gartner.
But the fact that downtime is virtually unavoidable — even Google can't guarantee zero downtime — doesn't mean businesses can't minimize its impact. To mitigate threats and define risk tolerance, many companies now prepare error budgets aligned with their service-level agreements (SLAs).
Anshul Sadana, COO at Arista, said some of his company's cloud customers have total downtime budgets of less than three minutes a year for a single app. And those three minutes account for far more than just server downtime.
"A downtime budget includes everything: virtual machines, compute and storage services, the network, load balancers, the firewall, and exchange partners, among other factors," Anshul told us. "Therefore, three minutes can get consumed very quickly if you have even one issue — resulting in strict penalties."
In a world of numerous IoT devices, sensors, and cloud-dependent applications, businesses have to avoid such hiccups to remain competitive — and Anshul said that's where Arista shines. "Quality and high uptime rates are absolutely the most significant benefits we deliver to clients," he said.
Based in Santa Clara, California, Arista provides scalable, high-performance cloud networks with low power consumption for large-scale datacenter and campus environments. The company's wide range of products includes multilayer network switches and a proprietary, Linux-based network operating system. With an agile approach to trendsetting and a continuous focus on performance, Arista strives to make a lasting impact in the age of cloud networking.
Providing an Alternative to Incumbent Providers Since 2008
Arista, formerly known as Arastra, was founded in 2004 and officially launched in 2008.
"I joined Arista in the summer of 2007, and there were a couple of startups trying to compete against the larger networking companies at that time," Anshul said. "It was a highly competitive space — and many wondered why there needed to be yet another networking company."
There needed to be another, Anshul said, to meet the unfulfilled needs of businesses with larger deployments. "In fact, prior to my joining Arista, Google sent out a large RFP trying to connect 10,000 servers on one large network — and with the requirements they had, the specs they had, there was no product in the industry that could actually fulfill their needs."
With that hole in the market identified, Arista launched with a mission to build high-performance, scalable networking solutions. But Anshul said it was one thing to dream about a product — and another to turn it into a thriving business.
"When the company was launched, we were also in the middle of a financial crisis, and the industry had slowed down significantly," he said. "Fortunately, we found a special niche in low-latency switches in high-performance computing environments, as well as in financial trading."
Anshul said Arista, led by CEO Jayshree Ullal, quickly made an impression on the industry, proving that its products were high-quality and reliable. From there, Arista added on cloud solutions for the largest enterprises and financial institutions. That portion of the business has grown significantly over the last decade.
"In hindsight, it seems obvious, but you might not have predicted in 2008 how large the cloud would become," he said. "It's just phenomenal to consider the extent of enterprise workloads, storage, and consumer data the industry has moved to the cloud."
In February, Arista announced the acquisition of Big Switch Networks, which will enhance the company's cloud networking software moving forward.
CloudVision: Delivering Turnkey Automation and Telemetry
Today, the globally recognized networking company, with offices in the U.S., Canada, India, Ireland, Malaysia, and Singapore, is committed to open standards across private, public, and hybrid cloud solutions.
Overall, Arista has shipped more than 20 million cloud networking ports worldwide with EOS, an advanced network operating system, and CloudVision, a platform for cloud information and visibility.
"CloudVision is a turnkey solution that allows customers to reduce their provisioning time, configuration time, and downtime due to upgrades — all while staying compliant with security patches," Anshul said. "The platform also reduces the number of people they need to run the network by a factor of 10."
The technology, which can be used in both datacenter and campus environments, delivers a network-wide approach for workflow automation, workload orchestration, and real-time telemetry. "That's been very well-received by customers," Anshul said.
Ultimately, Anshul told us that Arista's solutions provide different advantages for different types of customers. Cloud customers, for example, benefit from flexible, highly programmable architecture that can be integrated into their offerings.
"Our teams can work together on building a product, which is a way different way of doing things in an industry where customers typically just purchase products from companies like us," he said.
Arista's main differentiator — which benefits all customers — is its high-performing infrastructure. "We strive to deliver a nearly flawless product without the quality issues that cause outages," Anshul said. "Our customers have been wowed with how well we managed to execute on that dimension — significantly better than any other company."
An Agile Approach to Setting Industry Trends
When it comes to product development, the nimble team strives to build and deliver innovative products and services through an uncompromising focus on customer needs, rather than the latest fad.
"Some industry trends you have to follow, and some industry trends you have to set," Anshul said. "Following what others are doing is not going to help us innovate, so we sometimes end up leading the industry — and in order to do that, we have to be really nimble."
Unlike other companies with three, six, or 12-month development cycles, Arista prides itself on committing to and investing in new projects quickly. "If you look back over the last 10 years, some of the biggest decisions on our most critical engagements were made within an hour or two," Anshul said. "Often, our product's already shipping before competitors can try to match us."
That saved time is passed along to Arista customers, who can quickly deliver advanced solutions in their respective markets.
"Our cloud customers, as well as large enterprise and financial, now come to Arista to ensure the time to market for their solutions will be as short as possible," he said. "It's all due to how we execute that quick, low politics-style decision-making."
Arista is also committed to designing, building, and delivering its software-driven solutions in a socially and environmentally responsible manner. To that end, the company's headquarters in Santa Clara and office in San Francisco are both LEED Gold certified by the U.S. Green Building Council. This designation reflects the use of sustainable materials, water, energy, and transportation, among other factors.
A Continuous Focus on Enhancing Performance
Over the years, Arista has expanded its network speeds to meet increasing industry standards, going from 10 to 40 to 100 gigabit Ethernet switches.
"As a high-performance switching company, we are always working on the next speed," Anshul said. "Now, 400 gigabit Ethernet is shipping, and in our minds, 800 gig Ethernet will be shipping in the next three years. That will enable more solutions on the artificial intelligence front."
Meanwhile, the company will continue to serve as a reliable alternative to networking industry giants.
"The customer experience we offer has been unmatched, in my view," Anshul said. "As a result of that, once a customer starts using Arista, very rarely will they ever try something else. We want to keep it that way."