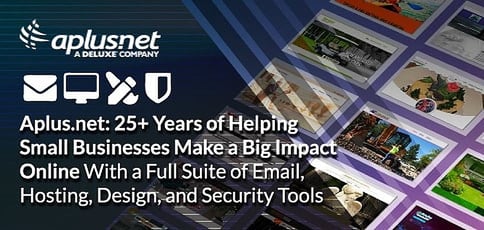 TL; DR: As the web hosting market for businesses slowly shifts toward complex cloud and Infrastructure-as-a-Service solutions, Aplus.net has remained focused on simplicity for small businesses for more than two decades. By catering to an audience that largely lacks technical expertise but relies on websites to drive sales and profits, the company prioritizes offering a wide range of easy-to-use products and services built for professionals.
Confident that Aplus.net and parent company Deluxe offer the tools and services needed to efficiently manage and grow all aspects of a small business, Vice President and General Manager Damon Fieldgate has only one pet peeve.
"There's nothing worse for me than when I hear a customer say, 'Oh, I didn't know you did that,'" he said. "That's extremely frustrating for me."
Aplus.net combines a 26-year web hosting legacy with Deluxe Corporation's extensive portfolio of business-oriented services, including logo design, marketing, custom printing, and payroll services.
The company's active outreach program and close connection with customers build customer awareness for the variety of easy-to-use online components Aplus.net provides, ranging from domain registrations and email hosting to SSL certificates and payment processing.
"Aplus.net has really ensured and really strived to focus on that small business market by making sure the products and services are really easy to understand," Damon said. "The simplicity of our offerings is our strength, which especially helps that business owner who needs to focus on building their brand."
Security and Design Services Help Customers Focus on Their Business
Launched in 1992, Aplus.net originally offered the standard web, domain, and email hosting services. Damon said the company expanded to include a website builder, eCommerce store creator, and logo design tool to become a full-service and reliable option for small businesses.
"The reason small businesses outsource their hosting is that they're focused on other aspects of their business," he said. "Whether it be web design, IT help, or support, we want to make this as simple as possible. We build our core offerings around domains, hosting, and email, but we look to add services that help small businesses achieve their objectives."
The full-service approach particularly resonates with Aplus.net customers when it comes to website security, where Damon said, "unless you're told about it, you don't know it's a problem until it's too late."
The company simplifies protection by partnering with RapidSSL and Equifax for SSL certificates, along with SiteLock for vulnerability scanning and malware detection.
"The first few times we detect vulnerabilities, we'll fix stuff for free to make sure the customer is protected," Damon said. "We're able to create the awareness with our customers that security is not just an issue for the big companies; it should be a concern for small businesses, as well.
How Aplus.net Values Simplicity and User Experience
At Aplus.net, product managers continually examine the brand's competitive positions in the hosting market. Combining that insight with a deep understanding of the company's customer base ensures Aplus.net products stand out.
"Rather than just putting up generic hosting plans or generic email plans, they are really targeted at the core customers of Aplus.net," Damon said. "We spend a lot of time in the market and watching what our competitors are up to, but the key is really understanding who our customers are and what they're looking to achieve with our tools."
The company has especially concentrated on usability, of late, according to Damon, and recently completed a total redesign of the Aplus.net website.
"We certainly spent a lot of time and effort putting good thought and consideration to the user experience so they can quickly find what they're looking for, whether they're already on the site or coming to us for the first time through search engines," he said. "We've really tried to make sure the products and services are clearly laid out and easy to get to, helping the customer get to where they need to be."
Active Outreach and Support Drive Communication With Customers
Instead of waiting for small businesses to encounter problems and contacting the Aplus.net support team in a panic, the company actively monitors customers' sites for vulnerabilities and regularly reaches out with information.
"Small businesses have enough on their hands without having to worry about shopping around for products and services," Damon said. "It's our responsibility to make sure these tools we have, as part of a wider group, are readily available and identifiable."
Damon encourages customers to reach out by phone 24/7 to the Aplus.net's support center, located in North America.
"We hope that goes beyond just technical support," Damon said. "Our aim is to always be there to help the customer and guide them on their online journey."
Future Improvements and Integrations With Deluxe Services
Moving forward, Damon told us that Aplus.net customers can expect to see several improvements to the company's proprietary account management and control panel.
Many of the enhancements came directly from customer suggestions and feedback, he said. Aplus.net regularly surveys customers to learn how the company can refine its services.
The first release, expected in a few months, will improve overall usability, along with the capability to manage multiple domain names and hosting accounts.
"We're always looking at new products and services we can add to the mix," Damon said, pointing to the recent addition of email marketing, payment processing, and fax-to-email systems. The company extends its small business services beyond online-only relationships with the inclusion of Deluxe's printing services for business cards and promotional materials.
"We aim to make the experience as seamless as possible," Damon said. "Customers are not getting five or six bills from a group of Deluxe companies; they have one account and one bill coming from the brand they're used to, and the brand they trust."