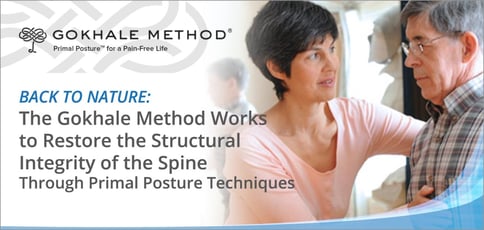 TL; DR: The Gokhale Method, developed by Esther Gokhale, uses healthy posture and movement techniques to restore the body's primal structural integrity and reduce back pain. The regimen is said to empower participants to weave visual, kinesthetic, and intellectual health education into their everyday lives, profoundly changing even the most deeply ingrained habits. Now, as the company begins to help businesses incorporate its methods into their corporate cultures and IT departments, the Gokhale Method is poised to make an even greater impact on spine health worldwide.
Forget cortisone injections, NSAIDs, ice, and supportive braces: Esther Gokhale, an acupuncturist in Palo Alto, California, believes healing chronic back pain requires a little help from our distant ancestors.
Modern scientists describe the curvature of a healthy spine as S-shaped when viewed from the side. But while an S-shaped spine is frequently observed in modern anatomy, Esther says Homo sapiens are intended to have a J-shaped spine — and only recently reverted to a pain-causing posture. "This S-shape paradigm is as incorrect as the archaic belief that the Earth is flat," Esther told us.
After experiencing crippling pain caused by a disc herniation that began during her first pregnancy — and a subsequent unsuccessful back surgery — Esther set out to find her own cure. She started with research at the Aplomb Institute in Paris before studying pain-free tribes in Burkina Faso, India, and Portugal.
Esther says the J-shaped spine can be found in historical anatomy illustrations, indigenous tribes, and even the backs of modern children. "In the J spine, the behind is behind and then up above is the small of the back," she said. "It's pretty straight up and down."
Determined to help modern populations get in touch with their primal postures, Esther developed the Gokhale Method, a systematic technique used to restore structural integrity and encourage a pain-free existence. "We're taking people back to what they used to do when they were little, what their ancestors did, and what people still do in fewer and fewer corners of the world," she said.
Studies show that more than 80% of people who use computers for more than four hours a day complain of back pain. Those of us in the IT sector typically double that computer time daily. Esther helps thousands of people just like us eliminate pain by weaving healthy posture techniques into their everyday lives. The comprehensive approach includes everything from advanced spine tracking technology to global educational opportunities. As the company pursues integration opportunities within corporate wellness initiatives, it is poised to make a positive impact on the lives of even more individuals.
Weave Healthy Posture Techniques into Your Everyday Lifestyle
According to Esther, tribes like the Ubong in Borneo, a large island in Southeast Asia's Malay Archipelago, have the ideal spine shape and posture. "If you don't have this framework, then you're missing out on all the benefits — that self-healing, self-exercising mechanism — and instead you're getting a whole bunch of wear and tear and back problems," Esther said.
But there's good news for modern, time-strapped individuals: Esther designed the Gokhale Method to ensure seamless integration within our everyday lives. "Our hunter-gatherer ancestors weren't going out to get adjustments and injections," she said. "With the Gokhale Method, life becomes your gym, providing your therapy and exercise and making your existence more comfortable."
After an initial learning period devoted to practicing new movements, Esther said many individuals begin to adopt the techniques subconsciously. As students continue to work the skills into their daily lives, they will begin to feel natural.
Esther also wants to dispel the myth that the pelvis should be tucked in to protect the back. "The L5-S1 disc, which is the one I damaged, is wedge-shaped in our species," she said. "So when you tuck in your pelvis, which is a very common guideline in modern times, you're actually squishing the front part of that disk. You're pushing the contents backward, and right behind the disc is where the nerve roots are."
The Gokhale Method provides the education individuals need to avoid harmful postures so that pain doesn't occur in the first place. And it's quickly gaining traction with a growing worldwide fanbase — which includes folk singer Joan Baez and South African human rights activist Desmond Tutu.
In a recent interview with The Guardian, Joan Baez revealed her self-care secrets. "The most important element is the Gokhale Method, which is all about posture and based on native women who stand straight even after picking rice all day and don't have any back problems," she said in the article.
Heal Yourself Through Worldwide Educational Opportunities
But Joan Baez and Desmond Tutu aren't the only ones benefitting from the Gokhale Method. Reviewers on HealthOutcome.org, a crowdsourcing platform for medical interventions, gave the Gokhale Method 4.3 out of 5 stars for lower back pain. Many other solutions ranked far lower, including supportive shoes (2.3 stars), massage (2.3 stars), strengthening exercises (2.2 stars), NSAIDs (2.2 stars), and cortisone injections (1.8 stars).
The Gokhale Method is multilayered, featuring classes, a book, wearable technology, special cushions, rollers, and chairs. But Esther said the most indispensable element is education, which includes free online and in-person workshops from teachers situated across the globe.
"Our teachers are igniting student imaginations as to what's possible, teaching them the first baby steps toward healing themselves," she said. "Most people are kinesthetic learners who need hands-on intervention in order to overcome what they're used to."
In addition to free introductory courses, the organization offers both a six-lesson course and a concentrated one-day course for those who can't attend the full six lessons.
Esther said people also derive value from her book, "8 Steps to a Pain-Free Back," which presents the Gokhale Method in self-help form for those unable to attend in-person sessions. Featuring more than 1,100 images, the book clearly illustrates the steps readers should take to achieve spinal health.
"I think what makes our interventions so effective and efficient is our use of multiple channels," Esther said. "We use hands-on instruction, technology, and the intellectual capacity that people have developed. We carry around all this grey matter — why not put it to use?"
Build Strength and Resilience with Spine Tracking Technology
The Gokhale Method also consists of a wearable device: the Gokhale SpineTracker. The technology consists of five sensors that attach to the spine via stickers, plus a corresponding app that allows users to see their spine's shape and movement.
During class, the teacher works with the student to determine his or her ideal spine position and takes snapshots of those positions in the app. After the ideal is set, SpineTracker can assist students in recreating their posture by comparing their current position to the saved baseline.
All snapshots recorded through the app are uploaded to the student's Gokhale web portal, making it easy to track changes over time. "The Gokhale SpineTracker gives you a real-time look at your spine," she said. "This helps people practice what they need to do in their bodies to come back to the target that their teacher sets for them."
The company is currently working on the next-generation of SpineTracker hardware, which will allow all five sensors to be charged at once on an included charging pad. The new, waterproof sensors will also provide a more comfortable user experience and allow for a broader range of measurements.
Esther hopes to spread the word about SpineTracker (and all Gokhale Method components) to physicians.
"Physicians tend to get in trouble because they have to bend over their patients," she said. "The Gokhale Method is a perfect fit for their busy lives, and since we don't have a marketing or sales budget, physicians are a good source of organic growth. We've had more than 500 physicians graduate from our course, and they're our main referral source apart from word of mouth."
Achieving Cultural Change Through Corporate Influence
In the future, Esther would like to leverage influential relationships within corporations to help even more people live pain-free lives.
"Corporations create ecosystems where everyone learns from the people around them," she said. "If we succeed in feeding posture awareness into a company's culture, it will be self-enforcing, because people will have healthy examples to mimic."
A growing number of companies are choosing to introduce corporate health and wellness plans as an employee benefit, and the Gokhale Method could be the perfect fit for those initiatives.
"People often have a stipend they're allowed to use at their discretion," Esther said. "We hope to use these opportunities to help large groups of people."
Advertiser Disclosure
HostingAdvice.com is a free online resource that offers valuable content and comparison services to users. To keep this resource 100% free, we receive compensation from many of the offers listed on the site. Along with key review factors, this compensation may impact how and where products appear across the site (including, for example, the order in which they appear). HostingAdvice.com does not include the entire universe of available offers. Editorial opinions expressed on the site are strictly our own and are not provided, endorsed, or approved by advertisers.
Our Editorial Review Policy
Our site is committed to publishing independent, accurate content guided by strict editorial guidelines. Before articles and reviews are published on our site, they undergo a thorough review process performed by a team of independent editors and subject-matter experts to ensure the content's accuracy, timeliness, and impartiality. Our editorial team is separate and independent of our site's advertisers, and the opinions they express on our site are their own. To read more about our team members and their editorial backgrounds, please visit our site's About page.