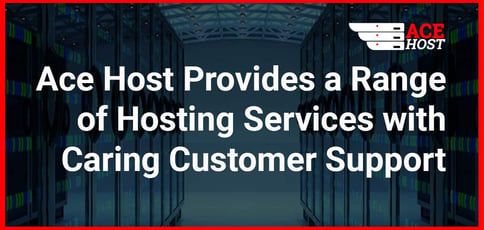 TL; DR: Located in Tampa, Ace Host offers hosting services and capabilities, including small business, crypto, and streaming, to meet various needs. The team places an emphasis on customer service and partners with customers to deliver plans that work for them. We spoke with Russ Bruno, Ace Host Founder, about the company's beginnings, outlook, and growth since it launched in 2020.
Full-circle moments don't happen often. But when they do, they can come up with some beautiful results. Merriam-Webster defines a full-circle moment as a series of developments that lead back to the original source. And full-circle is the only way to describe Ace Host Founder Russ Bruno's latest venture in the hosting industry.
Since 1998, Russ has sported many hats working in the hosting industry. He has built datacenters, launched ISPs, partnered with big brands, and sold various hosting companies. But it wasn't until three years ago that Russ' idea for Ace Host emerged, and it was all brought up from a decision he made more than 20 years before.
In 1998, Russ and his partners built a datacenter in downtown Tampa and sold it to another brand. During the COVID-19 pandemic, that same brand contacted him and asked if he wanted to take over the facility. Russ obliged, and in the past year, Ace Host also has received and onboarded another offer from a datacenter facility in Durham.


"This October is three years in with Ace Host fully standing on its own. We're doing true colocation, dedicated servers, and cloud environments. And then a lot of our clients are in the blockchain, AI, and traditional colo, which a lot of is regional," said Russ.
Like its founding story, Ace Host is not your typical hosting experience. The team focuses on building solid customer relationships and prioritizes customer support. Ace Host also provides a variety of hosting solutions that delve into more niche categories, including crypto mining and streaming.
"We went a different route versus some of the bigger companies. We were able to carve out where we saw some available opportunities because, for those folks that are maybe starting off using Amazon or Azure, it can be a little too pricey," said Russ.
A Zero-Debt Business With Fair and Affordable Services
In recent years, Tampa, Florida's image has shifted from a bright and sunny tourist destination to more of a business hub. Russ told us many people are moving to the city. This is no surprise, as Florida is currently experiencing a massive migration influx. In a city with limited datacenter options, Ace Host is in a prime position to serve these new business residents.
"We have power and availability. We're right in the middle, not too expensive or cheap. We're trying to keep things very fair. And so we've been getting a lot of colocation business," said Russ.
Russ said Ace Host has some of the most affordable prices on the market compared to those of competitors in the area. One reason Ace Host can offer lower prices is because it is a zero-debt business. Ace Host is self-funded with zero debt, allowing it to be more flexible with pricing.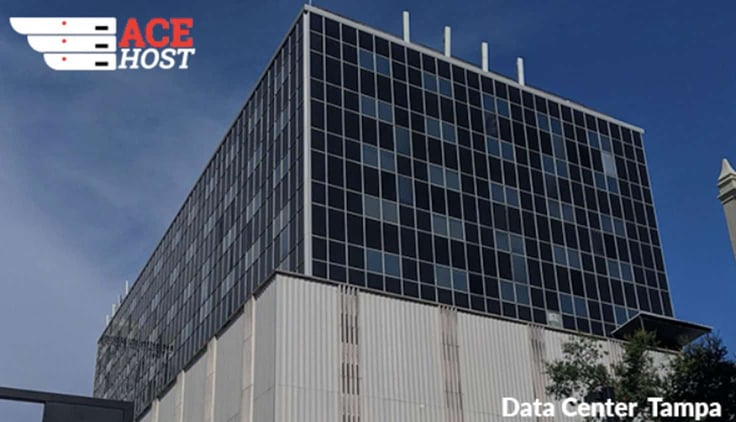 "You've got flexibility with your hosting bill, a company that is debt free, and experience of 20 years at your disposal. We're not the shiny object with a cute name. But when you come and see us, we're everything that we say we're going to do," said Russ.
Although Ace Host is still in the early stages, the hosting company has already established a key part of its identity by offering fair and affordable services. Customers can count on Ace Host to deliver the services they need with exceptional customer service they can't find elsewhere. And Ace Host's success has been evident.
"Joe Vita (CEO), Scott Clarkson (President), and our support team and operational teams have been working and grinding for three years straight to build this from zero. We started with zero revenue. And we're going to hopefully eclipse the $5 million mark in three years' time," said Russ.
Creating Success With Features Users Need
Ace Host provides various capabilities that can be used in different ways. What makes Ace Host unique is that it can be a traditional host while offering flexibility in other arenas. Customers use Ace Host to power their web design businesses, crypto mining, and colocation needs, among other use cases.
"We can be a node on your network. You can be on the development side and create and build the architecture between our facility and the gateways of Amazon and Azure," said Russ.


The Ace Host team is ready to help customers with anything they need, from security assistance to support. Ace Host has engineers on staff who can work within any cloud or hosting environment, whether within the Ace Host facility or outside of it. Russ told us the team recently conducted an audit for a client that needed help with security ransomware.
Ace Host also partners with customers along their growth journey. The team forms excellent relationships with users to understand their needs and help them build growth plans. Russ said he also meets with customers. This emphasis on customer service has allowed Ace Host to create lasting connections and boost customer loyalty.
"You have to give people customer service. You have to make sure that you're there for them. And what sets us apart is our customer service, that they can get us on the phone. And if there is a problem, we try to make things painless," said Russ.
Scaling Growth Alongside Customers
Ace Host has seen tons of growth over its three years of existence. Not only has it scaled, but it has helped customers scale as well. And much of what it does on the business and development side reflects its commitment to its customers.
"Our business deals truly have to be a win-win. And there are times when we put ourselves on the line for a customer," said Russ.
Ace Host is currently in growth mode. Its colocation offering is the most popular in its catalog and has helped the company expand in revenue and consumer base. But the team also plans to launch new services.
"We want to roll out a security and managed services platform so that we can start taking on more managed service clients and help with some of their securities," said Russ.
Ace Host also seeks to grow through smaller acquisitions, which it had done earlier. Russ has one prospect he will be closing on within the next month. And the team has more expansion opportunities on deck.
"It's been a long road. I made it and then retired from it. I've cut some deals. But we're grinding it out and figuring it out. And the hosting business has been very rewarding," said Russ.