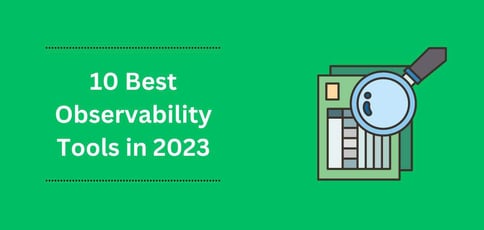 Observability tools exist for everything these days. IT teams no longer have to begin a project blind and resort to guesswork. The following platforms allow teams to see into their networks, cloud infrastructure, databases, SaaS tools, websites, etc., and understand the ins and outs of their operation. This allows them to target where to make improvements, understand metrics, and troubleshoot.
Having so many visibility platforms on the market is great news for modern businesses. But it can also make it hard for companies to choose the right platform. Below, we discuss the 10 best observability tools and their benefits to help you narrow down your choices.
Let's dive in!
ManageEngine provides the tools you need to secure and manage all your operations in one place. Its platform has more than 60 enterprise IT management tools and includes observability for network, server, and application performance. You won't lose a step with ManageEngine as your provider.

Users can receive instant alerts for critical IT incidents and real-time status updates. Because ManageEngine provides an end-to-end monitoring experience, it ensures every part of your IT infrastructure will be covered. It also provides security monitoring, so you can block malicious attacks and tighten network protection.
More About ManageEngine:
Provides end-to-end visibility for network, servers, and storage devices
Serves more than 280,000 companies and 3 million administrators
Tracks application performance with code-level diagnostics
LogicMonitor leverages AI to power its hybrid observability platform. With LogicMonitor, users don't have to wait around hoping for the best. Its solutions allow the team to proactively improve their IT operations with in-depth insights from its automated monitoring. So, teams can focus less on remediation and more on innovation.

LogicMonitor's platform has a solution for almost anything you can think of, from network and database monitoring to AWS and SaaS observability. The LogicMonitor team understands modern companies have to juggle multiple platforms and provides the monitoring assistance needed to ensure that management stays in tip-top shape.
More About LogicMonitor:
Serves more than 25,000 users
Provides a unified platform to eliminate complexity
Automates the monitoring process and sends immediate actionable alerts
Looking for a partner in your observability journey? Auvik is the solution for you. From the start, Auvik helps users onboard its software with attentive customer support and in-depth help documentation. Its platform focuses on network, SaaS, and wifi management and provides users with complete network transparency.

Teams can visualize their entire SaaS ecosystem, map and navigate their network in real time, and gain insights into Wifi performance. Auvik allows companies to discover and fix issues faster and doesn't cost much to do so either. Businesses can experiment with different network configurations and estimate pricing on the Auvik site using its calculator.
More About Auvik:
Serves more than 3,600 customers
Allows users to observe and manage SaaS apps and various networks
Automates inventory management and configuration backups
Logz.io is the only observability and security solution built with the world's most popular open-source monitoring tools. The platform includes Prometheus, OpenTelemetry, OpenSearch, Jaeger, and M3. Each tool helps power its log management, distributed tracing, infrastructure monitoring, and cloud threat detection (SIEM), providing a unified platform for all your visibility needs.

Users can monitor and troubleshoot their stacks with insights on their log, metric, and trace data. Logz.io also helps customers save on costs and cut unneeded data, reducing user expenses, on average, by 32% with its Data Optimization Hub.
More about Logz.io
Serves more than 1,400 customers
Simple to deploy and scales with your data volume
Collects cloud infrastructure from top cloud providers
Sumo Logic helps users better understand their complex data with its comprehensive monitoring and analytics system. It allows companies to visualize end-user behavior, analyze application data, improve troubleshooting, and gain insights for cloud infrastructure security.

Secure by design, Sumo Logic ensures the highest level of security for your data and delivers out-of-the-box compliance. The SaaS company also uses machine learning to pinpoint and resolve issues quickly. Overall, Sumo Logic provides a complete tool for full visibility of your infrastructure.
More About Sumo Logic:
Provides a 30-day free trial and flexible pricing
Offers hundreds of native integrations for visibility into your apps
Trusted by Pokémon, Alaska, and thousands of other customers worldwide
Elastic helps teams find answers for their IT processes using AI. Its Elasticsearch platform shoots out relevant data results with speed and accuracy to minimize downtime and respond to threats at scale. If you have trouble analyzing your data, Elastic is for you.

Its observability solution handles log, metric, and trace data and profiles it for you. Elastic also transforms these data points into actionable insights so you can know which steps to take to improve your IT processes and innovation. Users can take a tour of Elastic for free on its website.
More About Elastic:
Trusted by 50% of Fortune 500 companies, including Cisco and T-Mobile
Uses AI and machine learning to transform data into relevant insights
Provides application performance monitoring to improve code quality
Calling all Telecom providers! Anlix provides an analysis and monitoring system to help providers with their decision-making. Its Flashboard solution allows users to monitor and track their network's wifi performance and anticipate customer behavior with predictive analytics. Users also receive weekly reports to evaluate the wifi performance of each of their clients.

About 35% of broadband customers have bad experiences with Wifi. Anlix enables telecom providers to avoid these challenges and create preventive measures to enhance wifi quality. Anlix is the perfect tool for providers who want to be proactive about network management.
More About Anlix:
Visualizes CPE maps with network and wifi quality attributes
Serves more than 10 million devices
Provides historical data reports
Almost every organization has some form of cloud infrastructure within its network. Middleware helps those companies see into their cloud to identify, understand, and fix issues. Its AI-powered cloud observability platform provides full visibility of your stack, from databases and containers to server logs and application performance.

Middleware offers real-time log, metric, and trace data monitoring in a unified view. AI helps detect issues and provides users with recommendations for repairing these problems. Middleware is also quick. In one minute, it can make your real-time application observable.
More About Middleware:
Has AI-based predictive algorithms that give suggestions
GDPR, CCPA compliant, and SOC 2 type
Reliable at a high scale
Edge Delta takes care of your data at the edge. It provides observability pipelines to help dev teams better understand their data and control its size. Edge Delta allows teams to build and configure their own pipelines and makes it easy by highlighting best practices.

Edge Delta also maximizes the usability of your data, showing you how to enrich your processes. And you don't have to worry about going over budget. Edge Delta helps users save money by providing visibility into new datasets and helping them identify which datasets not to index.
More About Edge Delta:
Allows developers to test on their pipelines before deploying
Offers a point-and-click interface for easy management
Provides 20-plus prebuilt processors to help you manipulate your data
ScienceLogic is a one-stop shop for all your visibility needs. The company offers hybrid cloud, multicloud, and network monitoring solutions. ScienceLogic helps empower IT teams by helping them contextualize their data and take actionable steps to improve performance.

Because ScienceLogic is a comprehensive solution, it allows users to connect their IT ecosystems, bridge gaps, and visualize various datasets all in one place. Its AIOps platform uses AI and machine learning to facilitate relationship mapping between infrastructure, applications, and business services.
More About ScienceLogic:
Automate troubleshooting with real-time diagnostic data
Allows users to consolidate tools with an all-in-one platform
Scales easily to meet business needs
Visibility is crucial for businesses and their IT teams. It allows them to understand their data, save on costs, and improve performance for their end users and operational processes. Without observability, all companies can do is react. The observability platforms we've listed above help companies be proactive and get ahead of challenges before they're too late to fix. We hope one of these platforms will help you see into and better understand your IT infrastructure.