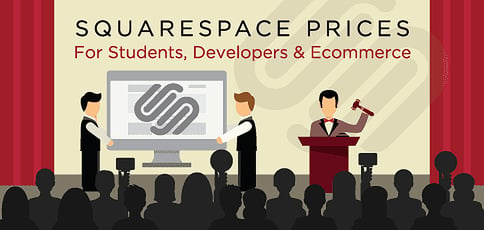 Before spending money on a new website builder platform, be sure to check out our guide on Squarespace pricing. While there are tons of builders that let you start for free, Squarespace represents a more expensive option. Is the price tag worth it? Read on to find out!
There is no shortage of easy-to-use website builders out there, most of which giving beginners a drag-and-drop environment in which to work and allow more seasoned developers to customize templates with their own code. What sets many of these builders apart, however, is price. Squarespace has been in the website building and hosting game since 2004. Here, we'll take a look at how their pricing stacks up when compared with other top site builders.
All Squarespace Pricing (Plans & Discounts)
Squarespace offers a few different plans based on how websites will be used. Their Personal, Business, and eCommerce plans vary in price and features.
Annual plans range from $12 to $40 per month. Squarespace provides discounts for students and free service for developers during the design stage. Similar to top builders, like Wix, Squarespace also offers a 14-day free trial.
Cheaper Alternatives to Squarespace
If you're looking for a website builder with beautiful templates and an easy-to-use, drag-and-drop editor, Squarespace might be for you. Though, if you're on a budget, you may want to reconsider. Compared with other builders that offer similar tools and features, Squarespace can become cost-prohibitive very quickly.
Squarespace offers a discounted monthly rate to site owners who sign up for yearlong commitments. Their standard plans start at $12 per month if paid annually in a lump sum of $144. If users opt for month-to-month billing, they can expect to pay $16 per month. The Business and eCommerce plans have similar incremental price increases based on how the plans are billed.
Though Squarespace offers beautiful templates and an intuitive UI, their pricing really can't compete with the top website builder hosts. For as little as $2 to $5 per month ($24 per year), site owners can get up and running with equally effective features. A savings of $120 is a tough argument for Squarespace to overcome.
Here are our expert-recommended website builder hosts with cost points coming in well below those of Squarespace:
No coding skills needed with drag-and-drop builder
100s of templates with niche-specific designs
Add features via the App Market and Wix Events
Easily create ecommerce functionality easily
Great way to build small sites on a budget
Wix: Our Expert's Review
Setup time: 4 minutes
Go to full review

»
Website building is where Wix shines. The thousands of templates, the intuitive editor, the industry-leading designs that cater to a variety of specific fields and use cases — all these facets represent a platform that excels at facilitating easy web design...
| Money Back Guarantee | Disk Space | Domain Name | Website Builder Hosting Plans |
| --- | --- | --- | --- |
| 14 days | 500 MB - 20 GB | Transfer | www.wix.com/site-builder |
Choice of Weebly or WebsiteBuilder by iPage
Mobile-optimized options and easy-to-use setup wizards
100s of professionally designed, customizable themes
FREE online store, shopping cart, and blogging platform
Get +75% off your first month
iPage: Our Expert's Review
Setup time: 4 minutes
Go to full review

»
Do you want your website built today? If you answered "yes," you should look no further than iPage. In fact, it's possible for you to be online before you even finish reading this article. Thanks to iPage's user-friendly interface, instant provisioning, and...
| Money Back Guarantee | Disk Space | Domain Name | Website Builder Hosting Plans |
| --- | --- | --- | --- |
| 30 days | Unlimited | FREE (1 year) | www.ipage.com/site-builder |
Integration with Fotolia and Flickr image databases
Pre-built and customizable content with GridBlocks
Responsive themes with tablet and mobile editing views
Generates clean, efficient, and compliant HTML
SEO, gallery, and forms plugins
BoldGrid: Our Expert's Review
Setup time: 5 minutes
Go to full review

»
After taking the BoldGrid suite of plugins for a test drive, we experienced how the company makes WordPress more accessible for beginners and much more efficient for professional developers.Because BoldGrid requires a separate hosting account and WordPress...
Drag-and-drop design with the Gator™ website builder
Hundreds of mobile-friendly, industry-specific templates
FREE hosting, domain name, and SSL certificate
Easily add a blog, ecommerce, and social media marketing
Analytics portal helps you gauge your site's performance
HostGator: Our Expert's Review
Setup time: 4 minutes
Go to full review

»
Setting itself apart from the scores of competitors that rely on white-labeled website builder solutions, HostGator spent the time to painstakingly craft its own platform. Gator provides a frustration-free experience that pairs the simplicity of drag-and-drop...
Weebly or goMobi site builder
FREE domain name registration
Automatic daily, weekly, and monthly backups
Gain exposure with $200 in FREE advertising credits
Optional professional services help design, build and market your site
Bluehost: Our Expert's Review
Setup time: 5 minutes
Go to full review

»
With Bluehost, new site owners have the drag-and-drop simplicity of the Weebly website builder and goMobi mobile site builder at their fingertips. This makes launching a new online brand, store, or personal site from scratch relatively painless. Sure, site...
| Money Back Guarantee | Disk Space | Domain Name | Website Builder Hosting Plans |
| --- | --- | --- | --- |
| 30 days | 50 GB SSD - Unlimited | FREE (1 year) | www.bluehost.com/site-builder |
See more website builder plans »
Squarespace Website Pricing
Squarespace website pricing is pretty straightforward. They charge $12 per month billed annually for Personal plans. If site owners opt for month-to-month billing, the cost increases to $16. The $12 premium gives users a host of features, including:
20 pages, galleries, and blogs
Unlimited bandwidth and storage
Two login accounts
Mobile-optimized website
Website analytics
Free custom domain
SSL security included
Customer support
Integrated eCommerce
Sell unlimited products & accept donations
Business plans are charged at $18 per month billed annually. Squarespace offers month-to-month billing for business sites, too, at an increased rate of $26. Business customers enjoy a broader array of features, including:
Unlimited pages, posts, galleries
Unlimited bandwidth and storage
Unlimited login accounts
Mobile-optimized website
Website analytics
Free custom domain & email
SSL security included
Customer support
Integrated eCommerce
Sell unlimited products & accept donations
2% sales transaction fee
$100 Google AdWords credit
Signing up with Squarespace is simple and begins with a free trial. Once site owners decide the platform is right for them, they can sign up for a plan.
Squarespace eCommerce Pricing
For the entrepreneurs in our audience, Squarespace offers two eCommerce plans: Basic and Advanced. Their Basic plan runs $26 per month billed annually, or $30 billed monthly. Features of the Basic plan include tools small and beginning businesses need to get going:
Sell unlimited products
No transaction fees
Integrated galleries & blogs
Mobile-optimized website & checkout
Free custom domain
SSL security included
Customer support
Commerce analytics
Email from Google
$100 AdWords credit
Unlimited storage & login accounts
Inventory, orders, tax, discounts
Label printing via Shipstation
Integrated accounting via Xero
Squarespace's Advanced eCommerce platform costs $40 per month billed annually, or $46 billed by the month. The Advanced plan has all the features of the standard plan, but also includes an abandoned checkout autorecovery tool and real-time carrier shipping.
Squarespace Developer Pricing
The Squarespace Developer Platform allows professionals to take Squarespace's templates and alter their source code to customize them. The platform is free during the development stage and will convert to a business-level account when launched. Developers can tailor websites using a host of features the platform offers such as:
Full code control & local development
Built-in GIT
JSON data store
JSON-Template
Content Delivery Network
Site manager
Squarespace's solid infrastructure also ensures high availability, so sites will always be visible to visitors. This, coupled with their comprehensive feature set, makes Squarespace a viable option for freelance developers to get a head start on client projects.
Transparent pricing is something Squarespace prides themselves on. When looking to purchase a domain, Squarespace offers one flat, all-inclusive rate. Domains are $20 annually. That cost is fixed, so site owners can renew at the same rate.
Unlike others, Squarespace doesn't promise a low signup fee only to tack on charges after the fact. SSL certificates and Whois privacy are included in the $20 annual fee.
How to Get a Squarespace Pricing Discount
Students interested in signing on with Squarespace are in luck. If you're attending an institution enrolled in Squarespace's education program, you're eligible for 50% off your first year.
Students can search for their university on Squarespace's student discount page and register with a .edu email address. Once signed up, students can choose from hundreds of customizable templates and have sites up and running immediately.
Squarespace knows savvy consumers spend hours scouring the web to find coupon codes for the services they need. That's why they've decided to save their customers the trouble of going through third-party sites to find deals.
Their GIMME10 coupon code allows new customers to receive 10% off their first purchase. Squarespace isn't cheap, and taking advantage of this offer can help cushion the cost.
The Bottom Line: The Price of Squarespace Can't Compete With Top Hosts
Website builders have come a long way since the early days of Dreamweaver when I was in grad school. I got my site online, and my students were able to easily navigate to course materials, but the process would have been much easier using today's tools.
Sure, if Squarespace had been around back then, I would have jumped on board immediately. Now, with the number of effective builders and hosts on the market, like those listed above, Squarespace's pricing really can't compete.