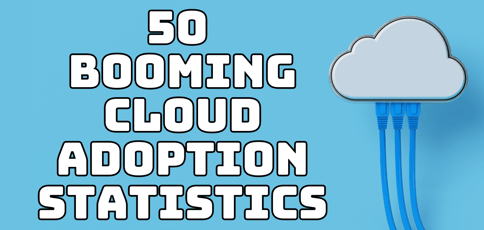 The cloud may seem like some invisible database where all our information floats up in the sky, but it doesn't quite work that way.
Instead, the cloud is a global network of remote servers linked together by the internet to operate as a single ecosystem. It's what allows you to access your documents from different computers and pick up a game from where you left off on any device.
So without surprise, this cost-effective, easy-to-use storage solution is climbing the ranks. But we don't have to tell you that — these statistics speak for themselves.
Here are 50 of the most impressive cloud adoption statistics available in 2023.
1. The Number of Companies Using the Cloud in 2023 Topped 94%
In 2023, the number of companies embracing cloud services reached 94% — a remarkable growth in cloud adoption!1

As more businesses become familiar with the cloud landscape and realize its cost-reduction capabilities, more organizations will rely on the cloud for their workloads and data storage.
For example, Emirates moved from on-premises to the cloud during COVID-19 in 2020 to reduce hardware maintenance costs.2
2. COVID-19 Prompted 61% of Businesses to Migrate to the Cloud
COVID-19 led many businesses to adopt hybrid work and, consequently, cloud computing.3
As a result, 61% of businesses migrated to the cloud, leveraging its flexibility and scalability to support remote work and the changing digital landscape.1
3. The #1 Factor Driving Cloud Initiatives is to Enable Disaster Recovery
Companies embrace cloud computing for various reasons, and the primary motivation is to facilitate disaster recovery solutions and better guarantee business continuity.4

Other reasons include replacing outdated technology, reducing the cost of ownership, enhancing employee productivity, and gaining increased flexibility to respond to market fluctuations.
4. The Cloud Migration Market to Grow 28.24%
The cloud migration market has an impressive CAGR of 28.24%, which values it at $181.29 billion with a projected reach of $628.83 billion by 2028.5
Did You Know? Cloud migration refers to services cloud migration providers offer to help companies move their information and servers to cloud platforms.
5. Microsoft, AWS, and Google Hold 66% of Cloud Market Share
Microsoft, Amazon Web Services (AWS), and Google are the three major players in the cloud service market, claiming 66% of the shares.6

This is a 5% increase from 2021, when the three service providers held a 61% share. Other key players include IBM, Accenture, and Cisco.
6. Nearly 70% of SMBs Reinvested in Their Businesses Post Cloud Migration
Although small businesses are among the slowest to adopt the cloud, an optimistic 70% were able to reinvest in their companies since moving to the cloud.
Adopting cloud services helped them cut costs, increase efficiency, or generate new revenue streams, ultimately contributing to their business growth and development.7
7. IT Departments Govern 72% of Cloud Spending Decisions
Most organizations rely on their information technology (IT) departments to help with cloud-related cost-making decisions.

Approximately 72% of cloud spending decisions are managed by IT, and the remaining 28% is overseen by other lines of business within the organization.4
8. Organizations Employing a Hybrid of Public and Private Clouds Held at 72%
For the last couple of years, a steady 72% of organizations said they use a mix of public and private clouds.8
Broken down, this statistic shows:
24% use a public cloud only
4% use a private cloud only
72% use a hybrid
Some organizations also embrace the multi cloud approach, with nearly 92% of enterprises relying on a multicloud strategy.9
9. The Cloud Computing Market Will Reach $1.2 Billion by 2030
The cloud computing market size was valued at an impressive $483.98 billion in 2022, with an expected compound annual growth rate (CAGR) of 14.1% between 2023 and 2030.

Experts suggest this growth is due to cloud computing's ability to enhance large enterprises, the demand for hybrid and Omni-cloud systems, and pay-as-you-go models.
Also driving the growth is increasing popularity in developing countries to support digital activities and government initiatives to safeguard data integrity and security.10
10. Nearly 80% of IT Professionals Experience Improved Productivity and Budget with Cloud Migration
Close to 80% of IT professionals say moving to the cloud improved their productivity, saved money, and provided better security.11

More specifically, they've saved around 20% on average, with cost savings leading to more efficient workflows, scalability, and reduced maintenance.
Additionally, 84% of businesses surveyed reduced computing costs, which saves an average of 40% on the cost of physical space.
11. Public Cloud Service Revenue to Reach $165 Billion by 2026 in Asia-Pacific Region
In the Asia-Pacific region, public cloud service revenue is projected to increase nearly three times over the next three years — set to reach $150 billion by 2026.12
A theory as to why the Asia-Pacific region will see such a boom is the demand for digital improvement. Many governments are also doing more to keep data safe, which adds to the growing popularity of cloud services.10
For example, Singapore created a private cloud, the "G-cloud," to meet security and governance requirements.13
12. Identifying the Right Technology is a Struggle for 47% of SMBs
Nearly half (47%) of SMBs say identifying the right technology for their needs is a top challenge when investing in new technology.14

That includes investing in cloud technology as 75% of tech leaders say they are building new products and features in the cloud in the upcoming years.12
13. The Pandemic Led 52% of SMBs to Make Incompatible SaaS Investments
SMBs need to learn about different cloud options faster than ever, but there's a risk to making quick decisions.20
During the COVID-19 pandemic, 52% of SMBs made at least one SaaS (software as a service) investment that wasn't a good fit for their business.15
This may be because decisions often need to be made swiftly, as the pandemic accelerated the need for businesses to adapt to remote work arrangements, online sales, and digital customer engagement.
14. Less Than 50% of Beginners Migrate to the Cloud
The level of business maturity influences the pace and preferences in cloud adoption: While less than 50% of beginner businesses are enthusiastic about cloud migration, 80% of intermediate and 82% of advanced users are actively pursuing it.16
Did You Know? According to the report, "beginners" are typically in their first cloud projects, "intermediates" have operational applications, and "advanced" businesses are already frequent cloud users.
15. Cost Efficiency (60%), Agility (45%), and Migration (31%) Are Key Metrics Assessed After Cloud Adoption
Cost efficiency and savings are the top metrics 60% of organizations use to measure their progress in adopting cloud technology.8

Agility — the speed in delivering products and services — is the second most crucial metric for 45% of organizations. Number of workloads migrated is third in importance, with 31% of organizations considering it an essential metric.
16. Time to Market Accelerates for 51% of Businesses Post-Cloud Adoption
Reports show that 51% of businesses have accelerated time to market, 50% have increased responsiveness to customer needs, 39% have significantly reduced costs, and 37% have improved security.17

What's more, satisfied customers spend an average of 140% more than customers who experienced poor customer service.18
17. More Than Half (54%) of Global Tech and Business Leaders Want Cloud Providers That Know How to Increase Revenue
Fifty-four percent of global tech and business leaders want a cloud service provider, or "strategic partner," that can help them identify technology strategies to increase revenue and reduce costs.19
Further, 50% identify a strategic partner as someone who "understands where my industry is going and has solutions for future needs," and 50% say it's "having a services organization that helps implement and maintain my infrastructure."
18. An Exponential Amount of Data Will Be on the Cloud by 2025
An incredible 200 zettabytes (ZB) — or 200 trillion gigabytes — of data will be on the cloud by 2025.20

This includes data stored on public and private clouds, personal computing devices, and IoT (internet-of-things) devices, such as smart home devices, wearable devices, autonomous vehicles, and payment terminals.
Did You Know? One ZB contains 1 trillion gigabytes (GB). Two hundred ZB is enough data to store 200 billion DVDs or more than 250 million years of audio files.21
19. Approximately 5 Billion People Use the Cloud in 2023
Advancing technologies, like the cloud, change how we work, communicate, access information, and store our data as we comply with the demands of a more digitally connected world.
Currently, about 5 billion people use digital devices and the cloud for their data. To put that in perspective, 5 billion people is approximately 64% of the world's population.20
20. In About 6 Years, 90% of the Human Population Will Be Online
The world is growing, and so is the World Wide Web: Roughly 7.5 billion people — or 90% of the human population, aged six years or older — will be online and generating data by 2030.20

This increase in online presence highlights the fast-evolving digital world, the impact of internet accessibility, and the importance of how we use the internet in our daily lives, from socializing, educating, entertaining, and everything in between.
21. The Cloud Gaming Market Size Will Reach $84 Billion By 2030
The global cloud gaming market size was valued at $5.76 billion in 2023 and is expected to reach $84.97 billion by 2030.22
Did You Know? Cloud gaming is playing video games using remote servers in datacenters, so there's no need to download and install games on the computer itself. Some popular cloud gaming providers include Activision, Tencent, and Ubisoft.
22. Cloud Storage Market will Grow to $472.47 Billion by 2030
While the cloud gaming and computing markets are growing exponentially, so is the cloud storage market — by a long shot.
The size of the cloud storage market was $90.17 billion in 2022. By 2030, it's expected to reach $472.47 billion.22
23. Security (58%), Computing (56%), and Storage (55%) Are Top Cloud Workloads
Security is unsurprisingly the most common service (58%) organizations use when deploying the cloud.17

Following close behind are computing at 56% and storage at 55%. Next are virtualization, business applications, databases, and productivity applications.
24. North America Is #1 in the Cloud Market, But Asia Pacific Is Fastest-Growing
While North America holds the top position in the cloud market, the Asia-Pacific region is emerging as the fastest-growing market.23
Did You Know? Over the past few years, the Asia-Pacific region has had impressive economic and technological growth. Additionally, some governments in the Asia-Pacific region have implemented policies to support the development of the technology sector, including cloud computing.
25. Amazon Web Services Holds a 31% Cloud Computing Market Share
Amazon Web Services (AWS) is the largest cloud computing company with the most significant market share in the industry at 31%. Azure follows AWS with a 20% market share and Google Cloud at 7%.24
Did You Know? Major brands such as Sony, Adobe, and Johnson & Johnson rely on AWS for cloud computing.
26. Nearly 60% of Organizations to Mainly Use Cloud for Workloads by 2024
By 2024, more than half (57%) of organizations will run most of their workloads in the cloud.25 Running workloads in the cloud often offers benefits like scalability, flexibility, cost-efficiency, and accessibility, which can be advantageous for many businesses.
27. Cloud Security Is a Massive Concern for 95% of Organizations
Despite the growing trend toward cloud adoption, 95% of organizations say they're "moderately concerned" to "very concerned" about cloud security.17

This shows a significant 2% increase from the previous year, mainly because there are more cybersecurity threats now that make people doubt how safe the cloud is.
28. Misconfiguration Is the Biggest Cloud Security Threat, Say 62% of Organizations
Here's what those organizations are most concerned about: 62% are most worried about the risk of misconfigurations or improper setup as the most significant cloud security threat.17

Others say insecure interfaces (52%), exfiltration of sensitive data (51%), and unauthorized access (50%) are other significant threats.
29. IaaS/PaaS Users Face 2,200+ Misconfiguration Issues Every Month
Fears of misconfiguration are well-founded. IaaS (Infrastructure as a Service)/PaaS (Platform as a Service) cloud users experience more than 2,200 misconfiguration issues each month, leading to an average of 14 ongoing misconfigured incidents at any given time.26
30. Personal Identifiable Information Discovered in 20% of Public-Facing Cloud Storage Buckets
More than 1 in 5 public-facing cloud storage buckets contain personally identifiable information (PII).27 That's a staggering 21% of businesses whose personal information is publicly available and accessible on the internet.
Did You Know? PII includes any information that can be used to identify an individual, such as full names, phone numbers, addresses, Social Security numbers, medical records, or IP addresses. Cloud storage buckets are containers for storing data within a cloud storage service.
31. Cloud Data Breach Costs Averaged $4.45 Million Over the Past 3 Years
As technology evolves, so do the ways people can attack it. One big concern is cloud data breaches because more and more data is being stored and used in the cloud.

Cloud data breaches cost approximately $3.80 million in 2020 and now average around $4.45 in 2023.28 This climbing number shows the importance of proactive security measures, including robust access controls, encryption, monitoring, and robust security updates.
32. Most Data Breaches (82%) Involve Data Stored on the Cloud
A staggering 82% of data breaches involve information stored in cloud services.28
This statistic emphasizes the need for organizations to adopt solutions that offer comprehensive visibility and security across their hybrid environments.
33. Global Cloud Security Market to Reach $106 Billion by 2029
With the growing demand for cloud services and the rise in cybercrime, the global cloud security market is expected to reach $106 billion by 2029. This shows a CAGR of 18.1% from 2022, around $33.13 billion.29
34. Cloud Applications Market May Reach $168 Billion by 2025
The global cloud applications market was valued at $133.6 billion in 2021. By 2025, it's expected to grow to $168.6 billion, which is a CAGR of 4.8%.30
35. Lack of Resources or Expertise the Source of 40% of Cloud Adoption Barriers
There's no doubt that cloud adoption is increasing, but many organizations are unsure about the migration because of a lack of resources or expertise.17

Other significant barriers to adoption include legal, regulatory, and compliance (33%), data security loss and leakage risks (31%), and integration with an existing IT environment (30%).
36. Top Cloud Challenges for Organizations Include Managing Cloud Spend (82%), Security (79%), and Lack of Resources (78%)
Managing cloud costs has taken precedence over security for the first time in a decade.

Organizations say their biggest cloud challenges are managing cloud spending (82%), security (79%), and lack of resources or expertise (78%).8
Did You Know? This change may be explained by the growing confidence in cloud security measures and increased investment in cloud services by organizations.
37. Google Drive Leads Cloud File Sharing with 95% of Internet Users
Google Drive has firmly established itself as the dominant file-sharing software used by nearly 95% of internet users. It boasts an impressive market share of 28.13%.31,32
In close pursuit, Dropbox commands a 27.6% market share, and Box follows with a respectable 14.5% share.
38. Google Drive, Dropbox, and OneDrive Are the #1 Choices for Cloud Storage
Google Drive comes in at #1 again, but this time for cloud storage options. Around 55% of all cloud storage users employ three different services, almost equally tied between Google Drive, Dropbox, and Microsoft OneDrive.33
39. Nearly 93% of Workers Use Cloud Storage for Office Data
An incredible 92.59% of in-office, hybrid, and remote workers use cloud storage space to store office data.

Many organizations have transitioned to a paperless, cloud-based storage solution to boost productivity, improve security, and stay compliant.34
40. Only 73% of People Use Cloud Storage for Personal Data
Although organizations are embracing cloud technology, many individuals haven't yet transitioned. Only 73% of cloud storage users choose to store personal data, such as documents, photos, and other digital assets, in cloud-based storage solutions.34
41. Around 60% of Corporate Data Is Stored in the Cloud
About 60% of corporate data currently resides in the cloud, a significant increase from a decade ago when only 30% of corporate data was stored in the cloud.

This shift is driven by the increasing challenges businesses face in managing their data and IT requirements solely with on-premises servers and hardware. Cloud solutions have become the standard due to their ability to meet these evolving demands.1
42. Large Enterprises Aim for 60% Cloud Environment by 2025
Large enterprises (250+ employees) aim to employ 60% of their workloads in a cloud environment by 2025.35
This goal reflects a growing trend in cloud adoption: Organizations are leveraging the benefits of the cloud (scalability, flexibility, and cost-efficiency) to modernize and streamline their operations.
43. Personal Cloud Storage Is Preferred by 65% of Users
Just over 65% of users said they prefer personal cloud storage — with its high data limits and automatic syncing — as their primary data storage compared to local storage.34

Local storage is data and digital files that are stored on physical devices or hardware located within an organization's premises or on an individual's personal devices.
44. Personal Cloud Storage Popular with Gen Z at 86%
Generation Z (born between 1997 and 2012 and currently aged 18-24), is the generation that overwhelmingly prefers personal cloud storage, with 86% of those surveyed favoring this method of data storage.34

Survey responses on the preference for personal cloud storage among other age groups included 66% of millennials (25-39), 60% of Gen X (40-59), and 0.93% of baby boomers (60+). This data indicates a generational gap in technology adoption and usage.
45. iCloud Subscriptions Comprise 28% of All Apple Subs
iCloud services make up around 28% of Apple's subscription services, which include iCloud Drive, iCloud Photos, Find My, iCloud Keychain, iCloud Backup, and iCloud Mail.36
Additionally, subscriptions to the iCloud+ (formerly known as iCloud Storage Plans) 200GB subscription tier make up around 13% of the total share.
46. Businesses Demand Cost Management (37%), Security Expertise (34%), and Enhanced Cloud Management (28%) from Cloud Providers
Businesses are primarily seeking cost management (37%), followed by security expertise (34%) and enhanced cloud management (28%) from their cloud providers.4

They also value guidance on cloud strategy, training support, new licensing and bulk discount offerings. Other benefits businesses said they expect from their cloud providers are robust governance tools, access to advanced functionalities like AI and ML, industry-specific services, and a commitment to standards.
47. Some 87% of Companies Report Improved Collaboration with Cloud Adoption
Around 87% of companies reported improved collaboration as a result of cloud adoption.37
These benefits extend beyond enhanced security, with 41% attributing business growth to cloud usage and approximately 30% achieving the ability to launch new products, accelerate time to market, and expand into new markets.
48. More than Half (53%) of Cloud Providers Plan to Adopt AI/ML Capabilities
Among cloud providers, 53% intend to integrate AI/ML capabilities into their road maps, indicating a strong focus on artificial intelligence and machine learning.4
In contrast, fewer providers said they plan to include cloud-based security (46%), disaster recovery (46%), and software-as-a-service (SaaS) offerings (40%) in their future offerings.
49. Survey Shows 98% of Enterprises Use a Multicloud Strategy
Ninety-eight percent of enterprises use a multicloud approach instead of a hybrid cloud option, with cost being the leading factor in choosing multi cloud over hybrid.38
Did You Know? Multicloud involves using services from multiple cloud providers for various workloads, offering flexibility but requiring careful management. Hybrid cloud combines public and private cloud resources for integrated but potentially complex environments.
50. Personal Cloud Storage Prompts 92% of People to Change Their Personal Habits
Approximately 92% of individuals say cloud storage services have impacted their data management practices.

The majority of those surveyed say they actively choose to upload their data to the cloud (38.19%) or have configured their devices to automatically save data to the cloud (34.67%).34
It's Time to Embrace the Cloud as a Catalyst in the Digital Era
Today's digital landscape is ever-evolving and shows no signs of slowing down.
These 50 statistics highlight how important adopting cloud technology is to enhance efficiency, scalability, and productivity for businesses of all sizes. We're now seeing the cloud isn't just a technological shift — it's the foundation where the 200 zettabytes of data we'll all eventually contribute will be stored. It's how more than half of all US companies will choose to keep their data and manage their workloads in the coming years.
So, adopting the cloud isn't just a choice: It's a step toward a more interconnected future and seamless data management.
Further Reading and Resources
https://www.zippia.com/advice/cloud-adoption-statistics/
https://aws.amazon.com/solutions/case-studies/emirates-case-study/
https://www.mckinsey.com/featured-insights/themes/the-postpandemic-future-of-work-hybrid-remote-and-whats-ahead
https://foundryco.com/tools-for-marketers/research-cloud-computing/
https://www.mordorintelligence.com/industry-reports/cloud-migration-services-market
https://wire19.com/amazon-microsoft-and-google-cloud-infrastructure-market/
https://venturebeat.com/business/4-surprising-facts-about-smb-cloud-adoption-infographic/
https://info.flexera.com/CM-REPORT-State-of-the-Cloud-2023-Thanks?revisit
https://www.cmswire.com/information-management/why-enterprises-are-bringing-their-workloads-to-multi-cloud-environments/
https://www.grandviewresearch.com/industry-analysis/cloud-computing-industry
https://uk.insight.com/content/dam/insight/EMEA/blog/2017/05/Trend%20Report%20-%20Why%20Businesses%20are%20Moving%20to%20the%20Cloud.pdf
https://www.g2.com/articles/cloud-computing-statistics
https://www.singtel.com/about-us/media-centre/news-releases/singtel-partners-hp-singapore-governments-g-cloud
https://www.gartner.com/en/digital-markets/insights/do-b2b-marketers-know-what-small-to-medium-business-owners-want
https://www.forbes.com/sites/forbestechcouncil/2021/10/29/smbs-are-relying-on-saas-more-than-ever-opening-opportunities-for-technology-merchants/?sh=6d007d96240a
https://lp.tufin.com/rs/769-ICF-145/images/report-cm-state-of-the-cloud-2021.pdf
https://www.fortinet.com/content/dam/fortinet/assets/analyst-reports/report-2022-cloud-security.pdf
https://www2.deloitte.com/content/dam/Deloitte/us/Documents/process-and-operations/us-cons-the-true-value-of-customer-experiences.pdf
https://cloud.google.com/blog/transform/top-cloud-computing-trends-facts-statistics-2023
https://cybersecurityventures.com/the-world-will-store-200-zettabytes-of-data-by-2025/
https://history-computer.com/zettabyte-zb-vs-gigabyte-gb-size-and-difference-explained/
https://www.fortunebusinessinsights.com/cloud-gaming-market-102495
https://www.businesswire.com/news/home/20190411005524/en/528.4-Billion-Cloud-Services-Market-Global-Opportunities-Strategies-to-2022—ResearchAndMarkets.com
https://www.statista.com/statistics/967365/worldwide-cloud-infrastructure-services-market-share-vendor/
https://www.statista.com/statistics/817316/worldwide-enterprise-workloads-by-cloud-type/
https://www.vmware.com/site_maintenance.html
https://laminarsecurity.com/blog/new-research-finds-21-of-publicly-facing-cloud-storage-buckets-contain-sensitive-pii-data/
https://www.ibm.com/reports/data-breach
https://www.globenewswire.com/news-release/2022/08/02/2490127/0/en/Cloud-Security-Market-Size-to-Reach-USD-106-02-Billion-2022-2029-18-1-CAGR.html
https://www.statista.com/statistics/475670/cloud-applications-market-size-worldwide/
https://headphonesaddict.com/cloud-computing-statistics
https://www.statista.com/statistics/1328893/global-file-sharing-market-share-by-vendor/
https://techreport.com/statistics/cloud-computing-statistics/
https://www.goodfirms.co/resources/personal-cloud-storage-trends
https://www.statista.com/statistics/1062879/worldwide-cloud-storage-of-corporate-data/
https://www.statista.com/statistics/1292482/us-users-subscription-rates-apple-products/
https://itsupportguys.com/wp-content/uploads/2020/06/McAfee-Cloud-Adoption-and-Risk-Report-June-2019-1.pdf