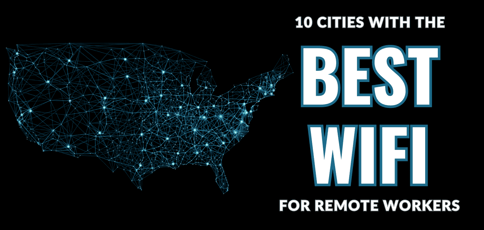 By 2025, nearly a quarter of the American workforce will be working from home — an impressive jump compared to the pre-pandemic era when only 5% of Americans did. This shift marks the dawn of a new era, where the conventional office cubicle gives way to cozy home offices, bustling coffee shops, and vibrant coworking spaces, with employees and coworkers scattered across the United States.
This trend has also spurred a migration to more affordable cities, where workers can maintain their jobs while enjoying a lower cost of living. But as the popularity of remote work continues to soar, one critical element has emerged as a top priority for remote workers: reliable and high-speed wifi connections.
That's why we've scoured the nation to identify the 10 cities with the best wifi for remote workers. And with several states rolling out broadband expansions, there's no better time to explore what's out there. So when you're ready to make the big move, you know you'll be welcomed with open arms — and most importantly, reliable wifi.
1. Waco, Texas
Nestled between Austin and Dallas, Waco benefits from the infrastructure of these two major cities and their super-reliable internet connectivity that meets the ever-growing needs of its millions of citizens. Texas is also set to receive $3.3 billion in federal funds to expand its broadband infrastructure — and recently, Waco added half a dozen wifi hotspots after rolling out free community wifi.

Waco's fastest provider is AT&T, with plans starting around $55/mo and the option to choose from fiber-optic networks and high-speed broadband. A major bonus? Waco has tons of cafes and coffee shops, such as Dichotomy Coffee & Spirits, which has plenty of two-person tables so you can work comfortably if you ever want to get out of the house during the workday.
More About Waco
Cost of Living Score: 77
Average Rental Cost: $1,300
Crime Rate: 42 per 1,000 people
Close Major Cities: Austin and Dallas
2. Springfield, Illinois
Springfield is within four hours of Chicago and less than two hours from St. Louis and Indianapolis. That's the border of a trifecta of major metropolitan areas whose industries — ranging from life sciences and manufacturing to IT and telecommunications — rely heavily on dependable technology and the internet.

Perhaps most impressive, Illinois also has initiatives to expand broadband access, such as Connect Illinois, which plans to dedicate $420 million to expand and upgrade broadband across the state. The top internet provider in Springfield is AT&T, which starts at around $55/mo and includes plenty of 5G connectivity no matter where you are in the Windmill City.
More About Springfield
Cost of Living Score: 75.4
Average Rental Cost: $850
Crime Rate: 51 per 1,000 people
Close Major Cities: Chicago, St. Louis, and Indianapolis
3. Greensboro, North Carolina
In recent years, Greensboro and North Carolina have invested in its tech infrastructure and internet connectivity thanks to the North Carolina Department of Information Technology's Division of Broadband and Digital Equity to make high-speed internet affordable and accessible. Greensboro is also home to several popular providers, including AT&T, Spectrum, and NorthState. While NorthState offers the cheapest rates (starting around $40/mo), AT&T 5G is available throughout Charlotte and Raleigh.

There are also plenty of free wifi hotspots throughout Greensboro, including fast food restaurants, coffee shops, libraries, hotels, and cafes. (But here's a hint: Green Joe's Coffee Company tops many locals' lists of the best places to work with free wifi and coffee.)
More About Greensboro
Cost of Living Score: 82.7
Average Rental Cost: $1,175
Crime Rate: 47 per 1,000 people
Close Major Cities: Charlotte and Raleigh
4. Madison, Wisconsin
Madison is a college town, home of the University of Wisconsin, which brings hundreds of thousands of students from all over the country. Many of UW's graduates stick around for the state's manufacturing, healthcare, and IT industry jobs. Just this year, Wisconsin was granted a $1 billion federal grant to expand its broadband infrastructure — but according to the state's broadband map, Madison already is covered with high fixed internet speeds.

AT&T, AT&T Fiber, and Spectrum are the leading internet providers in Madison, with AT&T Fiber being the most sought-after for its 5 Gbps speeds. Visit any of the local libraries, campus venues, or a plethora of cafes and restaurants for a great out-of-the-office day.
More About Madison
Cost of Living: 84.7
Average Rental Cost: $1,200
Crime Rate: 30 out of 1,000 people
Close Major Cities: Milwaukee and Chicago
5. Omaha, Nebraska
Omaha is nestled along the Iowa border and just three hours north of bustling Kansas City, making it a great in-between for anyone craving to go further west than the other cities on this list. Nebraska ranks 16th in rural fiber internet availability in the US, which is impressive in its own right since typically, only urban areas have fiber-optics connectivity.

The most popular internet providers in Omaha are CenturyLink, Cox, and Viasat, with the lowest price from Cox starting at around $35/mo for up to 1 Gbps speeds, so you don't have to compromise on price or quality.
More About Omaha
Cost of Living Score: 89.8
Average Rental Cost: $1,400
Crime Rate: 34 per 1,000 people
Close Major Cities: Des Moines and Kansas City
6. St. Paul, Minnesota
St. Paul has a strong focus on internet connectivity and infrastructure with Minnesota's Border to Border Broadband program. In recent years, Xfinity's parent company, Comcast has been working to bring its statewide internet expansion to every household in the Midwest. And in June, Comcast finally introduced high-speed internet to Wayzana, just 24 miles west of St. Paul.

The most popular providers are T-Mobile, CenturyLink, and Xfinity, with prices starting around $50/mo, which is standard for the area. And if you're looking for public wifi hotspots, check out any of St. Paul's library branches, cafe chains like Starbucks, and locally-owned coffee shops thanks to the high presence of students at the University of Minnesota. (And of course, we can't forget the Mall of America, which is only 20 minutes away from downtown St. Paul.)
More About St. Paul
Cost of Living Score: 98.6
Average Rental Cost: $1,550
Crime Rate: 49 per 1,000 people
Close Major City: Minneapolis
7. West Valley City, Utah
Situated 20 miles from the "Crossroads of the West," West Valley City boasts plenty of cultural experiences, scenic views, outdoor recreation, and affordable housing in the mountains. As the second-largest city in the US to be fully connected to fiber-optics, it offers 16+ high-speed internet options powered by UTOPIA — which is nearly unheard of this early in the nationwide broadband rollout expansion.

For remote workers seeking outdoor workspaces, the city provides free wifi hotspots in parks, buildings, and coworking spaces like Work Hive. And on your days off, spend hours skiing, hiking, camping, snowboarding, river rafting, rock climbing, and even hot-air ballooning.
More About West Valley City
Cost of Living Score: 110
Average Rental Cost: $1,400
Crime Rate: 44 per 1,000 residents
Close Major Cities: Salt Lake City and Provo
8. Tucson, Arizona
Over the past few years, Tucson has seen significant improvement in its internet infrastructure, with the tech industry growing by 90% between 2014 and 2019. Now, several providers offer high-speed internet options, including fiber-optics connectivity, and the city has also been working on expanding broadband access to underserved areas.

The most popular providers are CenturyLink, Xfinity, and Cox, the latter of which is the cheapest at around $35/mo with speeds up to 1 Gbps. Tucson is also home to some beautiful views — but if you're looking to get out of the heat, there's no shortage of coffee shops, cafes, restaurants, and unique visits (such as Bing's Boba Tea) that offer free wifi for its customers, making a perfect place to settle down for the day and take a break from the hot temperatures.
More About Tucson
Cost of Living Score: 95.7
Average Rental Cost: $1,300
Crime Rate: 23 per 1,000 people
Close Major City: Phoenix
9. Chattanooga, Tennessee
Chattanooga is one of the pioneering cities to offer gigabit internet services to its residents. Electric Power Board (the city's utility company) launched EPB Fiber Optics in 2010, providing ultra-fast and reliable internet speeds up to 1 Gbps. Its investment in fiber-optic networks and high-speed internet infrastructure has earned Chattanooga the nickname "Gig City" — so there's no question about its reliability.

Chattanooga residents primarily use AT&T Fiber, Xfinity, and T-Mobile.AT&T is the fastest fiber connection, although Xfinity has up to 10% more availability throughout the city. And since Chattanoogans are always on the go, check out some of the city's most popular coworking spaces if you want to work outside of home once in a while.
More About Chattanooga
Cost of Living Score: 86.5
Average Rental Cost: $1,500
Crime Rate: 37 out of 1,000 people
Close Major Cities: Nashville and Atlanta
10. Hartford, Connecticut
As the state's capital, Hartford is in the middle of two major metropolitan areas: New York and Boston, which specialize in the finance and healthcare industries, respectively. This means the wifi and broadband coverage is top-notch with reliable speeds. An average of 99.4% of the state population gets up to 10 Mbps, especially since the introduction of the state's Broadband Deployment Program in 2022.

Xfinity is the most popular wifi provider starting around $50/mo. There's also no shortage of Dunkin' Donuts and Starbucks in Connecticut, so if you're ever looking for a simple place to do some work on public wifi, the most difficult choice will be deciding which one you want to go to.
More About Hartford
Cost of Living Score: 93.3
Average Rental Cost: $1,350
Crime Rate: 27 per 1,000 people
Close Major Cities: Boston and New York City
Methodology
First, we determined the top states with a cost of living range between 90 and 115, based on the United States average of 100. This range was chosen with remote workers in mind, primarily aged between 24 and 35, since for many, affordability is a key factor. Our data source for this analysis was the Missouri Economic Research and Information Center (MERIC), which relied on the Council for Community & Economic Research (C2ER) survey for Q1 2023.
Next, we identified the top states with the best internet access, using data from US News that averaged three years of national survey data. Additionally, we examined the best cities for young professionals, comparing the 100 most populous metro areas across four categories: employment and pay, housing affordability, lifestyle, and cost of living. Our source for this information was Forbes Advisor.
By cross-referencing these lists, we arrived at a final list of 10 states. From there, we narrowed down the major cities within each state with a strong technology presence. Considering affordability as a critical factor, we selected nearby affordable cities that met criteria such as safety, cost of living, average rental cost, and proximity to major cities.
The cost of living score, determined by BestPlaces, is measured with 100 as the national average. Scores below 100 indicate cheaper living costs than the US average, while scores above 100 are above average.
The US crime rate average is 29.05, measured on a scale of 1 to 100, with 1 being the lowest crime rate and 100 being extremely high. The cities on our list have an average crime rate of 37.7, likely due to their proximity to major cities and metropolitan areas.
The average cost of rent was based on the rent for two-bedroom apartments with information researched by Zumper. Although most WFH employees work out of their living rooms and kitchens, we chose two-bedroom apartments since nearly 60% of workers actually prefer a separate office space.
Lastly, we relied on Broadbandsearch.net as our internet speeds and coverage data source.