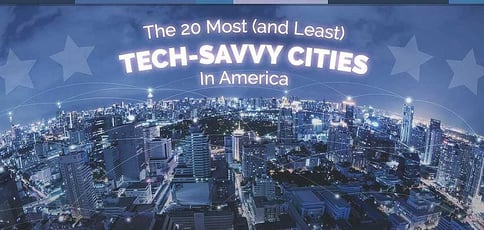 From the invention of the wheel to the development of dial-up modems, innovation has fueled incredible growth and scientific advancements — as well as economic prosperity. Beyond creating thousands of new jobs, areas that embrace technology can experience significant economic growth by attracting new businesses and a younger, skilled workforce.
More than 11.5 million workers are employed in tech-related fields, according to CyberStates 2018 data, with nearly 200,000 jobs added in the past year. Employees in the technology sector make more than double the average national wages, and the industry adds roughly $1.6 trillion, or more than 9%, to the U.S. economy.
Interested in cashing in on this modern-day gold rush? Or curious about where your town ranks? We've identified the 10 most and least tech-savvy areas, a definition expanded to include other forward-thinking industries such as science, engineering, and math. Take a look at the locales that have risen to the top, or skip ahead to those that have chosen alternative economic routes.
The 10 Most Tech-Savvy Cities
While flying cars and robot maids aren't a thing (yet), certain parts of the country are farther ahead than others on the path toward becoming the Jetsons. Cities we've dubbed technology-friendly typically enjoy low unemployment rates and ready household access to computers and internet connections; residents often have above-average educations and make higher salaries. The prevalence of jobs related to computing and programming tip the scales in favor of these areas, and locations near military bases and research facilities.
Although tech-savvy cities are found across the country, our top 10 areas for technology are mostly concentrated on the East and West coasts — and, interestingly, often in pairs. Silicon Valley is well represented, as are the greater Washington, D.C., and Boston metro areas. The Deep South, Midwest, Rocky Mountains, and Pacific Northwest are all represented, as well, meaning nearly everyone has access to a nearby tech hub.
1. California-Lexington Park, Maryland
You were expecting to see Silicon Valley here, right? Believe it or not, these communities about 90 minutes southeast of Washington, D.C., have a significantly higher concentration of jobs in tech-related fields. For every four workers in the area, at least one person works in technology, information security, engineering, or other similar industries. While California and Lexington Park can boast rates similar to those of Silicon Valley when it comes to the number of residents employed in computing-related occupations, the region holds 2.5 times relatively more engineering jobs.
Located near the Chesapeake Bay, fast-growing Lexington Park is home to the Patuxent River Naval Air Station, where John Glenn, Alan Shepard, and many other notable astronauts trained. The base currently employs about 20,000 people, driving about 75% of the area's economy. Additional jobs come from related contractors, aerospace, and technology companies that have set up shop nearby as the population expands outward into neighboring California.
| Population | Households With a Computer | Households With Broadband Internet | STEM Jobs per 1,000 Jobs |
| --- | --- | --- | --- |
| 110,675 | 89.5% | 79.2% | 252.5 |
2. San Jose-Mountain View-Palo Alto, California
Back to your regularly scheduled list of most technology-friendly cities. Collectively known as Silicon Valley, cities like San Jose, Mountain View, Palo Alto, Cupertino, Sunnyvale, and Menlo Park are home to the world's largest and most influential technology companies, including the global headquarters of 39 of the Fortune 1000. You've probably heard the list: Apple, Google, Facebook, Netflix, Oracle, Salesforce, and many others. The region is known for fast-paced innovation, hungry startups, and obscenely high home prices.
The concentration of computer-related jobs in Silicon Valley is four times higher than the national average, according to 2017 U.S. Census Bureau data. Silicon Valley leads the way in access to broadband internet, with more than 90% of residents subscribing to the high-speed service. At 63%, residents are more than twice as likely to have at least a bachelor's degree, compared to the national average of 31%.
| Population | Households With a Computer | Households With Broadband Internet | STEM Jobs per 1,000 Jobs |
| --- | --- | --- | --- |
| 1.6M+ | 94.8% | 90.2% | 180.1 |
3. Boulder, Colorado
A relatively unheralded mainstay in the technology industry, Boulder has enjoyed a long history of innovation ever since IBM established a 500-acre facility in the area in the 1960s. Cisco, Lexmark, Nest, Oracle, Qualcomm, SendGrid, and Twitter all have a strong presence in Boulder, which is about 40 minutes northwest of Denver in the foothills of the Rocky Mountains.
Boulder's population is extraordinarily well-educated, as the city is home to the University of Colorado's main campus; nearly 75% of the city's residents hold a bachelor's degree or higher. Boulder also tops our list as having the highest percentage of households with a computer, coming in at 96.4%, according to census data.
In 2010, the city had six times more high-tech startups per capita than the national average — and twice as many as the San Jose metropolitan area — according to a 2013 study by the Kauffman Foundation. The entrepreneurial spirit and startup culture are strong in Boulder, with several publications also recognizing the area's research activities, aerospace engineering expertise, high quality of living, and beautiful natural setting.
| Population | Households With a Computer | Households With Broadband Internet | STEM Jobs per 1,000 Jobs |
| --- | --- | --- | --- |
| 105,420 | 96.4% | 89.0% | 157.4 |
4. Huntsville, Alabama
Drawing much of its innovative clout from aerospace and military technologies, Huntsville, Alabama, is the lone representative from the Deep South to make our list of the most tech-savvy cities. The Huntsville area, near Alabama's northern border, is home to the country's second-largest research park, the Redstone Arsenal U.S. Army post, and NASA's largest research center, contributing to decades of forward-thinking inventions.
"Rocket City" has been instrumental in missile defense systems and space launch vehicles, having contributed to the Jupiter and Saturn rocket systems that delivered satellites and the Apollo astronauts into outer space. Huntsville remains the hub for rocket-propulsion research for NASA and the Army, and hosts the world's largest space museum, the U.S. Space and Rocket Center. As such, Huntsville ranks second on our list in terms of the concentration of high-tech jobs — the area has almost five times as many engineering-related occupations and twice the computing professions as the national average.
| Population | Households With a Computer | Households With Broadband Internet | STEM Jobs per 1,000 Jobs |
| --- | --- | --- | --- |
| 188,973 | 88.2% | 79.4% | 152.8 |
5. Framingham, Massachusetts
You may not expect a city founded in 1650 to be among the country's most tech-savvy, but here comes Framingham, Massachusetts, to dispel that notion. Interestingly, the city comes to technology not by way of military bases or high-technology companies, but rather by forward-thinking retail organizations focused on consumer goods. Located roughly 25 miles west of Boston, Framingham hosts the global headquarters for TJX, the parent company of TJ Maxx, Home Goods, and Marshalls, as well as Bose and Staples.
Healthcare and biotechnology are also well represented in Framingham, where Sanofi-Genzyme operates its research and development teams. The city's Technology Park and nearby 9/90 Corporate Center accommodate more than 5,000 employees each day to the area. Roughly 72% of the area's population is part of the workforce, making Framingham an attractive option for companies looking for more room outside of the nearby, crowded, and expensive Cambridge and Boston.
| Population | Households With a Computer | Households With Broadband Internet | STEM Jobs per 1,000 Jobs |
| --- | --- | --- | --- |
| 70,743 | 90.6% | 85.8% | 134.2 |
6. San Francisco, California
A little less than an hour away from the hustle and bustle of Silicon Valley, San Francisco is another locale at the top of people's minds when it comes to technology. For much of its history, San Francisco has made its mark in the financial services and banking industry, as well as tourism and hospitality. More recently, however, the area's economy has found impressive growth in the technology sector — 30% of the city's job growth from 2010 can be attributed to the industry.
Technology companies represented only 1% of the local economy in 1990, but the industry has since grown to 4% in 2010 and 8% by the end of 2013. Having weathered multiple waves of tech booms, San Francisco attracts numerous venture capital firms, company headquarters, inspired entrepreneurs, and a highly educated workforce.
| Population | Households With a Computer | Households With Broadband Internet | STEM Jobs per 1,000 Jobs |
| --- | --- | --- | --- |
| 870,887 | 90.8% | 84.5% | 122.6 |
7. Lowell-Chelmsford, Massachusetts
Chalk another one up for the greater Boston metropolitan area. Neighboring Lowell and Chelmsford, roughly 35 miles northwest of Beantown, have both attracted scores of high-tech companies and entrepreneurs to the region. Back in 1879, Lowell became the first American town with phone numbers, after Alexander Graham Bell demonstrated his telephone there two years prior. Later, Lowell served as the headquarters for Wang Laboratories, an early computer company that pulled in revenues upward of $3 billion a year and employed more than 33,000 people in the 1980s.
More recently, the bordering towns traded the headquarters of Kronos, a global cloud solutions provider for time management and optimization. With its Innovation Hub and Massachusetts Medical Device Development Center (M2D2), the University of Massachusetts Lowell campus offers a startup-friendly culture and co-working spaces. Scientific and technical services are among the leading industries in Chelmsford, and the region employs two times more computer specialists than the national average.
| Population | Households With a Computer | Households With Broadband Internet | STEM Jobs per 1,000 Jobs |
| --- | --- | --- | --- |
| 143,673 | 85.5% | 80.1% | 119.8 |
8. Seattle, Washington
Consistently ranking among the fastest-growing cities in the country, Seattle is a vibrant and bustling technology hub for the Pacific Northwest. In addition to Boeing tapping the region as a center for airline manufacturing, world-changing companies like Microsoft and Amazon trace their roots back to Seattle. In fact, Bill Gates was born in Seattle and continues to reside in nearby Medina. Roughly 10% of the region's workforce — more than 2.5 times the national average — is employed in computer- or engineering-related fields.
In addition to Microsoft and Amazon (and the ever-present Starbucks), other major brands call the Seattle area home, including Expedia, the U.S. divisions of Nintendo and T-Mobile, and several top healthcare and biotechnology organizations. With the region's $15-per-hour minimum wage and a workforce with higher-than-average education, Seattle is a prosperous and desirable area to build or expand your tech company.
| Population | Households With a Computer | Households With Broadband Internet | STEM Jobs per 1,000 Jobs |
| --- | --- | --- | --- |
| 704,358 | 93.4% | 87.2% | 117.9 |
9. Washington, D.C.
With all the military installations, research facilities, and civilian contractors humming around the nation's capital, it should be no surprise that Washington, D.C. makes our list as one of the country's most tech-savvy cities. The D.C. area has the densest concentration of federally funded research and development programs, where programmers, entrepreneurs, engineers, and scientists can work in close proximity to decision makers and cutting-edge innovations. The region is home to many tech incubators and co-working spaces, and local entrepreneurs raised $2.7 billion dollars in venture capital funding in 2016.
Washington D.C. stands out from other tech-savvy cities for its high levels of diversity; it's among the top 10 locations for STEM diversity and is regularly recognized as the best city for women in technology. The area boasts one of the smallest gaps in gender pay and employs a higher proportion of women in computer- and math-related occupations than most other cities.
| Population | Households With a Computer | Households With Broadband Internet | STEM Jobs per 1,000 Jobs |
| --- | --- | --- | --- |
| 681,170 | 88.2% | 77.6% | 115.5 |
10. Madison, Wisconsin
Home to the state capital and the University of Wisconsin's main campus, this rapidly-growing tech hub rounds out our list of the top 10 most tech-savvy cities. More than 95% of the population holds at least a high school degree, making the region's workforce among the country's most educated. As such, Madison, Wisconsin, follows Los Angeles as one of the fastest growing tech talent markets in North America, adding more technology jobs per year than Seattle, according to a 2018 CBRE study.
Madison and nearby Milwaukee are leading the charge of migrating innovation and startups to the Midwest, where businesses can find talented workers and a low cost of living. In addition to the university's $1.1 billion in annual research and development projects, Madison contains numerous startup incubators and accelerators. Major healthcare software provider Epic Systems is a leading employer in the area, as are ZenDesk, Google, HP, and Microsoft.
| Population | Households With a Computer | Households With Broadband Internet | STEM Jobs per 1,000 Jobs |
| --- | --- | --- | --- |
| 252,557 | 94.0% | 84.9% | 100.6 |
The 10 Least Tech-Savvy Cities
Just because an area isn't considered tech-savvy doesn't mean it isn't thriving. For example, several regions on our list of the least technology-friendly areas play significant roles in the country's agriculture, manufacturing, or transportation industries. That being said, most of the local economies on this list tend to be stagnant or on the decline, with unemployment rates higher than the national average and slower job market growth potential. Education rates are also usually lower than U.S. trends, along with access to computers and household internet connections.
Geographically speaking, half of the country's least tech-savvy cities we've identified are along or near the Gulf Coast, with Alabama and Florida landing in four of the worst seven positions. Also on this list are cities in California and Texas located just off the coast and serve as important ports, similar to our Louisiana representative. Locations in Oregon, upstate New York, and near Chicago round out our roster of tech-averse towns.
10. Houma-Thibodaux, Louisiana
Although the region employs engineers at a rate similar to that of many cities on our most tech-savvy list, Houma and Thibodaux are more known for their roles in the seafood and oil industries than as a hot spot for innovative technology. Located less than an hour southwest of New Orleans, the region is steeped in French and Cajun influences that offers visitors delicious food and colorful, authentic experiences. Many in the area continue to work as shrimpers, oystermen, crabbers, and fishermen, while others have shifted into roles in the oil industry and shipbuilding.
The region's remote areas down the bayou mean fewer people have access to computers or high-speed internet connections than the national average, and the lagging oilfield industry means unemployment rates are higher than elsewhere in the U.S. However, the region is looking to diversify its economy beyond oil and gas, eyeing growth in transportation, warehousing, and healthcare services as potential targets for innovation.
| Population | Households With a Computer | Households With Broadband Internet | STEM Jobs per 1,000 Jobs |
| --- | --- | --- | --- |
| 210,787 | 82.5% | 70.0% | 29.3 |
9. Albany, Oregon
Predominantly a farming and manufacturing town, Albany and the surrounding areas are major exporters of grass seed and producers of rare metals like zirconium, hafnium, and titanium. The decline of the region's timber industry has led Albany, situated about 70 miles south of Portland, to expand more heavily into the retail and healthcare sectors. Albany residents enjoy higher-than-average access to computers and broadband internet but employ fewer than 30 STEM professionals per 1,000 jobs. Roughly 2% of the workforce is employed in engineering-related fields, while less than 1% works in computer, math, or science occupations.
Perhaps the most exciting growth potential for Albany and the technology sector resides in the partnership between OFD Foods, a leader in freeze-dried foods, chemicals, pharmaceuticals, and biological materials, and Seattle-based tech firm EnergG2 to make carbon electrode material that provides a greater power storage capacity for electric vehicles.
| Population | Households With a Computer | Households With Broadband Internet | STEM Jobs per 1,000 Jobs |
| --- | --- | --- | --- |
| 51,919 | 91.6% | 82.0% | 29.1 |
8. Kankakee, Illinois
Despite unemployment rates that are higher than the national average, employers in Kankakee, Illinois, are scrambling to fill high-level positions in a variety of industries. As with many areas on the list of least tech-savvy cities, Kankakee is finding new paths forward in traditionally dominant industries like food processing, manufacturing, and healthcare.
The region, however, lags behind the national average when it comes to household computers and broadband internet connections. The area's 76% of homes with computers and 63% of homes with high-speed internet are second-to-last among the other cities on our list, coming in only behind Laredo, Texas.
On the other hand, the area's two enterprise zones have brought 6,500 jobs and more than $1 billion in capital investment to more than 250 projects, providing a rich environment for startups and entrepreneurs. Kankakee, roughly 60 miles south of Chicago, has also made huge strides in the renewable energy sector, particularly with training the workforce for emerging jobs in solar, wind, and geothermal industries.
| Population | Households With a Computer | Households With Broadband Internet | STEM Jobs per 1,000 Jobs |
| --- | --- | --- | --- |
| 26,424 | 76.6% | 62.8% | 26.2 |
7. Ocala, Florida
One of only five cities in the world permitted to label itself the "Horse Capital of the World," Ocala banks much of its economy on the equine industry. The area supports more than 44,000 jobs in breeding, training, shows, and horse-related services, which generates more than $2.2 billion in revenue each year. Major employers include local, county and state governments, along with public education, healthcare, and grocery stores, though AT&T maintains a strong presence in Ocala.
Ocala's high school graduation rate follows national trends, but the city falls below the national average in terms of residents with a college degree. Roughly 2% of the workforce is employed in STEM-related fields, with an emphasis on engineering occupations. The Ocala region recently welcomed logistics facilities from AutoZone, FedEx, and Chewy, as well as major hospital expansions and new projects from local mainstays like Lockheed Martin and Emergency-One.
| Population | Households With a Computer | Households With Broadband Internet | STEM Jobs per 1,000 Jobs |
| --- | --- | --- | --- |
| 57,873 | 81.0% | 71.2% | 23.5 |
6. Glens Falls, New York
An area steeped in history, Glens Falls boasts several buildings listed on the National Register of Historic Places — but not as many STEM-related jobs as one might expect from an area dominated by the healthcare industry and suppliers of medical devices. Companies in healthcare and human services make up five of the region's top six largest employers, yet the area employs fewer than 23 people per 1,000 jobs in science, technology, engineering, and math.
Overall, the Glens Falls economy closely matches national averages when it comes to computer and broadband internet access and even outperforms the rest of the U.S. when it comes to unemployment rates and expected job growth. The future of the technology sector in Glens Falls looks bright, however, as companies like managed IT services provider StoredTech recently built its new headquarters in neighboring Queensbury.
| Population | Households With a Computer | Households With Broadband Internet | STEM Jobs per 1,000 Jobs |
| --- | --- | --- | --- |
| 14,422 | 87.4% | 80.2% | 22.5 |
5. Stockton-Lodi, California
Built during the California Gold Rush, the Stockton and Lodi region hasn't continued to capitalize on its early prosperity — at least not in the technology sector. Lodi is best known for its wine grape production; Robert Mondavi grew up in the area and founded his influential Woodbridge winery in the nearby town of the same name. In addition to the wine industry, the Lodi area is home to several large manufacturing and agricultural operations.
The much larger Stockton region, situated between San Francisco, Sacramento, and San Jose, is trying to emerge as an affordable place to establish small and regional businesses given its proximity to Silicon Valley. The city was disproportionately affected by the 2008 recession, leading to high rates of crime and foreclosures. With more than $700 million of debt, Stockton declared bankruptcy in 2012 and emerged three years later. After introducing a basic income initiative in which selected residents receive $500 per month for 18 months, the region may be poised for a turnaround.
| Population | Households With a Computer | Households With Broadband Internet | STEM Jobs per 1,000 Jobs |
| --- | --- | --- | --- |
| 370,899 | 85.1% | 75.5% | 21.1 |
4. Dothan, Alabama
Home of the "World's Smallest Block," Dothan, Alabama, is more known for its agricultural prowess than technology. The region, located in the southeast corner of the state, produces and processes roughly a quarter of the country's peanut crop and hosts the annual National Peanut Festival. Cotton and tomatoes have emerged in recent years as successful crops, while the area's hospitals, schools, and government remain the top employers. Dothan employs just 19 STEM professionals per 1,000 jobs, according to census data, with a slight lean toward engineering professions. The area is below the national average for access to computers and broadband internet but is closer to national educational attainment rates.
Job growth is on the rise, though the region's unemployment rate is lower than the U.S. average. Behind the Grow Dothan public/private partnership, the region has created more than 17,000 jobs and attracted more than $1 billion in investments over the past 20 years.
| Population | Households With a Computer | Households With Broadband Internet | STEM Jobs per 1,000 Jobs |
| --- | --- | --- | --- |
| 68,066 | 81.2% | 71.4% | 19.3 |
3. Punta Gorda, Florida
With an aging population and scenic waterfront, Punta Gorda — Spanish for "fat point" — is more of an idyllic retreat than a bustling tech town. More than 55% of the town's population is 65 years old and over, much higher than the country's 16% average. Although the southwest Florida region's workforce is much smaller than other towns, Punta Gorda closely follows the national average for unemployment and growth in the job market and is slightly ahead of U.S. trends regarding household computer and high-speed internet access, as well as educational attainment, home ownership, and per capita income.
Retail, healthcare, and the tourism industries lead the workforce in Punta Gorda, followed by education, government, and construction. Without the sandy white beaches to draw visitors, the area relies on its natural beauty and vibrant arts and culture. Its central location between Sarasota and Fort Myers gives Punta Gorda a refreshing mix of activities, innovation, and recreation.
| Population | Households With a Computer | Households With Broadband Internet | STEM Jobs per 1,000 Jobs |
| --- | --- | --- | --- |
| 17,721 | 88.9% | 81.6% | 16.6 |
2. Laredo, Texas
Situated on the northern bank of the Rio Grande River, Laredo, Texas, is the third most-populated city along the U.S.-Mexico border. Given the city's location and overwhelmingly Hispanic and Latino population — 95.4% of residents identify as such, according to census data — much of Laredo's economy is dependent on transportation and trade with Mexico, instead of technology.
The area, which is the largest inland port in America, lags far behind national averages when it comes to access to technology and education; less than 18% of the population has a bachelor's degree or higher, slightly more than half of the U.S. rate of 33.4$, according to census figures. The area's 73% of homes with computers and 58% of homes with high-speed internet are last among the other cities on our list.
Interestingly, Laredo is known for its annual celebration of George Washington's birthday, which attracts more than 400,000 people each year — despite the fact the country's first president never visited nor even knew of Laredo's existence.
| Population | Households With a Computer | Households With Broadband Internet | STEM Jobs per 1,000 Jobs |
| --- | --- | --- | --- |
| 257,988 | 73.2% | 58.4% | 13.6 |
1. Daphne-Foley, Alabama
Although the area can trace its roots to Native American tribes around 9000 B.C., modern-day Daphne is a thriving suburb of Mobile, Alabama — just not in terms of technology and innovation. Instead, the region has found success in healthcare, education, and retail operations, along with the recent opening of an Airbus manufacturing plant that brought around 1,000 jobs to the area. After being labeled one of the top 10 cities adding the most jobs in 2017, the Daphne and Foley region has come more in line with the national averages for unemployment and job growth. From 2010 to 2017, the area grew its population by an estimated 22%.
Despite employing only 13 STEM-related professionals per 1,000 jobs, Daphne, Foley, and the surrounding Baldwin County towns represent strong growth for aerospace, manufacturing, and distribution facilities. While much of the region's workforce training coalitions focus on industrial careers, renewed emphasis has been placed on luring more software, IT, and medical technology firms to the rapidly-growing region.
| Population | Households With a Computer | Households With Broadband Internet | STEM Jobs per 1,000 Jobs |
| --- | --- | --- | --- |
| 199,510 | 87.5% | 73.9% | 13.3 |
Methodology and Sources
To compile our lists, we first expanded our definition of technology beyond just software development and computer programming to include the full range of science, technology, engineering, and math (STEM) professions.
We gathered 2017 U.S. Census Bureau data (the most recent available) that gauged the highest concentration of jobs in computing and mathematics, architecture and engineering, and science. By looking at local concentrations of STEM occupations, we were able to better examine the role technology plays in various locales without the massive populations of the nation's largest cities skewing the results.
Once we calculated the number of STEM occupations per 1,000 jobs and cross-referenced our list with the Census Bureau's state-by-state definition of requirements for incorporated cities, we also examined the Census QuickFacts and Datausa.io profiles of each area to learn about demographics, educational attainment, and household access to computers and broadband internet connections. Other economic data came from the Bureau of Labor Statistics and Sperling's Best Places, while images came from Shutterstock, Wikimedia Commons, and Flickr.
Advertiser Disclosure
HostingAdvice.com is a free online resource that offers valuable content and comparison services to users. To keep this resource 100% free, we receive compensation from many of the offers listed on the site. Along with key review factors, this compensation may impact how and where products appear across the site (including, for example, the order in which they appear). HostingAdvice.com does not include the entire universe of available offers. Editorial opinions expressed on the site are strictly our own and are not provided, endorsed, or approved by advertisers.
Our Editorial Review Policy
Our site is committed to publishing independent, accurate content guided by strict editorial guidelines. Before articles and reviews are published on our site, they undergo a thorough review process performed by a team of independent editors and subject-matter experts to ensure the content's accuracy, timeliness, and impartiality. Our editorial team is separate and independent of our site's advertisers, and the opinions they express on our site are their own. To read more about our team members and their editorial backgrounds, please visit our site's About page.