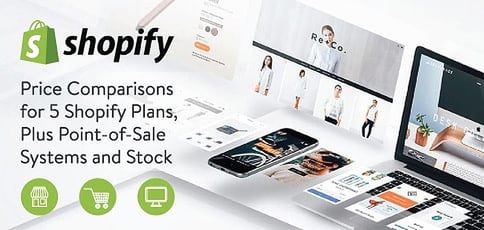 When you've decided to start a business (or take an existing one to new heights), you have two options: check out the real estate market for building a physical store, or read up on Shopify prices to build an online shopping center.
There are many factors to consider for your physical venue: location, size, proximity to competitors, and, of course, the monthly cost of rent. Shopping for a virtual home for your online business is no different. There are dozens of platforms for building, launching, and hosting an online store. They range in scale from a few bucks a month for a handful of store pages displaying fewer than 20 products to enterprise-grade web hosting fit for a massive-scale retail chain with mega menus chock-full of products and promotions.
Shopify is no doubt one of the most heard-of options for managing an online store — a popular and controversial pick when it comes to cost. Let's cover all things Shopify.com pricing:
Tiered Shopify Prices (Sort By Price, Lowest to Highest)
Shopify pricing can be broken down into three generic eCommerce plans, plus two lesser-known plans for individual and enterprise clients. We've itemized the costs of Shopify's plans, including the associated transaction fees, below.
Lite: $9 per month, plus (2.9% + $0.30) per transaction
Basic: $29 per month, plus (2.6% + $0.03) per transaction
Standard: $79 per month, plus (2.4% + $0.03) per transaction
Advanced: $299 per month
Plus: Custom
The biggest dig against Shopify: those pesky transaction fees, which are, unfortunately, pretty commonplace among eCommerce platforms. If you see that 2% as a worthy investment in the robust, feature-rich platform you're getting in Shopify, then why not get rolling with a free trial?
Site builder with 100s of FREE and premium themes
Unlimited bandwidth, storage, and products
Easy-to-use dashboard for managing orders, shipping, and payments
Tons of ecommerce features, including discount codes
FREE MyShopify.com subdomain or use your own
Shopify: Our Expert's Review
Setup time: 5 minutes
Go to full review

»
The great thing about Shopify is how the feature set centers around ecommerce, a focus of many shared hosting shoppers. Shopify plans are fully hosted, but even the company's most basic plan is significantly more costly than a majority of the shared hosts...
| Money Back Guarantee | Disk Space | Domain Name | Ecommerce Hosting Plans |
| --- | --- | --- | --- |
| 14-Day FREE Trial | Unlimited | FREE subdomain | www.shopify.com/ecommerce |
See cheaper alternatives to Shopify »
Popular Shopify Alternatives
Clearly, Shopify is one of the industry leaders for a reason. The platform's ease of use and comprehensive services are no doubt impressive, but there are tons of other paths you can take. Here's our list of top eCommerce hosting providers, with an emphasis on price. As you can see, we typically prefer starting with a full-fledged web host and adding an eCommerce platform like Weebly or WooCommerce from there. Shopify also has tons of integrations, so there may be an option to upgrade your Shopify hosting by integrating those systems into your separately hosted website.
Compare these options to Shopify and see which works best for your store. Whether it's price, payment processing options, or another feature, we should have you covered:
Shopify POS Pricing
In today's mobile retail landscape, the Shopify POS app for iOS and Android is wonderfully useful. Get the app for free on your phone or tablet by submitting your email address (no credit card required), and you'll get a complimentary card reader device as well.
Additional hardware is available for purchase, including a cash register drawer, receipt printer, barcode scanner, and an $89 advanced EMV card reader. And the software allows you to easily accept payments via credit, debit, or gift cards wherever you are.
Shopify POS integrates seamlessly with your online store (or physical storefront, for that matter!), and you can process transactions on multiple devices at no additional cost. All Shopify online store management features, such as analytics and product reports, can be found in a central dashboard, too.
Shopify Stock Price
The Canadian-based eCommerce company has experienced tremendous growth since 2014, outpacing competitors the likes of Square. Shopify is a popular contender for folks seeking new investment opportunities. With Shopify's mission being "to make commerce better for everyone," investing in the company's stock could be the gift that keeps on giving.

I'm no stocks and bonds brokering savant, but last time I checked, the going rate for SHOP stock was just north of $89, according to NASDAQ. Again, I'm not an investment guru, so do with that information what you will.
Start Selling With Shopify Sale Price of $0!
Sold on selling with Shopify? Sign up today and test out the varied features we've discussed here today at no cost for two weeks. It doesn't happen quite like that when it comes to testing out a physical venue for your brick-and-mortar, so enjoy the perks of virtual real estate!
While we try to keep the content on HostingAdvice.com accurate and up to date, things are always changing on the wonderful worldwide web! If you've noticed a discrepancy in the Shopify.com pricing rates we've outlined in this guide, please let us know by dropping us a line!