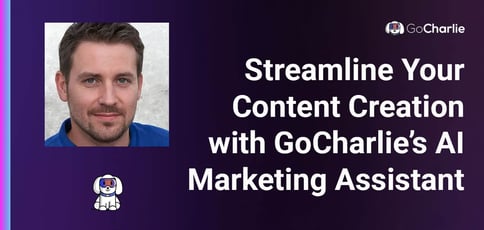 TL; DR: Content marketing has been a valuable business tool for decades. As the world consumes more content than ever, many companies are upping their content output to meet customer needs before their competitors can. GoCharlie helps users create high-quality and unique content for their customers with its AI marketing assistant. Users can leverage Charlie to improve their workflows and create consistent content for their social media channels, blogs, and other platforms. We spoke with Brennan Woodruff, Co-Founder and COO of GoCharlie, about the platform's differentiators and new releases.
For years, content has been one of the most effective ways for businesses to communicate with customers. The earliest mention of content creation in companies was by the American tractor and farm equipment manufacturer John Deere. In 1895, John Deere launched "The Furrow", a quarterly magazine that covered various agriculture topics to educate consumers. The magazine's readership grew substantially, and by 1912, it had garnered 4 million readers.
"The Furrow's" legacy carries on today as John Deere continues to publish monthly magazines for its audience. Although content marketing hasn't always been its name, producing, posting, and distributing content for a targeted audience online has helped millions of businesses build client relationships, connect with consumers, and boost conversions.
Now, a sea of content exists. Companies have email newsletters, social media posts, blogs, and the list goes on. Because there are so many forms of content to manage, many businesses have turned to AI to enhance their content strategies and creation process. GoCharlie is an AI content creator that helps marketers create content that performs.

"We've tried to position Charlie as your new best friend, not steal from dogs, but it's intended to be approachable. We want it to be easy for anyone to use," said Brennan Woodruff, Co-Founder and Chief Operating Officer of GoCharlie.
Although GoCharlie's mascot is a cute little dog, the platform's strong suit rests in its simple interface. Anyone can experiment with it to get the prompt answers they need. Users can ask Charlie anything, generate content, and edit how they see fit. GoCharlie will soon allow marketers to publish directly to their social accounts from its platform to further streamline the content process.
Building AI Models With Integrity
Before Brennan created GoCharlie with Kostas Hatalis, he was an advisor for a B2B accelerator in San Francisco. He was thinking about starting his own business when Kostas, who has a Ph.D. in Artificial Intelligence, prompted him with the idea of going into the generative AI industry.
"Ultimately, we jumped in and started a business. And we've been after it ever since. So the initial thesis was to give small businesses the ability to make a digital footprint and expand from there. I think we've done a pretty good job of that so far," said Brennan.
GoCharlie distinguishes itself from competitors by providing users with high-quality and customized content to help them save time. It avoids generating blanket content by building and improving its own AI models. Brennan said the GoCharlie team had to fail a few times during the development process before creating the AI platform.

"You have to make sure that the integrity stays as you scale. And it can be replicated millions and millions of times. So we've built our own AI models, which have their own set of experimentation and ratcheting up of difficulty. It better serves our customers in that regard," said Brennan.
The GoCharlie team had to ensure the platform would be reliable and valuable for customers. The process included a lot of testing and experimentation with prompts. The team also spoke with customers about their needs to make sure GoCharlie could answer those prompts.
"There was a lot of talking to customers and making sure that what they needed to create was actually possible. So it was a series of experimentations to figure out how the product should be set up to address that," said Brennan.
Helping Customers Repurpose In-House Content for Better Results
Charlie, in a sense, is a marketer's best friend. And like any best friend, Charlie learns more and more about your style over time. This way, it can adapt to your needs and provide consistent content that matches your brand voice across channels. GoCharlie also offers many more features to help users along their journey.
"SEO is a big thing. It's a big beachhead for all these AI tools because people effectively want to create enough content that they wouldn't be able to reasonably create themselves. So that was where we first started out," said Brennan.
Since its launch, GoCharlie has come to address various types of content forms besides SEO. Many people use it to create fun and engaging social media posts and leverage its audit feature to improve clarity within their content. GoCharlie also combines image generation and text writing capabilities to provide a complete branding experience. These capabilities help power its content repurposing suite.
"We can effectively take an audio file, video, a website URL, or an image file and extract data from that to create new information or extend the shelf life. So then you have three months of content created in about three minutes. All you have to do is sit there and let the AI post it for you," said Brennan.
GoCharlie's content repurposing suite can use anything within your existing library and convert it into a programmatic campaign. For instance, if you have a blog for SEO purposes, GoCharlie allows you to transform that article into a complete social media campaign.
Its features, including the content repurposing suite, have helped companies save time and improve their content output and generation with higher volume, clarity, and engagement.
Introducing New Interfaces and Models
The GoCharlie team continues to update its platform with new features and attributes. Brennan told us the platform has become a lot more flexible over the years. Users can now write out more complex prompts for the AI to churn out because of its multi-input and multi-output capabilities. But these capabilities do introduce more opportunities for error.
"The possibilities seem endless. But at the end of the day, does the AI know what's going on? And we have to progress that use case to guide the user back," said Brennan.

Although errors are inevitable in AI, the GoCharlie team works with customers to help them get the best possible experience. GoCharlie will release a Chrome extension so Charlie can move around with you on the browser and execute tasks that enhance the user experience. Many users have also requested an iOS app for the platform, which will launch soon. And there's more.
"We're going to release one of the best image models on the planet where you can generate images, remove the backgrounds, and make image edits. So instead of having Photoshop, you have all the capabilities to do it with an AI model," said Brennan.
The team is also building a multimodal model with the team that made Siri to develop its AI platform's senses. Brennan encourages people to try AI for themselves because it will soon evolve and inform processes in more profound ways.
"My best recommendation is always to just go in and experiment. AI is here to stay. Right now, we're using AI to do things we do faster. There's not much discussion about how we use AI to do things we couldn't do before. So we're up for a renaissance if we execute it correctly," said Brennan.