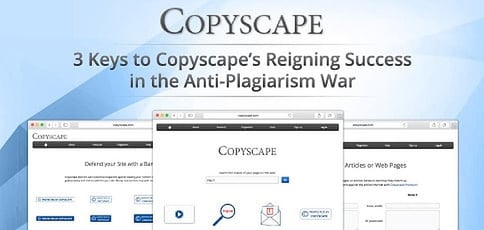 TL; DR: If you're a victim of stolen or plagiarized content, it's not just your intellectual property being compromised. Online copy is intended to attract organic traffic, which is what generates revenue. When plagiarists drive that traffic away from your site, your rankings, visits, and profit potential take a hit. The makers of Copyscape are 10+ year veterans in the war on plagiarism, safeguarding content at very little cost to customers. Using advanced technology to scan and monitor webpages at scale, Copyscape products monitor and protect original copy from the costliness of plagiarism.
No website is truly safe from the threat of content theft — and not all duplicated content is created maliciously. Regardless of the copier's intentions, however, a site that falls victim to stolen content can suffer severe hits to its traffic flow, which can directly translate to revenue loss.
The team members at Copyscape are anti-plagiarism war veterans. For more than 10 years, they've been building and enhancing tools to help site owners defend against internal and external risks for copied content. In addition to their free plagiarism checker tool, Copyscape offers:
Plagiarism scans to review purchased articles before publishing (Copyscape Premium)
Monitoring and automatic notifications of stolen content (Copysentry)
Automatic plagiarism checking integrated with your systems (Copyscape Premium API)
Scans of large batches of webpages for plagiarism (Copyscape Premium Batch Search)
Internal duplicate content site audits (Siteliner.com, sister site from the makers of Copyscape)
We got the chance to talk to Copyscape Co-Founder Gideon Greenspan to discuss what site owners and business owners stand to lose at the hands of stolen copy and the risks of plagiarism on the Web.
Gideon introduced us to the entire Copyscape product line, as well as the sister project, Siteliner.com. With his expertise on the subject, Gideon was able to illustrate for us the true dangers of stolen copy and allowed us to see first-hand how the Copyscape tools are wielded to prevent and protect against plagiarism.
The Arms Race with Plagiarists & What's Really At Stake
To put the situation in perspective for us, Gideon said, "We have an arms race with plagiarists."
"What are the kinds of things people are trying to do to try to hide their plagiarism, and what can we do to detect this plagiarism nonetheless?" — Gideon, Copyscape
The team at Copyscape is constantly working to anticipate how plagiarists will strike next, how the stolen content will be concealed, and how Copyscape can expose such theft.
Someone Can Republish Your Content and Rank Higher in Search Results
Recent findings by Pi Datametrics indicate that an imitator site can actually out-rank even a well-known, highly-reputed site by copying and republishing its content. The fact that previous standing with search engines and authority on the subject matter showed little bearing in this experiment should open the eyes of SEOs and website owners everywhere. Even well-established websites can find themselves in jeopardy of losing their SERP (search engine results page) real estate.
To Add Insult to Injury, You Could Get Hit with a Penalty
There are a whole host of reasons you can find yourself slapped with a Google algorithm penalty due to "bad content," but duplicate content is a surefire way to sink your search results ranking. The dangers for site owners are that if you're not careful, you could inadvertently copy someone else, or even worse, someone could copy you and get the credit for the originality. Either scenario puts you at risk for serious search engine penalties, which can be a pain to overcome.
We'd all like to think that the Google gods are smart enough to outmaneuver the ill-willed content thieves and distinguish between the harmful and the innocent. While the 2,000-sum-odd engineers and developers dedicated to Google's algorithm and Panda updates are getting closer everyday, we're not there yet. As smart as search engines are these days, hackers and plagiarists are constantly trying to learn and work around plagiarism prevention technologies.
Lower Rankings Lower Organic Traffic, which Kills Organic Review
Plagiarists can cost you so much more than your intellectual property or your claim to fame with your original content. If you're a website owner using your web presence to host your business, your content is designed to drive traffic to said business in hopes of earning revenue.
If that content is stolen and used to drive that traffic elsewhere on the Web, your business suffers; a loss in site traffic means a loss in overall revenue. "We're here to help people devise the right strategies and use the right tools to protect their content," Gideon said, "because these days, online content is their business."
Copyscape's 3 Keys to Protecting Quality Content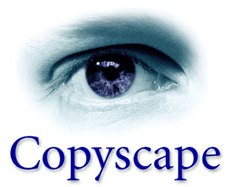 According to Gideon, Copyscape's mission is to provide the highest quality plagiarism protection services at the lowest cost to people around the world.
With these focuses on quality and user cost in mind, Copyscape has become one of the most popular and premier plagiarism detection resources. "We are pleased that all of our hard work is providing real value to our customers," Gideon added.
1. High-Volume Computations: Strategic Alliances Maximize Coverage
Copyscape holds strategic partnerships with large, global players to ensure that they have comprehensive coverage of the Web as they scrape for plagiarism.
"Our expertise is designing advanced algorithms to beat the spammers, beat the content thieves, beat the content fraudsters, and provide our customers with the best protection they can get," Gideon said.
2. Low User Cost: Bringing an "Economy of Scale" to their Services
Some Copyscape customers have hundreds of thousands, or even millions, of pieces of content they need protected. Copyscape pricing is the cheapest you'll find in the industry. The sheer volume of customers and webpages allows Copyscape to offer such economical and inexpensive services — bringing an "economy of scale" to their offered services, to use Gideon's words.
"A major part of our effort to serve our clients has been to stay ahead of the scaling curve and I think we've done that pretty successfully," Gideon said. "Our goal is to offer the highest-quality service for the most affordable price."
3. Robust Technology: Dedicated Resources & Advanced Algorithms
Gideon also shared that the attention surrounding the issue of online plagiarism is growing. "We've seen increased awareness of the threats of plagiarism among our customers. In order to meet increased demand, we've scaled up our infrastructure significantly over the years."
Copyscape runs on dedicated server resources dispersed globally on multiple load-balanced systems. "A lot of our technical effort has been focused on making sure we maintain the highest level of availability and scalability," Gideon said. In order to facilitate the on-demand services required of users worldwide, Copyscape boasts powerful, robust hardware — capable of handling the large volumes that customers demand.
Test Driving Copyscape: Case Studies Using HostingAdvice.com
We got a chance to test out the Copyscape product line first-hand, as well as Siteliner, a sister product created by Copyscape's forefathers. Siteliner.com conducts internal audits of your website, scanning for duplicate copy and common errors often seen in larger web properties.
Copyscape Free & Copyscape Premium
Copyscape.com is a free online tool that allows users to submit URLs and scan for copied content on the Web. For unlimited searches and unlimited results, you'll want to opt for their most popular product: Copyscape Premium. For larger customers in particular, the Copyscape Premium API is an invaluable tool, offering API calls at five cents per search.
Finding Copycats of HostingAdvice Articles with Copyscape Premium
Within minutes of plugging a few URLs into the Copyscape Premium search bar, we were pleased (only for the purposes of this case study) to find not one but several sites mirroring our content.
The results of scanning one of our most popular articles, "2015's Ultimate Guide to Web Panels," revealed seven instances of duplicate content found on the Web. For two of the top results, the content is copied verbatim, including visuals.
Finding Duplicate Content with the Copyscape Premium API
The Copyscape Premium API allows users to seamlessly integrate Copyscape's services into their systems and workflows. Users can be up and running with the Copyscape Premium API very quickly, usually in less than a day. "We spoke with numerous customer technical team members who told us exactly what would make their lives easiest as far as integration," Gideon said. "The reason we were able to make it so easy is we designed it hand-in-hand with our customers."
The Copyscape API can be accessed using the majority of popular programming languages, including PHP, Python, Java, Ruby, and Perl. By sending GET requests, developers can search the Web for matching text or URLs and the API will return XML responses by default, HTML if specified. You can choose to either search the public Internet or create your own private index to sift through as well.
Copysentry: Standard & Professional
While Copyscape Premium is especially appealing for larger companies, Copysentry is particularly popular among small business owners. This tool monitors your site's content and regularly scans the Web (weekly for Standard plan users or daily for Professional plan users) for stolen copy.
Customers receive email alerts reporting any matches found, based on the settings they select to determine what should be considered a match. Copysentry allows site owners to triage and track reported plagiarism cases, so they are always aware of their content's protection status. The technology can even locate stolen content that has been modified based on your original copy.
Bonus From the Makers of Copyscape: Siteliner.com
From the minds that brought us Copyscape, Siteliner functions similarly to Copyscape but conducts internal audits of your site. "You can actually see the crawl taking place," Gideon said, "and most uniquely: Siteliner does a thorough internal duplicate content check." Siteliner.com scans your own website in search of duplicate phrasing or content internally.
The technology can also detect common errors that tend to occur with companies that manage large-scale web properties. "Those issues of duplicate content within a site can also damage your search engine rankings," Gideon said, "so we created Siteliner as a site diagnostic tool."
It All Began with 2 Cambridge Colleagues
The founders of Copyscape met at Cambridge University. They worked together on their first project, Giga Alert, which offers professional-grade notification services similar to Google Alerts.
"We thought a lot of people would be using it to track professional interests, but also for ego surfing (notifications of new mentions of you or your business on the Web)," Gideon said. They were pleased to discover that their product was actually being used for many purposes, one of which being to detect content plagiarism.
Users would set up targeted alerts to detect when their article titles were being copied or blog content was being stolen. "This was not the best way to do this," Gideon said, "but we had better ideas." From there, they went on to develop Copyscape, while grounded in the notion that customers will always show you what they need and want in a product.
Copyscape in Review — Why Anti-Plagiarism Tools Are Must-Haves
Whether you're just starting out on the Web or have been accruing online clout in your industry for years, you should arm yourself and your site against plagiarist attacks.
"People place so much of their intellectual property and their efforts into online content, which drives organic traffic, which drives organic revenue on the Web," Gideon said. "We feel that we have an important role to play in helping people safeguard that content."
Advertiser Disclosure
HostingAdvice.com is a free online resource that offers valuable content and comparison services to users. To keep this resource 100% free, we receive compensation from many of the offers listed on the site. Along with key review factors, this compensation may impact how and where products appear across the site (including, for example, the order in which they appear). HostingAdvice.com does not include the entire universe of available offers. Editorial opinions expressed on the site are strictly our own and are not provided, endorsed, or approved by advertisers.
Our Editorial Review Policy
Our site is committed to publishing independent, accurate content guided by strict editorial guidelines. Before articles and reviews are published on our site, they undergo a thorough review process performed by a team of independent editors and subject-matter experts to ensure the content's accuracy, timeliness, and impartiality. Our editorial team is separate and independent of our site's advertisers, and the opinions they express on our site are their own. To read more about our team members and their editorial backgrounds, please visit our site's About page.