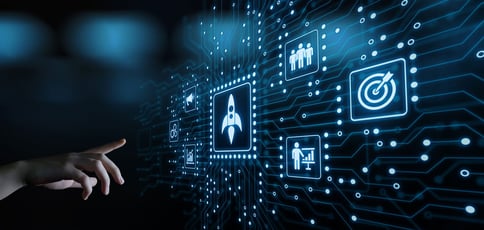 Companies specializing in everything from AI and machine learning to SaaS and digital security are making waves in the tech space in 2022. Competing and succeeding in the tech startup landscape can be highly challenging, but many companies have solidified a promising future for their operations.
More than 900 tech startups have been valued at $1 billion going into 2022, with investment pouring in from funding rounds. This news is a massive shift from 2015 when only 80 startups had that net worth to their name. Breakthroughs in technological research and the world's growing reliance on technology, which the COVID-19 pandemic has only accelerated, have helped raise the tech startup ceiling and boost the buzz around it.
As startup activity grows, more companies will see the demand for their products increase. Here, we take an in-depth look at startups whose operations are making a splash in 2022.
Run:AI
Managing workloads can often feel overwhelming or even tedious for many data scientists and IT professionals, especially without the right tools or amount of teamwork on deck. Run:AI considers this pain point and provides a streamlined solution to help data science teams boost their productivity.
"There are so few data scientists, and they are hard to hire, so companies have a difficult time scaling their data science teams," Omri Geller, Run:AI CEO, said in a previous interview with HostingAdvice. "So there's an important trend here, which is to help data scientists do their jobs faster, better, and easier."


Run:AI offers a compute-management platform that equips scientists with the infrastructure to optimize computing resources and support deep learning and AI projects. Its technology allows users to gain visibility of GPU consumption, take control of their workflows, and reduce training times. Run:AI also increases efficiency by enabling flexible pooling and sharing resources between teams.
In 2021, Qumra Capital named Run:AI one of Israel's top growth companies, while Forrest Research recognized the company in its list of 13 Providers That Matter Most in AI infrastructure.
Confluent
Confluent provides an all-in-one data experience for users who are always in motion. Its cloud-native technology is the first fully-managed Kafka service to hit the market. The Confluent platform helps employees manage their low-level infrastructure and data in motion in any place.
Confluent simplifies how users connect their data systems, apps, and company with real-time data flows and processing. Its built-in scalability allows users to work outside the limits of cluster sizing, over-provisioning, failover design, and infrastructure management while saving on operational costs.

Confluent's holistic approach to data management enables users to focus on what's most important — developing and delivering value to customers. Because its platform is streamlined and encrypted, users can have peace of mind about uptime and use it easily without worrying about security.
In recent news, Confluent has signed an agreement with AWS to help companies accelerate their cloud adoption with real-time data. This collaboration comes on the heels of another deal with DISH Network, in which the Confluent platform will help connect applications on DISH's new smart 5G service.
ClickUp
Most people have probably experienced resource overload at the workplace, with new handy-dandy tools hitting the market every year. Switching between a myriad of solutions can cause frustration, take up time, and even lead to a decline in productivity.
"Studies show that every time you are distracted, it takes more than 20 minutes to get back into your flow," said Chris Cunningham, Senior Brand Strategist at ClickUp, in a previous HostingAdvice article. "So, if you're switching back and forth between four different apps all day, you could lose hours of productivity, just like that."


ClickUp helps workers manage their resources through its all-in-one platform. ClickUp refines productivity by placing all popular solutions in one place and allowing users to track their goals and projects. Users can also customize the ClickUp platform to fit their needs and make it as simple or complex as they want.
ClickUp recently raised $400 million in Series C funding to extend its rapid growth and reinforce its positioning in the competitive productivity software landscape.
Graphcore
Graphcore prides itself on supplying first-of-its-kind technologies that help innovators make massive strides in machine intelligence. Its uniquely designed Intelligence Processing Unit (IPU) architecture enables AI researchers to take on various projects and increase their AI compute capabilities on unprecedented levels.
"We've seen customers who wanted to use MCMC for alpha estimations in stock predictions but found that GPUs aren't great for use with the model because they take too long," Chris Tunsley, Director of Product Marketing at Graphcore, said in a previous HostingAdvice article. "Suddenly, with an IPU, they can complete tasks they couldn't otherwise."


Graphcore's revolutionary processor allows scientists to explore new territories in research, drive innovation, and scale their development with speed. Its IPU chip also equips datacenters with robust and cost-effective AI computing, which runs on cloud infrastructure.
Graphcore has presented itself as a formidable rival to GPU providers, including Nvidia. Recently, its IPU-POD made headlines as it outperformed the Nvidia A100 in model training, showing as an impressive feat.
MoveWorks
Effective communication at the workplace can be challenging to maintain. Instead of getting lost in the noise or waiting on delayed responses, employees can use MoveWorks' conversational AI to increase engagement and vital interactions with its speech-based assistant.
It's no secret this technology will be making waves for years to come, with the conversational AI market expected to reach $19 billion by 2026, a 22% increase. MoveWorks technology is seamless and, with advanced ML models, can remove AI drawbacks, such as incorrect responses and nuance indication, that typically come with chatbots.


"By using machine learning, new techniques, and ensembles of techniques — from spell corrector models to statistical grammar models — you can actually react to the conversation as it emerges with the employee instead of predetermining it," said Bhavin Shah, MoveWorks Founder and CEO, in a VentureBeat article.
MoveWorks helps companies better support their employees in several work areas, including HR, IT, Facilities, and Employee Comms. Its AI can automatically resolve tech issues, answer finance questions, and address HR topics. Its conversational AI technology is also multilingual and can be easily integrated into any communication channel while aligning with individual company styles.
Abnormal Security
For most workplaces, their communication and viable company information lives on their email channels. Email remains one of the most effective ways to communicate formally and send important documents or files. But what happens if those emails fall into the wrong hands?


Abnormal Security uses data science and a human behavior security engine to enhance email gateway security in the cloud and protect companies from email attacks. Its cybersecurity solution reads more than 45,000 signals to detect anomalies, memorize good behavior, and block socially engineered emails that typically pass reputation checks.
It also remedies compromised accounts and integrates with multiple Microsoft 365 and Google Workspace addresses within minutes. Abnormal Security brings peace of mind to the email experience for employees and puts an end to spam. In November 2021, Abnormal Security was named a finalist in the Intelligent Applications top 40 list.
Arize
Arize equips companies with a visibility platform that helps them better observe their AI models and streamline their workloads. Its automatic AI monitoring system allows users to detect and resolve performance issues to deliver continuous improvement and ultimately boost ROI.
According to a report by Arize, 26.2% of data scientists and machine learning (ML) engineers spend a week or more identifying and resolving ML model issues. A little more than 50% of respondents say they desire deeper capabilities to monitor model drift.


Arize provides pre-launch validation and dynamic troubleshooting, and proactively captures performance degradation for ML. Scientists can use Arize's ML observability platform to understand their AI models better and improve their outcomes, leaving the guesswork behind.
Arize recently raised $19 million in Series A funding to answer the growing need for ML observability.
Riskified
Riskified takes care of what shoppers don't usually see when ordering online — eCommerce security. Without proper cybersecurity and mitigation, customers can become more susceptible to fraud, which can subsequently diminish a company's reputation and brand.
Riskified's fraud protection makes online transactions a frictionless and easy experience for buyers and business owners. Its platform uses data from its global merchant network to power its proprietary machine learning models and decisioning engine, which helps identify the person behind the transaction and whether to approve or decline it.


Internet retailers can save on operating expenses and grow revenue by using its chargeback guarantee. Riskified also allows companies to scale on-demand without worrying about fraud protection and analyze customer metrics and security performance.
In July 2021, Riskified began trading on the New York Stock Exchange at a whopping $3.3 billion valuation.
Securiti
With data volume growing at hyper speed, companies need more data privacy than ever before. Securiti's automated, AI-backed platform helps businesses manage their multicloud, SaaS, and self-hosted data systems and applications with high-level security.


Securiti addresses privacy concerns, enables global privacy compliance, and honors user consent and individual rights. As for data security, its solutions identify and cure risks, prevent breaches, and establish policies to classify and encrypt data. Users can also access data mapping and controls for their systems.
Recently, Forrester Wave named Securiti a leader in privacy management software, with the highest rating for Q4 of 2021. Its partnership with Snowflake also allows users to secure sensitive data and fulfill their privacy needs in the cloud.
Aleria
Inclusive workplaces help create a comfortable environment for all employees. While many organizations understand the need for diversity, most don't know where or how to start the process toward change. Aleria steps in to educate management and employees on inclusion and how to encourage it in the workplace, ultimately driving employee satisfaction and business performance on all fronts.
Lisa Magill, CEO of Aleria, created the company to respond and tackle the issues of exclusion in the workplace. Inclusion and diversity have become increasingly significant pieces to the success of work communities.


"Today, true leaders are embracing these opportunities to change and seeing it as an opportunity rather than a challenge. It's no longer okay to do nothing and say nothing. Just the same, performative D&I initiatives won't cut it anymore," said Aleria CEO Lisa Magill in a Forbes article.
Aleria helps companies assess inclusion, develop a plan, and determine where to focus their Diversity and Inclusion resources. Its framework measures inclusion and impact using several categories to classify and link various work experiences of employees to opportunities for change.
Companies can follow its four-step process, which includes a strategic planning session, leadership workshops, interactive inclusion workshops for employees, and data analysis to encourage an inclusive culture in-house and beyond.
Landing AI
Effective supply chain management has become even more essential in recent years as the world takes notice of the supply crisis. Security and visibility play a prominent role in decreasing supply chain mishaps and facilitating higher performance.


Landing AI equips manufacturers with artificial intelligence tools to drive product consistency and deliver better supply chain results. Its integrated LandingLens software automates the visibility process and tracks defects and system breakdowns on production lines.
Manufacturers and machine learning engineers can inspect, train, and test their systems with Landing AI while receiving a data-centric experience all in one place. Companies can also scale quickly and save time on the production process. Recently, the AI provider garnered $57 million in Series A funding in 2021.
Confluera
As more companies migrate to cloud operations, their businesses will become more vulnerable to cyberattacks. Confluera provides these companies with security solutions to combat and prevent breaches.


Confluera offers visibility into cloud attacks with real-time mitigation. Its cloud-native detection and response solution allows users to track network traffic and threats, helping protect critical assets. Confluera's platform also extends across several cloud infrastructures, including AWS and GCP, and provides multicloud security.
With real-time data insights, companies can gain autonomy, monitor attacks, and streamline threat detection and investigation for their cloud systems. Confluera helps companies stay ahead of cyberattacks and defend their systems against modern threats for successful, future-proof operations. Cloud Awards named Confluera a finalist in its Security Innovation of the Year category for 2021-2022.
Transmit Security
Passwords can be difficult to keep track of and remember, especially with the multitude of accounts people have access to these days. And adding to that growing list of passwords can feel like an infuriating task. This is where Transmit Security enters.


Transmit Security helps businesses combat password fatigue by eliminating the need for passwords. Businesses no longer have to worry about customers giving up on registering or logging in to their accounts because of a numerical/alphabetical sequence.
Transmit Security uses user-centric authentication to create a seamless experience. Its technology consists of UX drag-and-drop design and built-in biometrics to make the process easy-to-use and agile. The company also adheres to data and privacy regulations and ensures protection against new threats. Valued at $2.3 billion, Transmit Security raised $543 million in Series A funding, the largest in cybersecurity history, in the summer of 2021.
Cohesity
Cohesity provides next-generation data management that prioritizes cyber resilience and threat defense. The company helps organizations bolster their digital infrastructure and offers solutions to tackle ransomware attacks and scale operations.


Cohesity helps set up companies looking to accelerate their digital transformation. The company delivers a data management platform that offers simplicity at scale and helps businesses save on costs and time when transitioning from legacy systems. Its solutions remove the complexity of data silos and manage company data all in one place.
Data is a valuable resource, and Cohesity equips companies with the tools to secure it. Its innovative zero trust framework provides an unchangeable data layer, writes new backups separately, and rapidly recovers data from ransomware attacks. Cohesity's built-in AI capabilities also help detect threats and scan for cybercrime.
Funnel
Marketers often have to juggle multiple media channels, and Funnel helps them connect all the dots. Created in 2014, Funnel supplies businesses with the tools to organize their data and integrate data sources, supporting more than 500 platforms.


Funnel's mission is to democratize data and make it easier to handle at scale. Its no-code tool gathers data from all owned channels and allows users to access them on one platform. Funnel takes real-time data and transforms it into insights for marketers to analyze performance. This way, marketers can save time and focus on engaging customers.
With Funnel, companies can make data-driven decisions to assist their customers better and support their operations. And Funnel's success continues as the company raised $66 million in a pre-IPO round in October 2021 and will likely go public in six to 18 months.
Advertiser Disclosure
HostingAdvice.com is a free online resource that offers valuable content and comparison services to users. To keep this resource 100% free, we receive compensation from many of the offers listed on the site. Along with key review factors, this compensation may impact how and where products appear across the site (including, for example, the order in which they appear). HostingAdvice.com does not include the entire universe of available offers. Editorial opinions expressed on the site are strictly our own and are not provided, endorsed, or approved by advertisers.
Our Editorial Review Policy
Our site is committed to publishing independent, accurate content guided by strict editorial guidelines. Before articles and reviews are published on our site, they undergo a thorough review process performed by a team of independent editors and subject-matter experts to ensure the content's accuracy, timeliness, and impartiality. Our editorial team is separate and independent of our site's advertisers, and the opinions they express on our site are their own. To read more about our team members and their editorial backgrounds, please visit our site's About page.