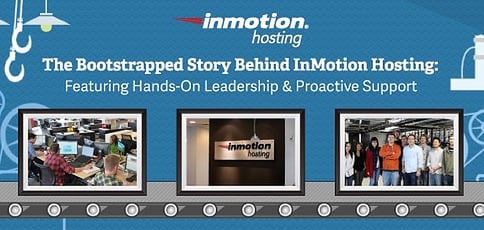 TL; DR: The InMotion Hosting team anticipates customer needs and leverages their vast knowledge base to create the most performant technologies, backed by the most proficient support. It's not often that you hear a startup story that's bootstrapped, and this one's spearheaded by founders that were and are heavily involved in every element of the business. A VPS pioneer and an allstar in the customer service arena, InMotion Hosting has developed a reputation for cutting-edge hosting, and they hold a strong resolve to remain at the forefront of users' technological needs.
In our world, when you think of power, performance, and a premium customer experience in hosting, you think of InMotion Hosting. They've been in the hosting game a long time and they play it well, but who were the original gamemakers of InMotion?
We got a chance to pick the brain of InMotion Co-Founder Sunil Saxena to hear the company backstory, his insights into the hosting world at the time of launch, and how InMotion has grown to be famous for delivering on (and exceeding) customer expectations again and again.
It Started with Two Guys Bootstrapping a Business — Doing EVERYTHING
Starting in 2001, InMotion was just a couple of guys in a downtown Los Angeles office: one server, one router, one office, and two guys with hosting backgrounds. Those two guys were handling tech support, billing, sales, customer service, system administration — "every single thing that you could possibly imagine, we were doing," Sunil said. "We never took any outside funding, and to this day we haven't had any outside investors investing in the company — it's been an entirely bootstrapped operation."
Two Goals: An Unbelievable Customer Experience
+

Stable Platform

Sunil told us bootstrapping in this way allowed him and his business partner, Todd Robinson, to have full control over the path of the company. "We knew a fair amount about a fairly embryotic industry at that point," Sunil said. "We knew what worked, what didn't work." They knew they had some goals for starting their own hosting company and chose two focuses to meet user needs:
Excellent customer service and support → adopting a "thrill the customer" mantra
A super stable platform → spending more on the guts of their infrastructure
In the early 2000s, web companies weren't particularly known for providing a quality user experience. "It was all about selling someone something online and the relationship ended there," Sunil said. So InMotion was born with a plan to do things differently. "To this day I still say, first and foremost, we are a customer service provider," he added.
Along with stellar customer service, the InMotion forefathers' mission was to ensure a highly stable platform to support the customers that entrusted their websites to them. "We bought Dell servers, we bought Cisco routers, and we actually over-provisioned in that sort of way so that we could make sure we could be more robust and more stable when it came to servicing our customers' websites and trying to get the most possible uptime," Sunil said.
One Decision to Spearhead the VPS Niche: Scalability!
Sunil explained that as one of the first providers to offer VPS hosting, they had seen a need for scalability in the market. "Before InMotion Hosting, it was shared and only shared," he said, "and the jump from shared to dedicated was too great for a lot of our customers, as a lot of our customers were business owners and they couldn't afford it." By taking the reliability of the dedicated server and partitioning it among a lot of customers, InMotion would offer users more resources at a more affordable cost. By taking advantage of this niche for VPS, InMotion was offering a stable platform that encompassed both user needs: scalability and affordability.
Today, they have Tier II System Administrators watching websites all day, every day, and should customers start outgrowing their shared environment, the InMotion team will be there to introduce them to the idea of VPS. Sunil used the analogy of a married man upgrading to a house. "Once you have a family, you can't stay in a 1-bedroom," he chuckled. "It's cool when you're a bachelor but doesn't work with a wife and kids." The InMotion team is committed to helping customers scale their way up from "1-bedroom" servers to "mansions" and anywhere in between.
Leading the Market — Staying at the Forefront of Technological Change
While InMotion does just about everything really well — "VPS was really important to us right out of the gate," Sunil said. "What's differentiated us since then is making sure we've kept up with the technological changes." Whether it's adding SSDs to all hosting plans, or dedicating a staff of experts to maintaining proper documentation for the latest tech and writing how-to guides for emergent software, InMotion's self-proclaimed "geeky" staff is leading by example.
A Geeky Culture that "Gets" Hosting & Anticipates Business Owners' Needs
InMotion not only knows their stuff really well, but they recognize that the stuff that tech-savvy folks don't find to be a big deal (e.g., transferring domains, deciding whether to upgrade to VPS, troubleshooting WordPress matters, etc.), can be incredibly daunting to the general public. "As the hosting provider, we're supposed to be the technological backend; you're supposed to have the business idea," Sunil said. "As a business owner, you've got a million headaches as it is, so if we can remove some of those headaches on the hosting side, we're there for you."
When you call for technical support with InMotion, you can trust that you're going to be helped by someone who's done whatever task is troubling you probably dozens, if not thousands, of times, but they're not going to discount the burden it is on you either. "In many ways, we have a very geeky culture over here and we just get hosting," Sunil said as he explained their empathetic yet proactive support approach. "We understand what you need today and what you're going to need in a couple days or weeks from now as well, and I think that's very comforting to our customers."
Experts Devoted to Documentation & User Guides for Emergent Technology
Sunil emphasized that they want to be proactive about meeting customers' hosting needs. "Part of that is not being stagnant in offering the same products that were maybe popular four or five years ago and understanding that people's needs change over time," he said.
InMotion has a team of web aficionados exclusively dedicated to keeping up with the latest technologies and ensuring that they're providing InMotion users with the best documentation of how to implement the best technologies on the InMotion platform.
Articles by the InMotion Customer Community Team get millions of hits monthly featuring:
One-to-Many Support: One single article services many people.
Fantastic Branding: Users ask Google questions and InMotion surfaces with the answers.
This is yet another way InMotion is playing the techy customer service game especially well.
Leading the Market — How the Hosting Technology Itself Became #1
Uptime is of unbelievable importance in InMotion's business model. "No one has perfect uptime," Sunil said, "but through redundancy and, really in some cases, more expensive equipment, I believe that our backbone and our product are really more reliable than some of the other hosts out there."
High-Speed SSDs: Setting a Trend By Adding Them to All Plans
Sunil mentioned seeing a lot of success with one particular differentiator in their product offerings: SSD speed boosting. "We're going to go ahead and bear the cost of putting SSDs on ALL of our products," Sunil said, recalling the thought process. "We noticed a huge stability boost and performance boost across the board," he said. The result was a high-availability framework in general, and the market responded with competitors also adding SSDs to their services.
High-Availability: Understanding Uptime & Recognizing Planned Downtime
The crux of a supportive web host is the assurance that your site is going to be online when you need it (virtually always). That assurance is known as an uptime guarantee, and while nobody can truly attain 100% uptime, 99.9% doesn't cut it these days either. We asked Sunil what folks over at InMotion Hosting consider to be "high-availability" and what's encompassed in that promise. He told us, "99.999% or better — but to be able to have true high-availability, you have to have multiple locations."
Highly-Resilient Datacenters: Redundancy & Container Technology
InMotion has datacenters on the East and West Coast, so should a severe catastrophe strike on one side of the US, they could spin up containers on the opposite coast for you. Even in the event of "mini catastrophes" (one server going down), InMotion has contingency plans for seamlessly getting you back on track. For example, the California datacenter is actually housed in two different suites of one building. Should your server encounter an issue, your data would be moved to a dedicated server on another side of the house and then it's just a matter of manually switching the DNS.
Note that InMotion uses Virtuozzo containers rather than OpenStack technology — this brings up an interesting point. "People talk about downtime for outages, but another thing people, even developers, forget is that there has to be planned downtime as well," Sunil said.
For example, in the event that there's an upgrade or patch of some kind that needs to be done on a particular server, InMotion will move customers' containers on to a different node, work through the night, and migrate everything back up by morning. "That way, we can basically have a lot less downtime or impact to our customers' websites," he explained.
Today and Moving Forward: What You'll See in 2016
Moving forward, you can expect to find InMotion at the technological forefront of customer needs. "To all of our customers, know that that scalability is there, whether or not you know you need or want it," Sunil said. For the more experienced InMotion customer (web developers, larger eCommerce sites, or bigger businesses), Sunil said, "We know that every minute of uptime is of the utmost importance to you, and by working with InMotion Hosting, you're really getting access to what I think is a really, really tight-knit group of people to answer your questions."
NEW: High-Availability Cloud Product (Phase I
+

Phase II)

In 2016, we'll be introduced to InMotion's new, high-availability cloud product. The first of two iterations of the platform will be coming out early in the year, with "Phase II" hopefully being introduced towards the end of Q2. "We're really excited about that," Sunil shared.
NEW: BoldGrid (Web Builder Product for WordPress Customers)
In other news for the new year, InMotion recently released a new web builder tool to sit atop their current WordPress platform: BoldGrid. "Todd's been heads-down working on that for some time now," Sunil said. "It's passed the alpha and even the beta stage and we've got some of our customers using it, and we're pretty happy with the results thus far." This new web builder bridges the knowledge gap for users who think they want to use WordPress but then get overwhelmed when they realize the system is actually a bit over their heads. Once again anticipating user needs, the InMotion team will help you with themes, plugins, setup, and more.
Finale: InMotion Continues to Lead in the Tech Community
Since the early 2000s, InMotion has been operating on the leading edge of customer service excellence — innovating by example with their technology and their technological support. "As your web host, we understand that your website is our top priority," Sunil said.
Today, Sunil and Todd can still be found in the California office, along with a marketing team, a development team managing the frontend of the InMotion Hosting website, and some SysAdmins staffing their datacenter. If you were to call for support, chances are you'd be connected with someone out at their Virginia Beach location, which houses their 24/7 Frontline Support, Frontline Sales, Frontline Billing, Tier II and Tier III System Administrators, coders and QA folks, and more.
In addition to showing unwavering support for their customers, InMotion serves the tech community in other ways: sponsoring WordCamps and SCALE (Southern California Linux Expo), donating to the Apache Foundation, and just getting in front of fellow devs to show that they support open-sourcing. "We love it," Sunil said. "We have no Windows products and no desire to use licensed products." The InMotion Hosting team and its leadership fully recognize and embrace their responsibility to the hosting community, and they ensure every individual's hosting need is treated as a priority, every time.
Advertiser Disclosure
HostingAdvice.com is a free online resource that offers valuable content and comparison services to users. To keep this resource 100% free, we receive compensation from many of the offers listed on the site. Along with key review factors, this compensation may impact how and where products appear across the site (including, for example, the order in which they appear). HostingAdvice.com does not include the entire universe of available offers. Editorial opinions expressed on the site are strictly our own and are not provided, endorsed, or approved by advertisers.
Our Editorial Review Policy
Our site is committed to publishing independent, accurate content guided by strict editorial guidelines. Before articles and reviews are published on our site, they undergo a thorough review process performed by a team of independent editors and subject-matter experts to ensure the content's accuracy, timeliness, and impartiality. Our editorial team is separate and independent of our site's advertisers, and the opinions they express on our site are their own. To read more about our team members and their editorial backgrounds, please visit our site's About page.