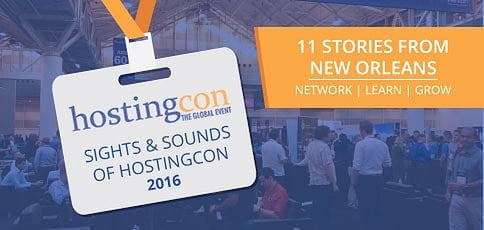 TL; DR: Making our annual pilgrimage to HostingCon Global, we arrived in New Orleans, Louisiana, excited to meet the people behind the web's biggest products, brands, and ideas. It's safe to say, we weren't disappointed. Whether we were seeing established friends or shaking hands with up-and-comers, HostingCon's 12th-annual conference again proved to be a tremendous gathering spot for people passionate about the web hosting industry and what's on the horizon. More stories from the event are on their way, but read on for 11 highlights of HostingCon Global 2016.
Amid the masks and Mardi Gras beads, New Orleans provided a stunning backdrop to this year's edition of HostingCon Global. Although a persistent rain made the short walk to the hotel a bit hairy at times, it didn't dampen the festivities inside the Ernest M. Morial Convention Center.
Inside, you could discover all the latest news, ideas, and technology affecting the web hosting world. Hosting, cloud, and managed service providers, as well as independent software vendors and value-added providers, lived up to the network's motto — to network, to learn, and to grow.
We've got loads more stories to share, but read on for some of our favorite observations and encounters with the folks behind some of the web hosting industry's biggest brands.
1. Dyn: Delivering Web Traffic Faster, Safer, and More Reliably
We caught up with Dyn Chief Strategy Officer Kyle York between a multitude of speaking sessions and heard how Dyn helps clients monitor, control, and optimize infrastructure with an aim for all-around Internet performance management.
"We've got all these tricks we've built over the years, and our vision is to be the company connecting people, content, and commerce through a single, global Internet," he said. "We're powering the largest hosts and the largest clouds, and the traffic is all running through our network to be optimized."
Dyn's traffic management and DNS solutions make sure your web properties are available, even if there's an outage at a datacenter or cloud provider. Rerouting traffic to alternate endpoints mean consistent uptimes while you're updating infrastructure or performing security patches.
2. Oracle Communications Connects Applications to the NOW Economy


To address the increasing demands for instant interactions and individualized experiences, the team at Oracle Communications is enabling network operators and enterprises to enter what they call the NOW Economy.
With Oracle, customers can adapt and innovate their internal and external communications with a more agile IT and network platform. Service providers, for example, can see increasingly reliable, fast, and secure virtualization, orchestration, and cloud applications.
A common thread in our HostingAdvice conversations is talk of how an exceptional customer experience can set hosters and service providers apart in the market. This mantra echoed throughout the Exhibit Hall floor as the Oracle Communications team emphasized the value service providers can add to their offerings by partnering with Oracle Communications.
By connecting people, devices, and applications with security, reliability, and speed, Oracle Communications equips businesses and service providers with the tools to turn communications into a competitive advantage.
3. Ingram Micro and Odin Share How to Succeed With IaaS
The world's largest wholesale hardware distributor (and owner of software provider Odin) was well represented at this year's edition of HostingCon. Ingram Micro completed their acquisition of Odin in December 2015.
Representing Ingram Micro, Senior Cloud Solutions Executive David Stephens spoke about building an Infrastructure-as-a-Service program as either a new cloud offering or as part of an existing product. Shortly after HostingCon, Ingram Micro launched Cloud Echo, a social marketing platform that delivers content geared to help partners grow their cloud businesses and foster trust with customers.
Beyond the impressive booth at the front of the Exhibit Hall, Odin Regional Vice President Kellie Green approached the topic from more of a sales and marketing perspective.
Right before HostingCon, Odin unveiled Odin Automation Premium, the latest release of their automation suite of products. Odin Automation Premium enables service providers to deliver, sell, and manage cloud services.
4. A2 Hosting: Gearing Up for Growth With New Site and User Interface


We also enjoyed catching up with our friends at A2 Hosting, with whom we bonded in a bar in downtown San Diego during last year's HostingCon. We now look forward to the tradition we've made of running into each other on the night of the WHIR's annual networking event.
A2 has long been one of our favorites in the industry for their high-performance WordPress hosting and turbo-charged solid-state drives, which greatly impact SEO rankings, bounce rates, visitor satisfaction, and conversion rates. The Michigan-based hosting company was one of the first providers to offer PHP 5 and PHP 7, priding themselves on developer-friendly features like performance-tuned Perl, Python, and Ruby hosting and databases.
After our latest chat, we learned that A2 Hosting now has a new, cutting-edge website and user interface, priming the company for another growth spurt.
"We're looking forward to revamping some of our products and seeing what the next innovative thing is that we want to take on to disturb the market," VP of Marketing Corey Hammond said.
5. Veeam: Always-On Availability at Exhibit Hall


With a prime spot in the Exhibit Hall, Veeam saw a steady stream of visitors. Set up across from the Networking Lounge, they shared that datacenters can save time and reduce costs with virtualization, storage, and cloud technologies.
What's more, the backup, recovery, and availability specialists at Veeam discussed how they help organizations meet recovery time and point objectives of less than 15 minutes for all applications and data.
A few days before HostingCon, the company announced that the new Veeam Availability Suite 9.5 would fully integrate with Windows Server 2016 and Hyper-V technologies to deliver better security and integration with Microsoft applications.
6. Ecwid: Illustrating Small Business Success with Surfing and Sales
After three days of nearly back-to-back meetings, it was great to see a friendly, familiar face in Jim O'Hara, President of the cloud-based eCommerce platform Ecwid.
His team was behind one of the most eye-catching booths in the Exhibit Hall — the thatched-roof surf shop the San Diego-based company put together represented the typical small businesses they aim to help, he said. With Ecwid, Jim said that small business owners can manage physical and online stores simultaneously with POS system integration.
"Together with our partners, we've been able to provide that synchronization, and that's a huge win for small businesses," said President Jim O'Hara. "It's also a huge win for hosts. Now, we give them the ability to not only offer eCommerce capability but also the ability to acquire more users and bring more businesses online with our POS integration and mobile sales capabilities."
7. Acronis Expands Backup and Recovery Offerings
Early in HostingCon, Acronis announced their newest update to their Backup Cloud package that was geared toward small- to medium-sized businesses. Acronis extends their Backup-as-a-Service platform to a company's full spectrum of servers, smartphones, and cloud-based applications, such as Office 365 and Azure.
"We are seeing quite a bit of traction with providing a service that is really optimized for hosting environments," said John Zanni, Chief Marketing Officer and Senior Vice President of Channel and Cloud Strategy.
After talking about the update, we sat down with John to learn more about the global rebranding effort Acronis underwent earlier in the year. The double crossbar in the A is 2-fold: It represents the core concept of data protection (making a copy), while also paying homage to their sister company, Parallels.
8. Duda Website Builders Help Businesses Optimize and Personalize
Also in the Exhibit Hall, Duda shared more about their drag-and-drop website builders and partnerships to help small or medium businesses optimize their websites for mobile devices.


In addition to their responsive website builder, Duda offers a mobile-only builder and personalization tools to boost customer conversion rates. By partnering with Google, Yahoo, AT&T, and OpenTable, Duda aims to drastically reduce the amount of time and investment businesses need to spend in the development of optimized and mobile-friendly websites.
Duda recently partnered with Let's Encrypt to offer free SSL Certificates for all their users — a first among website builders. Duda includes the certificates as an integrated part of their platform at no additional cost.
9. Corero's First Line of Defense Against DDoS Attacks
The small, unassuming, lime green box that sat on the table at Corero's booth lays a surprisingly robust defense in front of DDoS attacks. We geeked out with Chief Operating Officer Dave Larson on the Exhibit Hall floor for a fascinating 45 minutes, discussing their inline hardware solution.
Dave told us that Corero's clients are automatically protecting 200 Gbps or more of Internet bandwidth from DDoS attacks in real time with the company's SmartWall Threat Defense System. The implementation of strong, real-time DDoS mitigation helps Corero's users with customer retention and, more importantly, enables new revenue opportunities.
"Using yesterday's tools to mitigate today's attacks might save hosting providers and ISPs costs in the short-term, but it also puts their customers at greater risk of suffering through outages caused by DDoS attacks," Dave said. "Providers can now deploy economically viable DDoS mitigation solutions at peering or transit points, using technology that is scalable and responsive. These systems are automated, always on, and capable of responding to attacks in real time — eliminating DDoS headaches for hosting providers and their customers."
10. ePages Helps Online Businesses Find and Reach Customers
Already a leading shopping software provider in Europe, ePages is also seeing double-digit growth in the US, according to CEO Wilfried Beeck, who touted how the white-labeled platform integrates with Amazon and eBay.
"We're well placed to advise even the smallest merchants of what they should be doing to capture traffic and win customer support," he said. "Instead of only being concerned with getting traffic to their site, we can help them get to where the traffic already is."
The company seeks to on-board every web hosting provider into the eCommerce space. Their team offered lots of advice to HostingCon attendees on how to satisfy SMB needs, ensuring that all the power of the Cloud is maximized for them.
In addition to giving a presentation about how service providers can take advantage of a booming eCommerce tech market, currently set to rise to $8.5 billion by 2020, Wilfried joined the i2 Gender Diversity workgroup for a panel discussion. Right after HostingCon, ePages announced that they would power UK hosting company Fasthosts Internet's standalone eCommerce platform set to launch this fall.
11. StackPath Launches Security-as-a-Service With a Splashy Entrance
Bear with us — we're ending our HostingCon roundup with the beginning. Before we were introduced to all the innovative teams and technologies on the Exhibit Hall floor, StackPath and DH Capital opened up the venue by riding in on a Mardi Gras-style float. Following a brass band in true New Orleans fashion, they made their grand entrance at the Opening Networking Reception — a fantastic event hosted by the two sponsoring companies.
StackPath, the Security-as-a-Service company backed by SoftLayer Founder Lance Crosby, launched on the second day of HostingCon with $180 million of funding. The developer-centric platform will be API-driven to allow clients to integrate security directly into applications as they are built.
Initially, StackPath focuses on web-facing services such as content delivery, DDoS protection, VPN services, and a web application firewall. By the end of the year, they expect to add secure compute, storage, and DNS capabilities, with plans to release new services monthly over the next several years.
Westward Ho: HostingCon 2017 Joins Forces With Data Center World
Fresh off the excitement at New Orleans, we're already looking forward to April 3-6, 2017, when we'll regroup with everyone at the Los Angeles Convention Center.
Next year, HostingCon merges with Data Center World to triple the size of the Exhibit Hall and attract even more datacenter and IT infrastructure speakers and attendees.
We're already seeing some familiar names signing up for booths in the HostingCon side of the showroom map — will we see yours?
Advertiser Disclosure
HostingAdvice.com is a free online resource that offers valuable content and comparison services to users. To keep this resource 100% free, we receive compensation from many of the offers listed on the site. Along with key review factors, this compensation may impact how and where products appear across the site (including, for example, the order in which they appear). HostingAdvice.com does not include the entire universe of available offers. Editorial opinions expressed on the site are strictly our own and are not provided, endorsed, or approved by advertisers.
Our Editorial Review Policy
Our site is committed to publishing independent, accurate content guided by strict editorial guidelines. Before articles and reviews are published on our site, they undergo a thorough review process performed by a team of independent editors and subject-matter experts to ensure the content's accuracy, timeliness, and impartiality. Our editorial team is separate and independent of our site's advertisers, and the opinions they express on our site are their own. To read more about our team members and their editorial backgrounds, please visit our site's About page.