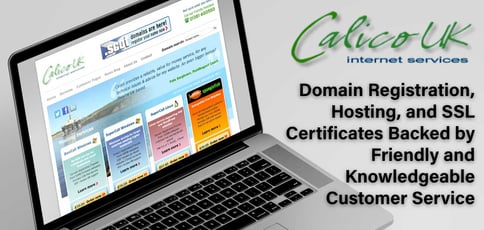 TL; DR: Calico UK, founded in 1994, provides customers around the world with a range of internet solutions, including domain registration, colocation services, spam protection, and SSL certificates. The Scotland-based company focuses on providing friendly support and professional services catered to the needs of small and medium businesses. Backed by a flexible, skilled team of people with a genuine passion for helping people navigate technology, Calico UK is committed to developing long-term relationships with customers.
You might not know it from a travel brochure, but tucked into the Scottish Highlands is a bit of internet history.
In 2014, after the introduction of .scot — a top-level domain representing Scotland and Scottish culture — hosting company Calico UK became the first to bring the TLD live. The site, calico.scot, remains dedicated to .scot domain registrations to this day.
"Being based in Scotland, it makes sense for people with Scottish businesses, products, and services, or those with a Scottish heritage, to use a Scottish provider for their web and email solutions," said Kirsty Pryer, System Administrator and Managing Director at Calico UK.
Today, the internet solutions provider delivers a range of services designed for small- and medium-sized businesses, from domain registration and colocation services to spam protection and SSL certificates.
As an employee-owned company, Calico UK boasts low turnover and high customer retention rates, allowing staff to form long-term relationships with clients. Customer support is at the heart of the company — and that's why it brings in such glowing reviews.
"They epitomize the old slogan of being big enough to cope, but small enough to care," said customer Keith Muir of Highlands and Islands Enterprise in Inverness, Scotland, in a testimonial on the Calico UK website.
The company, founded in 1994, has numerous longtime clients who can attest to the company's friendliness and expertise. After a quarter-century in the industry, it's a fair bet that the company will continue providing reliable, courteous, and personalized services for decades to come.
Providing a Range of IT Services from Scottish Highlands Since 1994
In 1989, British scientist Tim Berners-Lee submitted a proposal for a new way of sharing information among researchers, essentially inventing the World Wide Web. But it wasn't until the mid-1990s that the internet became commercially available.
So when Kirsty joined Calico UK in 1998 (the same year Google went live), the internet was still a new commodity for both home and business users.
"At that point, domain registration was quite an expensive investment for a company," Kirsty said. "Calico UK had only a handful of domain names registered for customers, and most businesses were hosting using a subdirectory on our own domain name, such as http://www.cali.co.uk/theirchoice."
As time passed, Kirsty said the trend changed. Today, domain names reveal clues about a company's identity, values, and credibility — and, as with any introduction, first impressions matter.
"Things have come a long way since then, and having your own domain is obviously key for both web and email now," she said.
Over the years, Calico's hosting infrastructure also shifted. Initially, the company housed its servers in its main office building in Cromarty, a charming historic town in the Highlands of Scotland.
"Today, the majority of our hosting is supplied via dedicated servers in the cloud," Kirsty said. "That allows us to utilize more robust infrastructure and work with systems that are designed for growth and scalability."
Calico UK's agile nature has allowed the team to easily adapt to such changes throughout the company's history. For example, Kirsty said that when she started in the business, web design was a craft limited to experts with highly specialized, offline tools.
Now, the company takes into account the popularity of content management systems like WordPress, which currently powers more than 36% of the web.
"A lot of sites are designed and maintained by their owners using online software," she said. "A large proportion of our customers use WordPress with us pre-installing the software ready for them, along with security plugins to get them started."
Products and Services Catered to the Needs of Small to Medium Business
SMBs are a source of economic vitality across the UK, where, as of December 2017, there were approximately 5.7 million small and medium-sized enterprises. The vast majority (96%) of those were classified as micro-businesses, or businesses with nine or fewer employees.
Entrepreneurs and small businesses looking to build an online presence often seek cost-effective services that are convenient and easy to use. After all, many small business owners don't have vast technical knowledge or the help of an on-staff administrator — and that's where Calico comes in.
"We've always been focused on small to medium business hosting solutions," Kirsty said. "We aim to be as approachable as possible by keeping service options straightforward while allowing flexibility for more advanced users, such as web design companies, so that they can have bespoke solutions."
Though Calico UK got its start as a local business, it quickly went global through word-of-mouth recommendations and referrals.
"People love the fact that they can develop a relationship with our company," Kirsty said. "Our friendly telephone help desk isn't automated, and you can get through to the same person each time you call."
When it comes to internal development, Calico UK is committed to regular updates and server upgrades aligned with the latest security standards and customer requests.
"Change is constant; it's the only thing that is," she said. "We will soon be offering a new email facility for our customers. We will be updating existing customers and putting new customers onto the new software solution, giving them extra features."
Calico UK is also working closely with Spanglefish to offer bundle discounts, including an email service with a 1GB quota. The online system, which allows users to design websites without requiring programming skills, works in conjunction with Calico UK: Users can register a domain name with Calico UK, and the company will link it to the users' Spanglefish website.
"We know they have new design options in the pipeline, so we'll be excited to share those with our customers," Kirsty said.
Approachable Support from an Employee-Owned Company
The team at Calico UK keeps customers happy by viewing the world from the perspective of the user. To that end, the support staff is made up of real people who are both accessible and experts in their fields.
On support calls, staff avoid tech jargon in favor of clear, straightforward language. The team doesn't leave customers on hold and vows always to call back when they say they will.
When asked about the top benefits of working with Calico UK, Kirsty said: "It has to be our customer relationships. The fact that we are friendly and approachable. We're on a first-name basis with all of our customers, and we try our best to accommodate their needs with our flexible approach."
Customers seem to agree.
"Calico provides a first-rate personal service, an absolute rarity these days," said customer Colin Watts of British Rail's Southern Region Railway System in a testimonial on the Calico UK website. "I started using them as an email provider in 1999; today, they host all my websites."
Kirsty said the fact that the company is 100% employee-owned means the team supports each other as well as the business.
"We all live within walking distance of the office, and we are flexible in our working," she said. "This allows our team members to have many outside interests, to make sure we all have a good work-life balance. This includes playing music in bands, fitness activities, arts and crafts, and more."