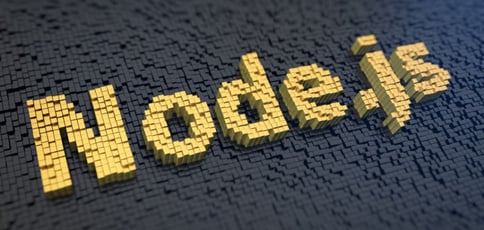 Root server access, unlimited bandwidth, and a free domain name are just some of the fancy buzzwords you may see when looking for the cheapest Node.js hosting provider. But to choose a provider, you need to go beyond marketing language to select a plan that plays well with the open-source server environment. Node.js has been around for more than a decade and is popular with businesses — including your favorite streaming platform Netflix — that leverage its fast execution speed to create dynamic pages.
In the early days of the web, static HTML left much to be desired, but basic styling and limited functionality are relics of the past. The early 1990s brought a new web development era that led the way for limitless interactivity between a webpage and a user. Interactive coding languages (for example, JavaScript, Ruby, or Python) allow you to have more meaningful experiences online, including searching for the next TV show to binge. Node.js is just one piece of the enormous puzzle of dynamic web pages, but it's a pretty important one.
Node.js is a JavaScript run-time environment that allows developers to use JavaScript for server-side scripting instead of the traditional method of browser-based scripting. Using Node.js to interact with the user's server instead of their browser boasts many advantages but is most frequently praised for its faster page loads and scalability. To maximize the benefits of this open-source server environment, choose a provider that offers a Node.js-optimized hosting plan. We've compiled a list of some of our favorite features and providers of the cheapest Node.js hosting.
Cheapest Node.js Hosting Plan Overall
Due to the technical nature of Node.js hosting, you don't often see many shared hosting plans that offer this type of service. The run-time environment is popular among businesses and larger organizations because of its high-performance architecture — meaning you will most likely see Node.js hosting in VPS and dedicated server packages. While you may miss out on some standard shared hosting perks, such as a free domain name, unlimited bandwidth, and SSH access, you'll be glad to know you have at least one uber-affordable shared hosting platform.
But beware, many web hosting companies don't allow users to run Node.js on a shared hosting package because you need root server access to configure and run the environment. If you sign up for a run-of-the-mill shared hosting plan expecting to run Node.js — you may risk violating your hosting terms and agreements. But lucky for Node.js enthusiasts on a budget, A2 Hosting has got you covered.
A2 Hosting is an industry leader in affordable shared hosting plans that come with ample storage, solid infrastructure, and page load speeds up to 20 times faster than your average provider. This hosting company is one of the few that allows Node.js hosting on its shared plans, meaning users can customize and deploy their Node.js application for just a few dollars per month.
This web host gives customers plenty of perks with its shared hosting plan, including a free SSL certificate, blazing fast SSD storage, and automatic backups. If you're on a budget, this is a web hosting service you don't want to miss.
Plus, if you outgrow the resources of A2 Hosting's shared plan, you can upgrade to its high-performance Node.js VPS plan for a slightly higher monthly cost. That's a win for customers wanting a long-term hosting relationship.
FREE Cloudflare CDN and SSD speed boost
Optimized caching and 1-click installs
Unlimited email, domains, and databases
Advanced security and FREE HackScan
24/7 support via phone, chat & tickets
CHEAP
RATING 4.6 ★★★★★ Our Review
A2 Hosting: Our Expert's Review
Alexandra Anderson (HostingAdvice.com): There are plenty of excellent cPanel shared hosting providers out there, so what sets A2 Hosting apart from the rest. Not only does the company offer a ton of features, but it has custom-built its packages for enhanced performance, speed, and security — putting your priorities above pricing. Go to full review »
| Money Back Guarantee | Disk Space | Domain Name | Setup Time |
| --- | --- | --- | --- |
| 30 days | 100 GB SSD – Unlimited SSD | New or Transfer | 4 minutes |
Compare with the best Node.js hosts overall »
Cheap VPS Hosting for Node.js
Unlike shared hosting, plenty of VPS plans will back your Node.js application. Both unmanaged and managed VPS hosting plans are affordable, performant hosting solutions for small to midsize businesses that need more customization and performance than a shared plan.
One of the biggest perks of a VPS plan is the maximum scalability it provides for your Node.js app — some providers offer instant upgrades with zero downtime for seamless scaling. Our favorite companies give users a choice of unmanaged or managed VPS and Linux or Windows hosting for ultimate customization. But it gets better: You can find premium Node.js VPS hosting starting for roughly $5 per month.
Managed or unmanaged, in Windows or Linux
Cloud hosting with hourly or monthly billing
Instant upgrades without downtime
FREE around-the-clock monitoring
Automatic nightly backups available
VPS
RATING 4.8 ★★★★★ Our Review
Hostwinds: Our Expert's Review
Laura Bernheim (HostingAdvice.com): Does any hosting provider have more virtual private server packages than Hostwinds. The company offers 10 configurations — and that's just for managed Linux server partitions. Go to full review »
| Setup Time | Disk Space | CPU | RAM |
| --- | --- | --- | --- |
| 6 minutes | 30 GB SSD – 750 GB SSD | 1 – 16 cores | 1 – 96 GB |
$0.01 for the first month using code HOSTINGADV
Then $6 monthly with no contracts, no changes
Latest of PHP, MySQL, Perl, Python, and Ruby
7 operating system options for Linux or Windows
Full root access and choice of datacenter
VPS
RATING 4.8 ★★★★★ Our Review
InterServer: Our Expert's Review
Laura Bernheim (HostingAdvice.com): InterServer's on-site datacenter and hands-on involvement with configuring and provisioning virtual private servers give customers a level of flexibility not seen with many other hosting providers. InterServer rations VPS and cloud resources through slices. Go to full review »
| Setup Time | Disk Space | CPU | RAM |
| --- | --- | --- | --- |
| 6 minutes | 30 GB SSD – 480 GB SSD | 1 – 16 CPUs | 2 – 32 GB |
Cheap Dedicated Server Hosting for Node.js
Dedicated hosting is your top rung on the hosting ladder, representing the industry's highest price and performance. A dedicated server configuration gives you full root access to customize your run-time environment exactly how you see fit. This appeals to large organizations willing to invest in the most resource-rich server packages.
While dedicated servers are not the cheapest hosting service, what you get is worth the high price tag. The best providers offer custom server configurations, instant deployment, proactive monitoring, and load balancer add-ons. Some dedicated hosting providers even guarantee 100% uptime for your website. If price is on your mind, check out our favorite budget-friendly dedicated server hosting plan below.
24/7 uptime monitoring and private datacenter
Up to 24 cores and 100TB bandwidth
12 operating systems and 3 control panels
Custom configs built and maintained in-house
Price-lock guarantee without contracts
DEDICATED
RATING 4.5 ★★★★★ Our Review
InterServer: Our Expert's Review
Laura Bernheim (HostingAdvice.com): You know a hosting company means business when it owns and operates its own datacenters. Because InterServer employees build and manage servers in the same building as company headquarters, dedicated hosting customers get the utmost in flexibility, support, and around-the-clock monitoring. Go to full review »
| Setup Time | Disk Space | CPU | RAM |
| --- | --- | --- | --- |
| 8 minutes | 250 GB SSD – 80 TB HDD | 4 – 52 cores | 32 GB – 128 GB |
Cheap Cloud Hosting for Node.js
Cloud hosting is growing in popularity for its optimal redundancy, reliability, and convenient pricing model, where customers only pay for what they use. The best providers typically offer free daily backups, ample SSD storage, and a free SSL certificate with your hosting package. Tech giants Amazon Web Services, Google Cloud, and Microsoft Azure are leading the way with their hosting packages that offer ample cloud storage and scalability. Still, users may find these tech giants lack hands-on support to manage their web hosting endeavors successfully.
Cloud hosting tends to have a lower starting cost, which appeals to price-minded individuals and organizations. The finely tuned control cloud hosting offers can be a challenge for less experienced developers, but with hands-on help from your hosting platform, you can get your Node.js application up and running smoothly. If customer support from one of the tech giants doesn't cut it, you should check out some of these smaller web hosting companies that provide a hands-on approach for their customers.
Ultimate scalability with limitless customizations
Create and deploy servers in 60 seconds
Easily add load balancers and firewalls
Stellar 99.95% uptime guarantee
Sign up today for a 30-day FREE trial
CLOUD
RATING 4.9 ★★★★★ Our Review
Kamatera: Our Expert's Review
Laura Bernheim (HostingAdvice.com): Starting with more than 60 operating system images to choose from, Kamatera is a strong option for developers who know exactly what environment works best for their project. Customize your cloud server as needed and deploy in less than a minute. Go to full review »
| Setup Time | Disk Space | CPU | RAM |
| --- | --- | --- | --- |
| 5 minutes | 20 GB SSD – 4 TB SSD | 1 – 104 cores | 1 GB – 525 GB |
Choose your OS or application configuration
Hourly or monthly billing for convenience
Optional upgrades for cPanel, backups, and more
Managed services, SSDs, and HDDs available
Block and object storage, plus enterprise firewall
CLOUD
RATING 4.6 ★★★★★ Our Review
Hostwinds: Our Expert's Review
Laura Bernheim (HostingAdvice.com): Hostwinds provides supremely scalable and customizable options for the savvy developer or site owner. Customers can customize their cloud environment or choose pre-built configurations optimized to run apps like WordPress, Drupal, and others. Go to full review »
| Setup Time | Disk Space | CPU | RAM |
| --- | --- | --- | --- |
| 6 minutes | 30 GB SSD – 750 GB SSD | 1 – 16 cores | 1 – 96 GB |
Fault-tolerant SSD storage and up to 8GB of RAM
FREE control panel with choice of Linux OS
Full root access or managed servers available
FREE live-state or scheduled snapshots
FREE Ansible control mode for automation
CLOUD
RATING 4.5 ★★★★★ Our Review
InMotion: Our Expert's Review
PJ Fancher (HostingAdvice.com): With leading-edge cloud technology, InMotion offers free site transfer, setup, and SSD drives for the ultimate cloud solution offerings. They include free data backups and offer unmanaged or fully managed servers to help you scale your site with cloud-based hosting. Go to full review »
| Setup Time | Disk Space | CPU | RAM |
| --- | --- | --- | --- |
| 6 minutes | 90 GB SSD – 360 GB NVMe SSD | 2 – 8 cores | 4 GB – 16 GB |
What Are The Benefits of Node.js?
Netflix, Twitter, LinkedIn, and PayPal are just some of the countless organizations that use Node.js to deploy their websites and mobile apps. While there are several reasons this run-time environment appeals to so many big businesses, we've listed a few of the most common ones.
1. Speed
When it comes to business, time is money, which is even more accurate for eCommerce sites. The ideal page load time sits between zero to four seconds — but each additional second decreases your conversion rate significantly. Organizations often use Node.js to improve website speed, increasing user satisfaction and conversion rates.
2. Scalability
Business is unpredictable. Organizations constantly adjust to consumer demand, and their websites must keep up. The Node.js environment helps companies to scale their sites by using a single thread to handle non-blocking I/O (Input/Output) calls, which frees up your web application to accept concurrent connections. The underlying Node.js architecture and load balancer capability are enormous bonuses for horizontal and vertical scalability.
3. Ease of Use
Node.js has a variety of use cases and has grown a robust community of support since its release in 2009. Developers can find help on various topics to implement Node.js for live chat, streaming, and REST API-based applications, for example. This breadth of support and utility is significant in the server environment's sustained popularity.

While these are just some of the most popular reasons organizations use the server framework, businesses worldwide are constantly finding new use cases for Node.js. When paired with the best web hosting provider, Node.js will impact your success.
Where Can I Host a Node.js App for Free?
The open-source tech community is growing, which is excellent news for developers looking for free resources and support. RedHat, known for its emphasis on open-source programming, offers a free trial for Node.js hosting on its enterprise Linux plan. If you join the RedHat Developer Program, you get access to developer resources and a community of support to build your Node.js web application. Alternatively, users can access RedHat's OpenShift Online to launch their free Node.js application with a temporary trial period.
How Do I Install Node.js?
If you have some technical experience, installing Node.js is surprisingly easy. To get started:
Download the latest source code or use the installer provided by your Node.js hosting provider. Using this tutorial, oyu can also update your existing NodeJS installation to the latest version.
Follow the instructions as prompted and allow about eight minutes until the process is complete.
If you have trouble during installation, use the vast knowledge base and community support available on the Node.js website.
Of course, before you begin the installation, you'll need to decide which Node.js hosting platform is the one for you. You may find you're most comfortable with tech giants, such as Microsoft Azure or Amazon Web Services, but perhaps you prefer the more hands-on approach of companies InMotion Hosting or Kamatera. If you're still unsure, check out our complete reviews in each category to look beyond the buzzwords for the best web hosting for your next Node.js web application.
Further Reading: "7 Cheapest Node.js Hosting Providers (Oct. 2023)"
Hopefully, our recommendation of A2 Hosting fulfills all your web hosting needs. Starting at just $2.99 per month and rated 4.6 overall, A2 Hosting gives users plenty of bang for the buck. Among our favorite features:
FREE Cloudflare CDN and SSD speed boost
Optimized caching and 1-click installs
Unlimited email, domains, and databases
Advanced security and FREE HackScan
24/7 support via phone, chat & tickets
If you'd like recommendations similar to A2 Hosting and others in 7 Cheapest Node.js Hosting Providers (Oct. 2023), check out these popular guides. You'll find comparisons of A2 Hosting to other hosts on pricing, features, support and more:
And of course, if A2 Hosting is your top choice, you can get started now at just $2.99/month. A2 Hosting is easy to set up and scale, no matter the size of your next project.
Advertiser Disclosure
HostingAdvice.com is a free online resource that offers valuable content and comparison services to users. To keep this resource 100% free, we receive compensation from many of the offers listed on the site. Along with key review factors, this compensation may impact how and where products appear across the site (including, for example, the order in which they appear). HostingAdvice.com does not include the entire universe of available offers. Editorial opinions expressed on the site are strictly our own and are not provided, endorsed, or approved by advertisers.
Our Editorial Review Policy
Our site is committed to publishing independent, accurate content guided by strict editorial guidelines. Before articles and reviews are published on our site, they undergo a thorough review process performed by a team of independent editors and subject-matter experts to ensure the content's accuracy, timeliness, and impartiality. Our editorial team is separate and independent of our site's advertisers, and the opinions they express on our site are their own. To read more about our team members and their editorial backgrounds, please visit our site's About page.