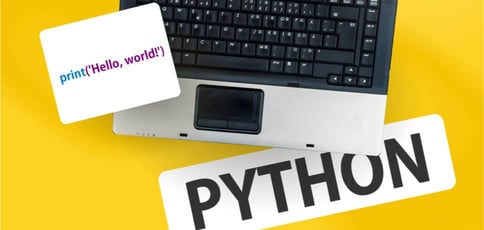 Almost everyone knows the iconic 1975 film "Monty Python and the Holy Grail." Even if you happen to be among the few who haven't seen it, chances are you've heard of it or the groundbreaking skit series that preceded it.
"Monty Python" revolutionized television comedy, leaving a lasting impact on the genre and influencing productions for years to come, from "Austin Powers" and "Airplane" to "The Simpsons" and "Saturday Night Live." While these comedies may now seem like standard fare, they were unlike anything anyone had ever seen in the 1970s: Every Monty scene was brimming with dry wit, slapstick humor, clever wordplay, and innuendos. Because of its profound influence on pop culture, some people have even compared Monty Python and The Beatles!
But it may come as a surprise that the famous comedy troupe also influenced the most popular programming language (PL) known to date today: Python. Python was created by Guido van Rossum in 1991, and he was a big Monty fan. So much so, in fact, that he named the language after the prequel skit series "Monty Python's Flying Circus" and incorporated some of its elements. Python, like the sketch comedy, is easy to understand and doesn't take itself too seriously. It has readable syntax and playful Easter eggs hidden within the language.
Python has since gained fame for revolutionizing programming languages, similar to how the comedy troupe transformed television. And the availability of free and affordable servers only further enhances the language's appeal, which is why we've compiled a list of the seven best free Python hosting servers for developers and businesses. Let's dive in and explore what's in-store.
1. Kamatera: Best Free Host
Kamatera is our number-one pick for best Python hosting because of its incredible 30-day free trial for cloud and VPS hosting, among today's more expensive hosting options. Once your trial period ends, plan pricing is determined based on your server configuration and usage. What sets Kamatera apart is its ability to quickly create and deploy servers within 60 seconds, which is remarkable considering other hosts take up to several days.
Customize your cloud environment for FREE
Work with a dedicated account manager
Dozens of Windows & Linux OS choices
Complimentary live chat support open 24/7
Launch in less than 60 seconds
CHEAP
RATING 4.9 ★★★★★ Our Review
Kamatera: Our Expert's Review
Laura Bernheim (HostingAdvice.com): That's right, Kamatera gives new customers FREE access to high-quality VPS hosting for 30 days. Upgrade your bargain-basement shared hosting to a cloud server configured to your exact specifications for no cost. Go to full review »
| Money Back Guarantee | Disk Space | Domain Name | Setup Time |
| --- | --- | --- | --- |
| 30-day FREE trial | 20 GB SSD – 4 TB SSD | New or Transfer | 3 minutes |
While Kamatera is a budget-friendly cloud and VPS hosting option, it's also flexible, secure, and scalable, with a 99.95% uptime guarantee and unlimited customization options. But it may not be the best option for first-time site owners. Depending on your preferences, it may require server management and configuration, so it's often geared toward experienced developers. Fret not, though: Kamatera also offers managed solutions so you can get their expert team's assistance!
Best Almost-Free Hosts
You know the saying "Nothing in life is free"? Well, it's unfortunately true — at least for the most part. Free Python hosting servers don't come as often as we'd like them to, but that doesn't mean you can't find inexpensive options that will cost you just a couple of dollars a month. Here are some of our favorite almost-free hosts.
FREE website transfer service to get started
99.9% uptime guarantee and unlimited traffic
User-friendly WordPress installation
24/7 support featuring custom systems
4 caching options plus staging and Git
CHEAP
RATING 4.6 ★★★★★ Our Review
SiteGround: Our Expert's Review
Alexandra Anderson (HostingAdvice.com): Providing hosting with the perfect balance of technological innovation and superior customer support, SiteGround offers a range of affordable hosting services to meet your needs. In addition to the expected cheap web hosting perks — a free website builder and unlimited bandwidth — the company specializes in custom-built tools to deliver strong and positive user experiences. Go to full review »
| Money Back Guarantee | Disk Space | Domain Name | Setup Time |
| --- | --- | --- | --- |
| 30 days | 10 GB SSD – 40 GB SSD | New or Transfer | 6 minutes |
For the price of a cup of coffee from your favorite diner, SiteGround offers shared hosting, easy WordPress hosting installation, a 99.9% uptime guarantee, and a free website transfer. SiteGround supports some of the latest Python versions, 3.8 and 3.11.2 — and if you want to know the available modules, you can execute a simple command. SiteGround is ideal for large Python projects because it can err on the pricey side if you don't opt for the multiyear plans, which also provide more resources than beginner plans.
FREE BoldGrid site builder and templates
FREE website, domain, and cPanel migrations
SSD storage makes your site load up to 20x faster
Security suite includes SSL and hack protection
Unlimited bandwidth and email accounts
CHEAP
RATING 4.7 ★★★★★ Our Review
InMotion: Our Expert's Review
PJ Fancher (HostingAdvice.com): InMotion Hosting offers an excellent business-class shared hosting plan — with a price tag lower than several other budget hosts. For the IT crowd in the audience, you'll appreciate SSH access, as well as support for PHP, Ruby, Perl, Python, WP-CLI, and other popular languages. Go to full review »
| Money Back Guarantee | Disk Space | Domain Name | Setup Time |
| --- | --- | --- | --- |
| 90 days | 100 GB SSD – Unlimited | FREE (1 year) | 5 minutes |
InMotion Hosting is another top pick due to its impressive speed and Python compatibility. You can choose from shared, VPS, or dedicated hosting on a cloud server — and with each plan comes unlimited disk space, a 90-day money-back guarantee, state-of-the-art technology from Dell, Brocade, Cisco, and a range of security and performance options. InMotion works seamlessly with WordPress, and guarantees speeds up to 12x faster.
Even if you don't use a WordPress hosting plan, you can still benefit from its NVMe SSDs, which are up to 10x faster than traditional SSDs! This server is an excellent choice for small-to-medium websites and developers or programmers who require reliable testing and staging environments.
Host up to unlimited websites on a single plan
FREE SSL certificate included on all plans
Unlimited bandwidth & email addresses
1-click WordPress installs & FREE blog tools
Get 67% OFF by buying 36 months upfront
CHEAP
RATING 4.6 ★★★★★ Our Review
HostGator: Our Expert's Review
Ryan Frankel (HostingAdvice.com): HostGator is a great compromise between performance and price. The company offers unlimited emails, MySQL databases, disk space, and bandwidth, plus one-click installs of popular open-source projects, in addition to a 99. Go to full review »
| Money Back Guarantee | Disk Space | Domain Name | Setup Time |
| --- | --- | --- | --- |
| 30 days | Unlimited | FREE (1 year) | 4 minutes |
Starting at $2.64, HostGator offers great value for your money. With every plan, you receive Python compatibility, an easy-to-use cPanel control panel, unlimited disk space, email, bandwidth, and flexible term lengths ranging from one month to 36 months.
This reliable and affordable Python hosting server option boasts high performance (99.99% uptime!), excellent security features, and round-the-clock support. You also get access to developer-friendly features for Python, including SSH access and Flask and Django hosting compatibility.
FREE Cloudflare CDN and SSD speed boost
Optimized caching and 1-click installs
Unlimited email, domains, and databases
Advanced security and FREE HackScan
24/7 support via phone, chat & tickets
CHEAP
RATING 4.6 ★★★★★ Our Review
A2 Hosting: Our Expert's Review
Alexandra Anderson (HostingAdvice.com): There are plenty of excellent cPanel shared hosting providers out there, so what sets A2 Hosting apart from the rest. Not only does the company offer a ton of features, but it has custom-built its packages for enhanced performance, speed, and security — putting your priorities above pricing. Go to full review »
| Money Back Guarantee | Disk Space | Domain Name | Setup Time |
| --- | --- | --- | --- |
| 30 days | 100 GB SSD – Unlimited SSD | New or Transfer | 4 minutes |
A2 Hosting primarily focuses on hosting PHP (another programming language) but successfully supports Python. A2 is well-liked by the Python community because it supports multiple versions, it's dev-friendly and scalable, and it has shared, dedicated, and VPS hosting options with a cloud server. A2 Hosting also utilizes speed enhancers (A2 Optimized and Turbo), which offer a free SSD speed boost.
With four server location options and a range of features, you can rest assured that you're receiving the best speed options at an incredibly affordable price. And since A2 Hosting works with Flask and Django hosting, this option is ideal for those who prefer to work with these add-ons.
Free Alternatives
PythonAnywhere is exactly what its name suggests: a platform that allows you to run Python code anywhere on your web browser. It is an integrated development environment (IDE) and web hosting platform specifically designed for Python applications.


It offers a fully-configured space where users can easily write, edit, and run Python code on the cloud server. With its diverse range of plans, PythonAnywhere caters to beginners and experts. It even includes a beta section for educators who teach coding to their students! PythonAnywhere's Basic plan is entirely free — but if you need more power, you can choose from customizable plans that range from $5 to $500 per month.
Get started with PythonAnywhere for free >>
Google App Engine is a managed platform-as-a-service (PaaS) offered by Google Cloud Platform (GCP). It enables developers to build and deploy web applications using Python, Java, Go, and PHP — all without the need to manage servers and internal infrastructure. One of the notable advantages of Google App Engine is its user-friendly nature: Users simply need to upload their code and configuration files, and the platform takes care of the rest.


The platform also offers auto-scaling capabilities, seamless integration with other Google Cloud services, and the assurance of built-in security features from the internet's biggest name.
When it comes to price, Google App Engine provides a free tier within the Standard environment — but to get started, you'll need a Google Cloud account.
Check out Google App Engine >>
What Is Python?
Python is a programming language that is highly praised for its ease of use, which is why it is often the preferred choice for software developers, especially those who are just starting. Python can be used for almost anything but is most popular for data analysis, game development, web development and web application creation, and scripting.
Think of Python as a toolbox that assists developers in solving problems using a computer. Python has two key components: functions and libraries. Functions are used for smaller tasks, while libraries offer a larger collection of tools (such as Numpy) for tackling more complex problems.

Since computers don't understand human languages, programming languages are a shared communication medium. They offer a structured method through which humans can convey instructions to computers.
But it's crucial to follow the syntax and rules defined by the specific PL: For example, if you want to print something from Python, you would input print("Hello World!"), but for Java, you would input System.out.println("Hello, World!").
Who Is Python For?
Like many other PLs, Python can create websites, analyze data, train AI via machine learning, and develop games or applications — but it's most commonly used among software developers to build, manage, and test a web app, web server, or software.
Let's take the simplest PL as an example: HTML (Hypertext Markup Language). HTML is used to create the structure of web pages — think headers, tables, embedded images and videos, and page elements like tags and attributes.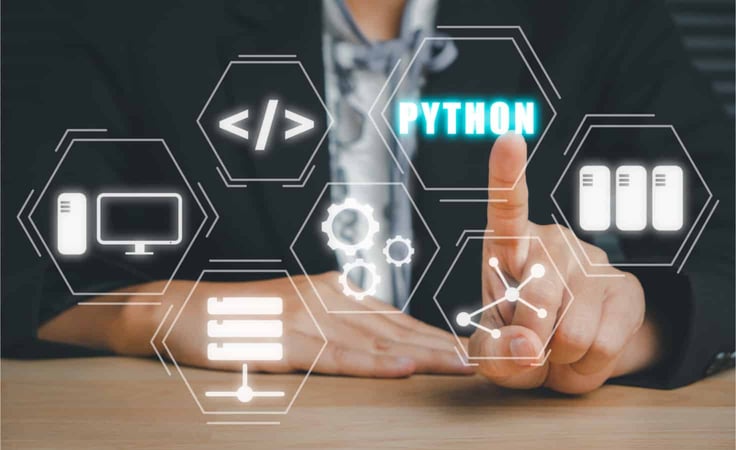 Python can work cohesively with HTML in a more "behind-the-scenes" fashion. So if you run an eCommerce store, HTML will determine your website's structure and content. Python will perform algorithms for calculating prices, managing inventory, tracking orders, and retrieving product details.
Nonprogrammers have also adopted Python because of its robust data analysis and visualization capabilities. Accountants, scientists, educators, and researchers may use Python for everyday tasks, like task automation.
What Is a Python Application?
A Python app is a software or system created using the Python programming language. Some famous Python applications include Spotify, Instagram, Pinterest, Reddit, and Netflix!
A Python web application can serve various purposes, including web development, data analysis, scientific computing, automation, artificial intelligence, machine learning, and game development.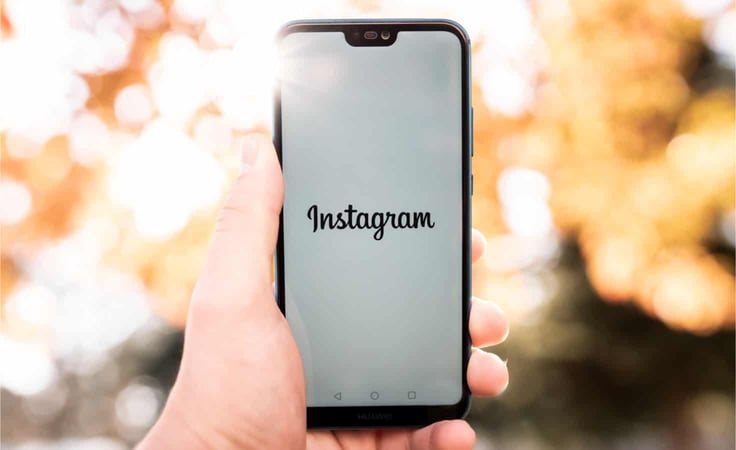 But to create a Python app, you have to ensure you have a compatible host that provides the necessary infrastructure and resources for running Python applications. You can also combine Python with the Django application, a high-level Python framework, to simplify building web applications. Another popular framework is Flask, which is easier to learn.
Why Do People Use Python Instead of a Web Builder?
Web builders are great for those looking to build their websites without all the nitty-gritty details. Many web builders have drag-and-drop features, meaning anyone can use them without software development experience. That said, web builders are the more straightforward, hands-off option; Python has much more flexibility, customization, scalability, and integration capabilities, which may call for technical expertise.
Can You Host a Website With Python?
No, you can't host a website using Python. Python is not a web hosting service, but you can install it onto your web hosting service — as long as it supports Python!
Check out our list of hosting services that support Python >>
How Much Does a Python Server Cost?
Python servers range in price from just a few dollars a month to over $100. The exact cost of a Python hosting plan depends entirely on a few factors:
The hosting method (shared vs. dedicated, managed vs. unmanaged)
Your hosting provider (storage, bandwidth, web server specifications)
Resource requirements
Scalability
Some Python hosting servers are cheaper than others, which is appealing, but always double-check the features and requirements before you commit.
What Features Should I Look For When Choosing a Free Python Server?
You need to consider a few features before choosing a Python host. Here's the checklist we went through to curate our list of the best free Python hosting servers:
Python compatibility
Storage and bandwidth
Scalability
Uptime and reliability
Customer support and community activity
User interface friendliness
Security features
Reviews
Free servers may have limitations compared to paid hosting options — so always consider the must-haves you need and trade-offs you're willing to make when choosing a Python server.
What Kind of Technical Experience Do I Need for Free Python Hosting Servers?
It's helpful to have some knowledge of the language, server configuration, or deployment process when it comes to deploying your own Python app or website.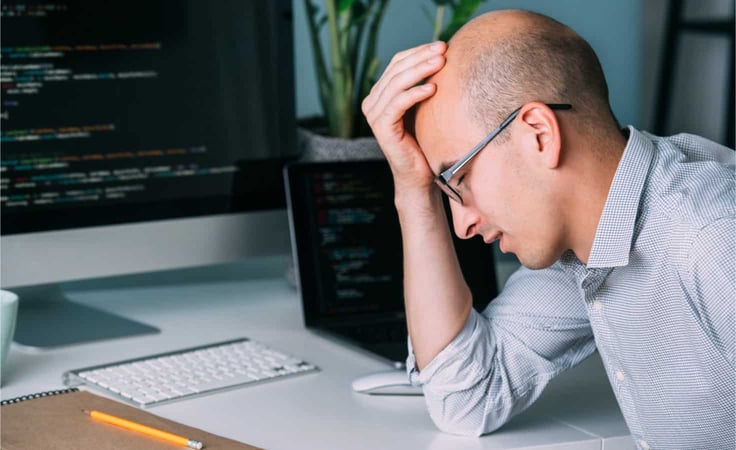 Some hosting servers, such as Apache or Nginx, may require setting up your own web servers. You may also need to know how to package your Python application on the host's server. And, if you want a hosting plan compatible with the Flask or Django hosting frameworks, you'll need to know how to set up routes and interact with your server's databases.
But don't let this scare you: While technical expertise in Python is valuable, it doesn't have to make or break your journey! Many hosting servers are user-friendly and offer step-by-step instructions, tutorials, and community forums to help you easily set up your Python framework and application.
Slither into the World of Free Python Hosting
With the right Python host, you can launch your Python application or easily test scripts without breaking the bank. Whether creating an application or playing around with web development, our list of the best free Python hosting servers will undoubtedly point you in the right direction. But before you get started, don't forget what the official Python guide says: "Making references to Monty Python skits in documentation is not only allowed, it is encouraged!"
Further Reading: "7 Best: Free Python Hosting Servers (Oct. 2023)"
Hopefully, our recommendation of Kamatera fulfills all your web hosting needs. Starting at just $0.00 per month and rated 4.9 overall, Kamatera gives users plenty of bang for the buck. Among our favorite features:
Customize your cloud environment for FREE
Work with a dedicated account manager
Dozens of Windows & Linux OS choices
Complimentary live chat support open 24/7
Launch in less than 60 seconds
If you'd like recommendations similar to Kamatera and others in 7 Best: Free Python Hosting Servers (Oct. 2023), check out these popular guides. You'll find comparisons of Kamatera to other hosts on pricing, features, support and more:
And of course, if Kamatera is your top choice, you can get started now at just $0.00/month. Kamatera is easy to set up and scale, no matter the size of your next project.
Advertiser Disclosure
HostingAdvice.com is a free online resource that offers valuable content and comparison services to users. To keep this resource 100% free, we receive compensation from many of the offers listed on the site. Along with key review factors, this compensation may impact how and where products appear across the site (including, for example, the order in which they appear). HostingAdvice.com does not include the entire universe of available offers. Editorial opinions expressed on the site are strictly our own and are not provided, endorsed, or approved by advertisers.
Our Editorial Review Policy
Our site is committed to publishing independent, accurate content guided by strict editorial guidelines. Before articles and reviews are published on our site, they undergo a thorough review process performed by a team of independent editors and subject-matter experts to ensure the content's accuracy, timeliness, and impartiality. Our editorial team is separate and independent of our site's advertisers, and the opinions they express on our site are their own. To read more about our team members and their editorial backgrounds, please visit our site's About page.