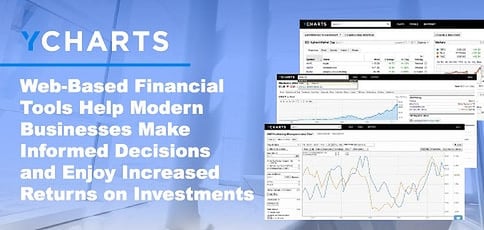 TL; DR: Developed in 2009 as a web-based platform granting easier access to financial and economic data sets, YCharts has been helping businesses and professionals make better investment decisions and turn larger profits ever since. The application houses information on more than 50,000 stocks, ETFs, and mutual funds; employs more than 4,000 financial metrics; and covers the financial histories of companies going back to 1984. With tools that simplify complex economic information and an ever-improving UI built for optimal user experiences, YCharts is helping drive revenue and boost ROI for thousands of organizations and individuals around the world.
B.T. Ware was a cattleman and one of the first to settle the wilds of Amarillo in the late 19th century. More than just a rugged cowboy, B.T. had a vision for the town, and he knew finance would play a big role in its future. So, in 1909, he purchased Amarillo National Bank (ANB) and it has been in the Ware family ever since.
Today, the institution is still going strong and is now the largest family-owned bank in the US with $2.3 billion in assets under its purview. Over its century-long history, ANB has had to evolve with changing market demands and technology to remain competitive. And, never has this been more necessary than in the modern digital-centric landscape.
ANB's current VP and Investment Officer DJ Hunt found himself managing reports, running ETF models, and building client communications with clunky, outdated tools, such as Zephyr and Excel, which was leading to huge time sucks and errors in data sets. He knew there had to be a more reliable approach to ensure better operational efficiency for the bank and improved yields for clients. That's when DJ found YCharts.
"We did our due diligence and decided to replace Zephyr," DJ said. "After thorough research, we found YCharts to be more user friendly on the front end, and, as far as the output, YCharts was easier for our customers to understand."
After onboarding the YCharts financial terminal, ANB saw immediate results. The bank's team was easily able to create graphical visuals for clients, update the tool's Excel Add-in with a single click, and customize the platform's dashboard in accordance with specific user need.
"Processes that used to take us a whole day now take only a few minutes. It saves me so much time and allows me to be in front of my clients rather than at my desk messing with data," DJ said. "Having back this time allows us to focus more attention on growing our AUM than on managing the administrative elements of our business."
Since 2009, YCharts has been helping businesses and institutions, like ANB, streamline their operations and make more informed financial decisions. The YCharts web-based platform is available for use on any device and is backed by thousands of data sources that are analyzed according to over 60 different metrics.
"In aggregate, our data is approaching 500 GB," said Ara Anjargolian, CTO and Co-Founder of YCharts. "It is updated every hour of every day from 10,000+ distinct sources."
A Mission to Become The Financial Terminal of the Web
YCharts was founded in 2009 after the housing crisis of the mid-2000s and its subsequent effects on the US economy. This recession proved just how painful and unpredictable markets can be, especially those that deal with investments such as mortgages, loans, and stocks.
For people who still wished to invest in this post-recession environment, the utmost care had to be taken to maximize returns and minimize risk. Prediction tools, like YCharts, would become increasingly valuable, as most investors sought to make only the safest decisions.
YCharts hit the scene at the perfect time when the market wasn't crowded with competitors.
"In 2009, when we first contemplated building YCharts, the only financial tools available on the web were consumer-oriented offerings like Yahoo! Finance and Google Finance," Ara said. "Both had not been updated in years."
Despite the size and scope of Google and Yahoo!, YCharts was able to breathe new life into the investment research landscape with a fresh and innovative web-based approach.
Because YCharts was entirely web-based, users were able to easily access information regardless of location, device, or ability to download software.
"We saw an opportunity to build a web-based platform that offered professional-class tools that were delightful to use and easy to access," Ara said. "In that first year, we experienced many hiccups from data issues to dealing with the complexities of building financial tools on the web."
In the following years, YCharts would have to perfect its portfolio to include the numerous tools and data sources it now encompasses.
Delivering a Swiss Army Knife for Investment Management
YCharts uses a variety of tools to deliver highly valuable information in a consumer-oriented manner. Users can access a pool of data using the YCharts dashboard, which tracks and sends alerts for changes in specific stocks, ETFs, mutual funds, and various economic indicators.
Users can perform deep-dive research on specific securities, using filters and scoring tools to bring massive amounts of data down to a manageable load. YCharts allows users to gain insights with dynamic spreadsheets that synchronize with continuously updated data.
Aside from standard use cases, YCharts is used in less predictable ways, some of which are outside the financial market.
"YCharts is like a Swiss Army Knife in that we provide a lot of really valuable tools in a portable, very user-friendly form," Ara said. "While we set out for our tools to be used for specific intended purposes, we are always amazed at the unintended use cases our customers point out to us."
Management consulting firms use YCharts to create compelling visuals for sales cases, while corporate strategy groups track company performance in relation to that of competitors. In addition, research analysts and media companies use YCharts to add a more visualized and easy-to-understand approach to data analysis and sharing.
A Platform Perfected to Increase ROI for Thousands of Customers
The YCharts portfolio of tools is vast and growing, and demands constant upkeep to ensure the accuracy of data. As a result, YCharts has had to expand its data sources over time to provide the most insightful and relevant statistics.
"When YCharts was first launched, we were the new kid on the block and could leverage modern technology to gain an edge over incumbents," Ara said. "We are seeing new entrants come in with even newer technology to gain their own edge. Thus, pushing our core technology forward has been essential."
The YCharts dashboard has evolved to include a centralized and highly customized view of various markets — bringing the data users want to see to the forefront. Data and news involving stocks, mutual funds, ETFs, CEFs, economic indicators, and indices are all available with a few simple clicks.
In addition, YCharts offers charts, equity screeners, spreadsheets, and comp tables. Investors can view this wealth of information from anywhere in the world on any device that connects to the web.
"The biggest trend we've seen is no surprise — the expectation that all our tools should work well on mobile devices, something we are actively working on," Ara said.
Up Next: A New UI to Create a First-Class Mobile Experience
Because investments inherently involve a degree of risk, the most advisable business decisions take into account shifting market trends and significant economic indicators. As a result, YCharts must continuously innovate to provide its clients with the most accurate and recent insight into financial prediction factors.
"We have more than 2,500 customers. Our priority is to ensure that the platform evolves appropriately to meet their needs. When we do this right, they continue to see a high ROI from our product," Ara said. "According to research, wealth advisors who use our software grow assets under management nearly 75% faster than their peers."
On the technical front, YCharts plans to release a more user-friendly dashboard design to make data mining even easier.
"Coming next year will be the first soup-to-nuts UI/UX redesign since YCharts launched," Ara said. "It will give us the opportunity to provide a first-class mobile experience and vastly improve the usability of the platform, which is already known for being easy to use."
In addition to the UI revamp, YCharts plans to integrate a number of unique datasets obtained or developed over the course of the last two years.
"We will be offering our users some data-driven insights they would not be able to obtain from platforms five times the cost of YCharts," Ara said.
YCharts emerged at a time when investors feared the future — but uncertainty is always present in the market. The smartest investments are those informed by accurate data and experience — or heuristics. And YCharts helps provide investors with the peace of mind that they're making the most informed financial decisions.