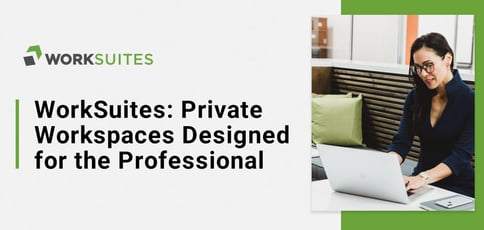 TL; DR: The team behind WorkSuites believes that productivity is not just about how you work — where you work matters, too. To that end, the company provides private rental spaces, coworking memberships, meeting rooms, and virtual offices out of 20 locations across Texas. With continued expansion into additional cities and newly-implemented social distancing measures, WorkSuites aims to satisfy a growing demand for flexible workspace in the Lone Star State.
In recent years, coworking has soared in popularity — and much like lifestyle-altering trends in electric vehicles, plant-based eating, and cryptocurrency, the modern phenomenon isn't slowing down any time soon.
In fact, researchers forecast the number of coworking locations worldwide to nearly double from 26,000 in 2017 to 49,500 by 2022. For freelancers, entrepreneurs, and remote workers, these spaces offer an obvious perk: The ability to trade in the isolation of a home office for a seat at a stylish, inspiring, and flexible workspace.
But the fact that coworking is now in vogue doesn't mean that it's a brand new concept. Just ask the folks at WorkSuites, a Texas-based executive office space provider that's been around since the dawn of the new millennium.
"We were in coworking in 2001 — before anyone else knew what coworking was," said Ivy Brown, Marketing Specialist at WorkSuites. "We were known as Meridian Business Centers at that time, and there wasn't much competition out there. The company rebranded in 2018 to WorkSuites, which is a better reflection of what our brand actually represents."
Since its inception, the company has been making private rental spaces, coworking memberships, meeting rooms, and virtual offices more accessible than ever. And, unlike some of its trend-chasing counterparts, WorkSuites was designed with the professional in mind.
"The COVID-19 pandemic has changed things a bit, but we've always offered something for everyone — including private and productive spaces designed to help you get work done," Ivy said. "Our coworking model has never been one big room packed with a ton of people — it was always built for professional businesses."
Pioneering the Office Space Industry Since 2001
Ivy told us that WorkSuites Founder and CEO Flip Howard is an entrepreneur at heart. He got the idea for Meridian Business Centers while running a dry-cleaning business at Southern Methodist University (SMU) in University Park, Texas.
"He was working out of an executive suite office he rented at the time," Ivy said. "He really liked it and ended up buying it. He thought the executive suite business was more interesting than dry cleaning, so he sold his dry-cleaning business and took it from there. That started the business centers aspect."
By the time Meridian Business Centers rebranded to WorkSuites to more succinctly describe its value proposition (the business centers phrase never really caught on), industry giants like WeWork had put coworking on the map.
"There's a lot more competition out there now, but also more demand," Ivy said. "Pre-COVID, we took off — people liked being able to bounce things off each other in an open forum and not be so secluded. But now, we've seen a bunch of people seeking other types of workspaces we offer, whether they're downsizing or looking to avoid paying overhead."
Today, WorkSuites boasts more than 20 spaces across Texas, including locations in Allen, Dallas, Fort Worth, Grapevine, Houston, Las Colinas, Plano, Sugar Land, and The Woodlands.
The company provides workspace to more than 1,500 clients, including freelancers, SMBs, entrepreneurs, remote workers, and nonprofits. The diverse community includes professionals from a range of industries, from web design and photography to healthcare, financial services, and technology.
"Officing at WorkSuites has been the best decision for my business," said Reev Rohter of Rohter & Company Residential Real Estate. "Our offices were fully-furnished and ready to go on day one. I have everything I need and then some, and the community is great."
Moving forward, WorkSuites will continue expansion into additional cities to satisfy a growing demand for flexible workspace. The company's Southlake coworking space, for instance, is set to open fall 2020.
Low-Cost Workspace Solutions for Any Occasion
WorkSuites does not provide what some may consider the stereotypical coworking experience — think wide open spaces, bean bag chairs, foosball tables, and distracting music. Instead, the company serves up a hybrid coworking model featuring private and quiet nooks designed to help people accomplish focused work.
"We want to offer spaces that enable productivity," Ivy said. "We're looking to allow entrepreneurs and small businesses to thrive; to bring value to the world through a professional atmosphere."
WorkSuites also delivers other creative solutions, such as virtual offices designed for remote and home-based businesses that don't necessitate a physical office five days a week. The company's virtual offices include formal business addresses for mail and package reception, access to a physical business area with multiple meeting rooms that can be used to meet clients, and even live receptionists who will greet clients and answer phone calls.
Best of all, these packages include coworking passes to give members a place to stop in and work on occasion. Ivy said such solutions are increasingly popular as more people transition to home offices.
"You can work at home, but still meet customers in our office, get conference room time, and access some coworking services," she said. "You can use our address, pick up mail, and still look like a professional business."
WorkSuites also provides private office spaces throughout Dallas, Fort Worth, and Houston that can be customized to reflect a company's brand and image. Businesses have 24/7 access to the large offices, which come furnished, feature enterprise-ready wired and wifi internet connections, and include a full floor of infrastructure and amenities — all without the burden of a restrictive long-term lease.
Pursuing Continued Growth Despite the Pandemic
Ivy said Flip has kept WorkSuites growing and thriving despite the economic downturn affecting organizations across the globe.
"We're happy to have a job and a great leader; someone who is willing to make changes so he doesn't have to lay people off," she said. "When people weren't coming to buy and rent spaces, he put our sales team in new positions — where they helped answer customer questions, guided customers on how to fill out the paperwork on small business loans that the government offered, etc. — so they could keep working."
The team is confident that the demand for flexible workspace will continue to grow as businesses and entrepreneurs adjust to a new, post-pandemic reality.
"We're offering lower rates so people can get bigger spaces for better social distancing," Ivy said. "The answer is always 'Yes' with us — if you have a specific request, we'll do everything we can to make it happen."