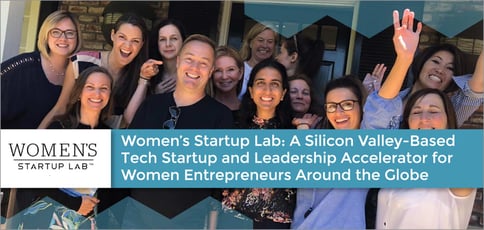 TL; DR: Women's Startup Lab (WSL), based in Silicon Valley, is a global tech startup and leadership accelerator for women entrepreneurs who are inspired to drive the next wave of innovation. The institution also hosts an annual international showcase of entrepreneurs and offers people-focused corporate innovation through the Hito Institute. With plans to expand its global reach and launch an educational foundation, WSL is helping women around the world find their individual paths to success.
Hito — the Japanese word for human — is written in Kanji as two strokes representing individuals leaning on one another. In that sense, the delicate yet powerful calligraphy evokes collaboration, mutual support, and togetherness.
It also informs the culture behind Women's Startup Lab (WSL), a Silicon Valley-based business and leadership accelerator launched to inspire women entrepreneurs around the globe.
"Our philosophy, Hitology, is centered on spurring collaborative growth and innovation," said Ari Horie, Founder and CEO of WSL. "It is the foundation for everything that we do."
Founded in 2013, WSL is on a mission to create a world in which women thrive via entrepreneurship. In just six years, the global community has grown to include more than 25,000 members, and the organization's accelerator program has produced 17 graduating classes.
To date, WSL's more than 160 alumni have had excellent results with four exits. One alumni — Jackie Baumgarten, founder of Boatsetter — has raised $31 million, and many others have raised more than $1 million. In addition, the organization's Hito Institute has equipped more than 1,000 corporate leaders with the skills they need to both invest in their futures and foster active collaboration and innovation within their respective workplaces.
WSL also provides an annual opportunity for women entrepreneurs to showcase their successful startups to global investors and those in the corporate venture and innovation division at the Women's International Showcase of Entrepreneurs (WiSE24).
"Instead of the typical pitch competition, it's a collaborative format showcase where startups meet and work together to improve their pitch to prior to event, and elevate their pitch at the global level quality and to global audiences," Ari said.
She added that many attendees say the corporation, excitement, and energy felt in WiSE24 is quite different than other pitch events.
Moving forward, WSL plans to further expand its global reach. Part of that mission will include the launch of an educational foundation designed to help women around the world define their paths to success.
A Unique Accelerator for Women's Tech Startups
Ari said that an entrepreneurial environment that doesn't take into account the diverse skills and perspectives women have to offer is essentially operating with one eye closed. "In our male-dominated world, millions of female entrepreneurs are building businesses, yet the world seems unable to see those opportunities with wide-open eyes and two hands to capture them."
She founded WSL to start a conversation on how women can leverage their full potential to drive disruptive innovation. Through the organization's unique accelerator program, women entrepreneurs gain meaningful and actionable techniques for becoming more effective CEOs.
The two-week, immersive Silicon Valley experience includes room and board at WSL's Hito House retreat, a monthly mastermind call, a three-day alumni reunion, access to the Hito House for 14 days throughout the year for post-program funding, participation in investor events and workshops, and valuable networking opportunities.
Ari told us that the unique experience includes a focus on developing one's entrepreneurial quotient and mindset. "There are certain qualities that make a difference at an early stage — ones that resonate with teams, advisors, and investors," she said. "We have designed our program to really hone in on nurturing those qualities within entrepreneurs."
WSL also encourages investors to fund women-owned startups. According to TechCrunch, female-founded startups raised a mere 2.2% of venture capital investments in 2018 — and that's despite the fact that women represent 51% of the U.S. population.
"Currently, 93% of venture capitalists are male," Ari said. "But even the smartest people in the world can't truly understand that which they haven't experienced. Women and minorities need to be able to share their perspectives to reflect the diversity of the real world when pursuing the next wave of innovation."
Celebrate, Connect, and Showcase Women Entrepreneurs at WiSE24
In September 2019, WSL hosted the first 24-hour Women's International Showcase of Entrepreneurs (WiSE24), an international event held in Brazil, Canada (in Montreal and Toronto), Korea, Taiwan, Tokyo, and the U.S. (in Idaho, Florida, New York, and Silicon Valley).
The event, designed to reflect the vision of WSL and its Hito philosophy, is intended to encourage women entrepreneurs to rise locally and become empowered as part of a global showcase. It is intentionally designed to help work together rather than compete against one another, to rise locally but think globally, and to optimize the chance for women to succeed and gain posture that they deserve.
The international showcase is sponsored by AWS, Recruit, Cartier Women's Initiative, and Silicon Valley Bank, and features a series of 30-minute online global pitch presentations targeted at investors around the world.
Ari said the WSL investment model presents new opportunities when compared with the Y Combinator approach. "We present a collaborative community supporting rising starts and finding investors who see their potential," she said. "There's a lot of venture capital out there, but sometimes investors have a hard time finding the startup pipeline. Using the internet to extend global reach will result in super interesting opportunities."
Despite progress in women's rights over the years, Ari said there's still an invisible wall around which women must navigate to find entrepreneurial success. WSL is doing everything it can to break down that barrier, but it has been hardened by decades of imbalanced customs and practices.
"I started WSL thinking if I gave enough resources to women, they would be successful," she said. "But I underestimated the layers and layers of societal barriers that exist — women have to look a certain way, speak a certain way, deal with harassment. People may not be doing it maliciously, but huge biases exist."
Corporate Innovation via the Hito Institute
To that end, WSL offers a corporate innovation program at the Hito Institute that helps men and women from established businesses enhance their innovation programs, assemble a diverse leadership team, and have the mindset necessary to thrive in the face of change.
"Ultimately, women's issues are not women's alone — they are society's issues," Ari said. "If we want innovation to change our lives, we have to create an environment where it's natural for the most talented people and ideas to rise."
The program is perfect for emerging women leaders, those responsible for spurring innovation within corporate functions or lines of business, and corporate executives looking to foster a forward-thinking environment. Using a people-based approach, the Hito Institute immerses attendees in the Silicon Valley culture, presents opportunities to engage with key influencers, establishes lifelong relationships, and helps individuals craft a leadership style.
"I'm not on the revenue side of my company and as a result, I thought that I couldn't make a difference in innovation," an IT leader from a Global Fortune 500 corporation stated in a review on the company's website. "This program really opened my eyes to the value of what I do. Our cohort included women from across our company, and it allowed me to understand my own importance for the first time."
Expanding Global Reach and Plans for an Educational Foundation
Moving forward, WSL's main goals involve extending the organization's global reach while providing significant resources to women entrepreneurs. Part of this plan includes building an educational foundation that will propel women forward in their journey toward equal access to venture capital.
Ari said WSL hopes corporations and individuals with a track record of addressing community needs with invest in the foundation, demonstrating their support for growing the economy through women-owned startups.
In true Hito fashion, Ari said women can derive inspiration from and collaborate with men in positions of power. "Men have established a bro culture where they support each other, and for good reason," she said. "We just have to make our own and charter our course."