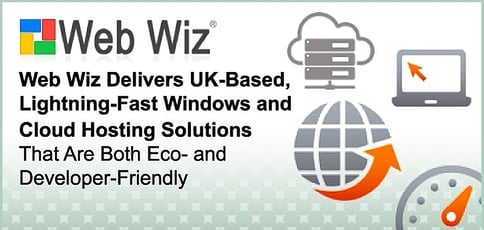 TL; DR: Operating with environmental ethics in mind, Web Wiz has provided expertise in hosting and web apps for nearly two decades. The company's experience developing web applications for the Windows Web Server platform has earned it the trust of developers looking to host database-driven, mission-critical websites backed by knowledgeable support. Bruce Corkhill, Managing Director at Web Wiz, recently filled us in on how the company is making waves in tech while paving the way to a more sustainable future.
Remember when forums were our internet gathering spaces of choice — the places we searched, thread by thread, for answers to our most pressing questions? The folks behind Web Wiz certainly do. Back in 2001, the startup was focused on web apps, and its main software, Web Wiz Forums, was taking off.
"The forum software did really well, selling to Microsoft, Sony — lots of other big companies like that," said Bruce Corkhill, Managing Director at Web Wiz. But the thrill was short-lived. "Then Facebook came along, which pretty much killed forums," he added.
Fortunately, the company also dabbled in web hosting and knew just how to pivot.
"We basically adapted from there, and the web hosting side of things took over as the main business," Bruce said.
While Web Wiz Forums is still available to power online communities (for free), zeroing in on hosting proved successful. Today, Web Wiz brings performance, value, and reliability to customers in more than 100 countries through a wide range of developer-friendly datacenter and hosting solutions designed to give businesses — as well as the environment — a chance to thrive.
Custom, Energy-Efficient Servers Backed by Carbon Offsetting
Web Wiz is dedicated to growing its business while keeping its carbon footprint to a minimum. In an industry known for energy consumption, the company aims to reduce the power usage of its offices, servers, and datacenter, while recycling at least 70% of office waste.
"I've always built servers in-house using low-voltage CPUs," Bruce said. "All of our servers use the least amount of power possible, and we use that approach with our datacenter as well. Rather than having dirty diesel generators, we actually have natural gas-powered backup generators."
The company also has plans to power its datacenter with energy from the sun.
"Because I could choose the building where it is — it faces into the sun — I can put solar panels on the roof," Bruce said. "Our next project toward the end of the year or beginning of next year is to put lots of panels on the roof and hopefully reach nearly 100% renewable energy."
Realistically, of course, all carbon emissions cannot be eliminated — a fact that Web Wiz fully acknowledges. As a solution, the host has partnered with World Land Trust, an international conservation charity that protects habitats through its Carbon Balanced program. The program, which is intended to offset greenhouse gas emissions, focuses on protecting threatened wildlife habitats in the tropics.
A Range of Secure Hosting Services Tailored to Developers' Needs
From Windows and cloud hosting to managed servers and web applications, Web Wiz was built with a distinct understanding of developers' needs.
"There are so many web hosts out there, and because our forum software was written in Microsoft ASP for Windows Web Servers, we went with more of a niche market," Bruce said. "Rather than doing — like everyone else — lots and lots of Linux hosting, we focus on Windows."
This means providing the latest versions of ASP.NET Core, ASP.NET, classic ASP, PHP, SQL Server, and MySQL — as well as leveraging isolated application pools to enhance security, speed, and reliability. Web Wiz also strives to provide a higher level of support for its technical customers than is available through some hosts.
"I'm focused on hosting for developers, rather than novice users who can go off to Wix for free websites," Bruce said. "We offer them more technical support."
Reliable, Fully Managed Cloud Hosting with Microsoft Hyper-V
In addition to enterprise-class cloud web hosting and reseller packages, Web Wiz offers Windows Hyper-V Cloud Server Hosting, which provides the capabilities of a dedicated server with the flexibility to add memory, CPU, and storage without excessive downtime. Each Hyper-V cloud server is isolated from other cloud servers with a dedicated operating system, memory, and Intel SSD storage.
The option provides an advantage over traditional dedicated servers in that servers can be continuously copied to backup nodes, providing an automatic failover solution.
Custom, fully managed Windows Hyper-V cloud server packages are also available.
"We actually sit down with the customer, find out exactly what they want inside the server — what software and services and everything else they want stored on a server — and then basically spend a few days setting that server up for them specifically," Bruce said. "They're more of a bespoke service rather than just off-the-shelf. And then we continue that management every month, whether it's putting patches on, reconfiguring software, or installing new software."
Providing Personalized Support to Happy Customers Since 2001
A self-described "friendly hosting company that actually communicates with customers," Web Wiz's customer service is its #1 priority. Bruce told us the company devotes extra time to its ticketing system to find the root of customer problems before developing a satisfactory solution.
"You hear from customers who say they put in support tickets for another company, and they literally just get back a copy-and-paste reply, which is absolutely no good to them at all," he said. "Or you get a reply from someone who doesn't have a clue what they're doing. Whereas, when someone puts in a support ticket here, we are small enough to be able to jump on the server, have a look at what the issue is, fix it for them, and get back to them rather than making them go through that first line of support."
Bruce said Web Wiz prides itself in making sure customers are satisfied — and if they're not, the company offers a money-back guarantee. Due to the company's focus on customer service, word-of-mouth marketing has done wonders for the business — as evidenced by testimonials from happy developers.
"Because of our development experience, we are able to directly help customers on the technical side of things," Bruce said.
And while the company's support offerings come in a wide variety of flavors, Bruce vouches for the simplicity of the support ticket.
"Quite often, it's actually quicker to look into a support ticket because that gives you a little bit of extra time to dig in to find out all the problem areas, fix the issue for the customer, and then go back to them with a solution," he said. "I generally tend to find that it's actually quicker doing that than trying to do it over the phone, so, quite often, we can solve the problem in 10 to 15 minutes."