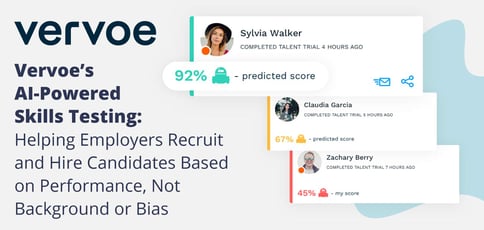 TL; DR: Vervoe is on a mission to empower HR departments across the globe to hire candidates based on skill rather than bias-laden first impressions. The company's revolutionary platform leverages practical machine learning technology to test and grade talent, helping eliminate the high costs of hiring mistakes. With data-driven methods designed to continually enrich the platform, Vervoe is helping organizations routinely improve the talent acquisition process.
As hard as we try, humans may be incapable of making entirely objective decisions — even when doing so would benefit us.
Research shows that from an early age, children begin to develop deeply ingrained stereotypes outside their awareness that shape the way they observe reality. As adults, we may be oblivious to them, but these subconscious biases have real-world impacts on our behavior.
In the hiring process, for example, subconscious decision-making may cause an individual to choose an unqualified candidate based on criteria that are irrelevant to job performance, such as personal style or outside interests. These misjudgments come at a high cost, equaling an average of 30% of the lackluster employee's potential earnings in the first year, according to the U.S. Department of Labor.
Vervoe, founded in 2016, is on a mission to minimize and potentially eliminate such expensive lapses in judgment by leveraging the power of modern technology. The company's skills testing platform uses both artificial intelligence (AI) and machine learning to create bias-free skills assessments tailored to individual company needs.
"We help customers quickly decide who should progress through the hiring process purely based on how someone will contribute to a role, without any interfering bias," said Omer Molad, Co-Founder and CEO of Vervoe. "The ranking of candidates based on performance is our fundamental benefit — the one thing our customers can't live without."
In this way, the worldwide team is reimagining the hiring process by focusing on who can excel at the job, rather than who can compose the best résumé. And, with a data-driven methodology designed to routinely enrich the platform, Vervoe is helping organizations improve the talent acquisition process on a continuous basis.
A Worldwide Team Reimagining the Hiring Process
Omer, who grew up in Tel Aviv, Israel, served in the military after high school before working at two of the most sought-after startups in his area. But when he moved to Melbourne, Australia, in search of a job, he couldn't even get an interview.
"Nobody valued my experience; nobody could even pronounce my name," he states in a passage on the Vervoe website. "All that mattered was that I didn't have a degree. Being screened out without being given a chance to prove what I could do felt wrong."
Later, Omer observed the same problem while working as a hiring manager. Future Vervoe Co-Founder David Weinberg did as well during his seven years working for Juniper Networks in California. While the pair were discussing the issue, they stumbled upon the work being done at Automattic by Matt Mullenweg, Co-Founder and Developer of WordPress.
"Instead of depending on the traditional interview process, Automattic hired candidates audition-style, bringing them in to work with the company on a trial basis," Omer said. "That made a lot of sense to us, and we wanted to create a tool that would allow companies to create a similar experience at scale in a data-driven way."
Vervoe's approach is along the lines of the technique many writers use to engage readers: Show, don't tell. From a hiring perspective, companies that provide a candidate the opportunity to showcase their skills will benefit from stronger indicators of performance than ones who simply discuss skills in a résumé or interview format.
"Instead of trying to draw conclusions from what someone did in the past, where they went to school, or their personality, just take a look at the work," Omer said. "It's like, if you want to know if Roger Federer is good at tennis, there's no point asking him — just watch him on the court."
Applying Practical Machine Learning to the HR Space
Omer told us that AI and machine learning is still a developing space. Most companies still struggle through résumé and interview-based hiring processes, making software adoption relatively low.
He added that there's also a fair amount of education needed to help companies embrace these new technologies. "AI is a buzzword that a lot of people frankly don't trust — many consider it to be some sort of sorcery," he said. "Our job is to speak in the customer's language and keep things simple so we can build trust around the technology."
Unlike companies that use AI to create hype, Omer said Vervoe takes a considered approach to the technology, ensuring its use is practical and adds significant value to the hiring process. For example, Vervoe's AI-powered candidate ranking system uses machine learning algorithms to automatically score and rank candidates at scale based on performance, ensuring that the highest-skilled candidates stand out.
In addition, Omer has also observed a slow but steady evolution in the way corporations view HR and talent departments, which he said have historically faced budget restrictions and a general lack of appreciation.
"Every CEO will tell you the thing that keeps them up the most at night is hiring because talent is the most important competitive advantage," he said. "But when the head of talent acquisition says, 'I need this software to do my job,' the CEO often says there is no budget for it."
Omer said the battle isn't over yet, but companies are increasingly recognizing the importance of data-driven decision-making in the HR toolkit. "There's still a lot of work to do, but it's finally starting to happen," he said.
Eliminate the High Cost of Bad Hires
Omer estimates that the cost of a bad hire is as much as two and a half times the person's salary when you factor in non-monetary costs, such as lost recruitment efforts, disruption to the business, productivity loss due to a vacant position, cultural impact, and the time it takes to train a replacement.
"If you've got 25% to 30% turnover, that could add up to millions of lost revenue, depending on the size of your business," Omer said. "But it's rare that companies even measure that because it's easier for departments that are considered to be revenue centers to identify financial impact."
In addition to minimizing or eliminating the cost of hiring mistakes, Vervoe streamlines HR workflows so employees can focus on other pressing tasks. Without the technology, he said HR departments often face pain points when sorting through an overwhelming number of applications, picking candidates, and sitting through endless interviews.
"We just bypass all of that — for a graphic designer position, we'll say, "Let's have them do a context-dependent design challenge to find someone who will succeed in your environment," Omer said. "You want someone who will succeed in your environment, and you want to instantly determine how they will perform."
Omer said that's what Vervoe delivers. The technology behind the platform may be rigorous, but the underlying concept is simple — to make the decision-making process faster, simpler, and more efficient.
Customers seem to agree. "Vervoe has completely transformed the way we recruit candidates," said Jessica, who works at Probe Group, in a review on the Vervoe site. "We have improved our conversion rate from screening to assessment center by 30%."
Data-Driven Methods of Continually Enriching Content
Never satisfied with good enough, Vervoe's product and engineering teams are constantly coming up with improved ways to test for a wide range of skills and create more options in terms of questions and formats.
The company is also using its customers' post-hire data to better understand how the platform's grading mechanisms single out top performers.
"If we know that Candidate X was the best performer, we can collect data from that candidate's testing process to inform future rounds of testing, creating a feedback loop that makes the platform better and better," Omer said. "Eventually, we will know the exact combination of questions that highlight high performers in a specific role — and that will be very powerful."
Interested in testing the platform out before making any commitments? Vervoe offers a free tier version of the product for small businesses and startups that need to hire occasionally or want to try before they buy. "We let the product speak for itself," Omer said.