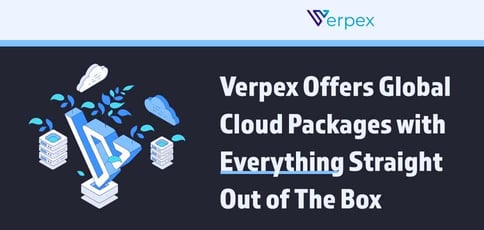 TL; DR: Verpex delivers consistent and secure cloud services for a global audience. Users can host their applications and websites from almost anywhere in the world without worrying about latency issues or heightened costs. The Verpex team embraces customers with 24/7 technical support and sets out to help users grow with the company. Users receive a highly optimized and updated cloud platform with free perks, including NVMe storage, backups, SSL certificates, and site migrations. As Verpex continues to expand worldwide and in-house, the company has its eyes set on improving customer experience with new domain tools, an email service, and a sleeker and more diverse website.
Cloud computing has forever changed the hosting game. Cloud computing formally entered the hosting arena in 2006 and has grown to take over the industry with a booming force, particularly during the COVID-19 pandemic. Cloud hosting offers a combined level of flexibility, performance, and delivery capabilities that no other server type can. But one specific quality elevates it above the pack: its ability to extend global accessibility.
With cloud services, people can access resources from anywhere in the world at any time. Businesses aren't limited in who they can reach and can boost collaboration across a remote or distributed workplace. Tech giants, including Google and AWS, have done a thorough job of standardizing cloud offerings, with Google Cloud and AWS owning the most significant shares of the market. Cloud services keep users competitive, allowing them to deploy applications with lower latency and costs.

Verpex, a cloud hosting provider, offers users a fast and secure platform accessible from around the world. The team has servers across five continents. From Sydney to San Francisco, its global network of 12 server locations helps power user websites and provide ultimate performance through end-user proximity.
"We have customers in 117 countries. That's because our systems work everywhere. We wrote a software stack and management layer that we can deploy to our own hardware, cloud providers, or hyperscalers like AWS/Google. And it's agnostic as to where that is," said Tomer Medina, COO at Verpex.
Verpex additionally leverages an Anycast DNS system to speed up DNS resolution for its global network. But Verpex's accessibility doesn't end with its server capabilities. The cloud hosting company also provides exceptional international customer support. "We have support teams in global locations that work daytimes where they are, so you never have to talk to a tired support agent on a graveyard shift," said Tomer.
Serving as a Global Hub for Cloud-Based Hosting Solutions
Verpex founders created the company based on the three hosting fundamentals: excellent service, customer support, and affordable pricing. Tomer said the Verpex team wasn't trying to do anything too complicated but offer customers the necessary tools to build an online experience, whether for a blog or startup application. Before Verpex launched, its creators already had experience in the hosting domain and wanted to create the best hosting business they could.
"There are a few specific things we do at Verpex quite differently from anyone else. Before we launched Verpex, we conducted extensive market research to identify our unique selling point and develop a go-to-market strategy," said Tomer.

What sets Verpex apart from other companies is that it offers affordable global hosting services that have customers' long-term goals in mind. Verpex provides shared, reseller, WordPress, and dedicated server plans without compromise. Users will always have the same hosting for the same price with the ever-present support of the Verpex team. Verpex also delivers free migrations, backups, SSL, and domain registration.
"Our unparalleled 24/7 support with quick response times, coupled with the use of high-performance NVMe servers, all at a competitive price point, are the key differentiators that set us apart in the market and make us a top choice for customers," said Tomer.
All kinds of users leverage the Verpex cloud platform for their needs, ranging from government and startups to small businesses and agencies. With server locations worldwide, Verpex's primary demographic is concentrated in the USA, Netherlands, India, Germany, and Indonesia. Verpex enables companies to boost their performance with fast and reliable cloud computing while giving them the flexibility to reach their customers anywhere in the world.
Building a Cloud Platform With Customer Satisfaction in Mind
Tomer told us that the team wanted to build a cloud platform that doesn't compromise, a hosting business where the team members would also be happy to host their own business websites. And that's what they set out and did. Whether on pricing or performance, Verpex remains consistent and reliable in everything it offers.
"Our hosting performance and specification are highly optimized. We're global; we're consistent; we're always updating hardware and improving things. We include everything in the price. No hidden upsells, no surprises when it turns out you need to pay extra for backups or an SSL," said Tomer.
Customer satisfaction is a lead driver behind Verpex's operation strategy. The hosting company strives to build long-term customer relationships by providing transparent and honest cloud services. The Verpex team is upfront about prices, consistently updates servers for lasting performance, and offers quality and friendly customer service. Its customer support staff has real hosting experience and can help with any technical issues.
"We prioritize customer satisfaction by staying in constant communication with our clients through surveys, interviews, and feedback from our community. This helps us to understand their true needs and provide a tailored service that meets their expectations," said Tomer.
Tomer also said Verpex considers it essential that customers want to grow with them. The team sets out to provide users with cloud services for the long term. With its scalable hosting resources and top-notch support, it will be easy for users to stay around for the long haul.
"We want to provide a service tailored to their needs, and we've received positive feedback on this approach," said Tomer.
Completing the Hosting Experience With New Features
Over the last four years, Verpex has made many strides to bolster its cloud platform with new additions. In 2022, Verpex migrated Sharkhosting, Guarantor, and Chickhost into its platform. The team also developed a new community area and expanded its tutorial resources, including its knowledge base and YouTube channel. As for global expansion, Verpex also added new office locations in London, Tel Aviv, Sofia, Bali, and Lagos. In 2023, the Verpex team also has many updates on deck to improve customer experience.
"Our main focus areas for the next year include launching a new, modern, user-friendly website that will provide a seamless experience for our customers. And we're introducing new products, such as a professional email service, to help improve our customers' communication and collaboration," said Tomer.
Verpex also seeks to make its website and support more accessible to its global audience by further diversifying its language offerings and customer service team. The hosting company plans to complete the hosting experience with better domain services, including domain transfer and management tools that will drive down the cost and effort of domain registrations for customers.
"We have a lot of exciting plans for the upcoming year, and we are confident that we will achieve new milestones. We believe these efforts will help us improve the customer experience and further establish ourselves as a leader in the industry," said Tomer.