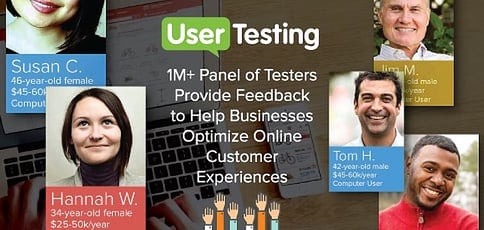 TL; DR: Businesses operating in the modern technological landscape know how important it is to provide optimal customer experiences throughout their online touchpoints. What's tricky, however, is determining why customers are taking certain actions during their online journeys. For 10 years, UserTesting has been helping companies answer this question. By employing a panel of more than 1 million testers, UserTesting provides businesses on-demand feedback from carefully targeted audiences to help improve online interactions with brands. Companies can view user videos, complete with audio, that follow a customer's navigation through websites and mobile apps to determine where frustrations and successes are transpiring. More than just presenting what is happening through analytics and metrics, UserTesting injects the customer voice to show why events are occurring, which works to drive decisions that increase customer satisfaction and generate revenue.
Modern businesses have picked up on the fact that user experience (UX) is an important driver of brand perception and, therefore, revenue. If there are problems disrupting the way people are interacting with a company's touchpoints, both customer satisfaction and conversion rates suffer.
Recently, a leading travel website saw this happening in their checkout flow for rental cars. They thought they had an ideal system in place where customers could choose the different features they wanted from a rental. The site put customers into a funnel, allowing them to move from page to page to select pricing options, car types, the dates of the rental period — all the items you'd expect when reserving a vehicle.
When reviewing their metrics, the travel site found high cancellation rates on rental car orders. The company was losing a considerable chunk of revenue and needed answers. Enter UserTesting.
"The data showed there was a problem, but the data didn't show why there was a problem," said Brian Smith, UserTesting's VP of Marketing. "If you're talking about a multibillion-dollar company, you can imagine the figures associated with these cancellations."
UserTesting helped the travel site discover the cancellations were due to an issue with the flow of the customer journey. On each page of the feature selection funnel, customers were required to click a Next button to proceed to the next page. After moving through multiple pages, the testers found clicking "Next" quickly became automatic. Once presented with the final booking page, customers were clicking on a Book Now button without reading it, thinking it was yet another Next button. The problem? Many of these customers weren't ready to book.
"UserTesting allowed the site to run tests with our panel to tell them why they were seeing problems in their checkout flow," Brian said. "It's a great example of how bringing in a human component is much more effective than just relying on metrics."
Including that human element is what UserTesting does best. Their large, well-rounded panel of more than 1 million testers works to identify inefficiencies or problems in online interfaces that lead to poor customer experiences. The knowledge companies can garner from UserTesting is invaluable and is changing the way businesses approach decision-making.
Founded on a Mission to Unbox Customer Experience
More than a decade ago, UserTesting Co-Founder Dave Garr was working at Apple as a site manager. Apple's "Out of Box Experience People" gave a video presentation to Dave's department depicting customers unboxing and setting up their new Macs.
"Dave was blown away by the customers' reactions to the unboxing experience," Brian said. "This is what prompted him to start thinking about user experience and the valuable insights that can be gathered by looking at how people are interacting with products."
Dave knew this same concept could be brought to websites and other online consumer points of contact to unveil how to optimize customer journeys. Dave connected with entrepreneur and Co-Founder Darrell Benatar, and soon after UserTesting was born.
The concept is simple, yet elegant. UserTesting's panel of more than 1 million testers take videos of their navigation through a company's sites, based on what the company wants to test. Businesses are then able to obtain instant feedback, usually within two hours, on the events and items leading to dissatisfaction or a successful call-to-action (CTA).
UserTesting has solutions to help companies based on need. Smaller businesses can take advantage of DIY testing for only $49 for the first 10 test runs. With templates and proven methods, this offering allows companies to immediately gain insights from the panel and walk away with a set of goals to improve UX.
For mid-market and enterprise-level companies, UserTesting works with businesses in a consultative manner to really understand their needs.
"We listen to what their potential goals are, and then we come up with a customized solution for them," Brian said. "Once they're in as a customer, they have access to our self-service platform, plus a customer success team and professional services to run complex tests."
As UserTesting hits their 10-year anniversary, they now help more than 35,000 businesses solve problems in UX. The company's mission stays true to the original concept of bringing in the human element to "unbox" the customer experience and figure out how to make it better.
UserTesting Adds Color to the Numbers by Answering "The Why"
One of the main advantages of UserTesting's approach is it results in educating companies why certain actions are occurring in customer journeys through websites. Brian told us there is no shortage of effective tools out there to provide metrics on events, but businesses need more information to find out how to really solve problems in UX.
"We're finding more and more businesses are really struggling with finding out what drives their customers to do certain things," he said. "People employ surveys and tools, like Google Analytics, which are great systems, but they usually only answer what happened in the past. They don't tell you why it happened."
UserTesting brings in a human element to inform businesses why customers are or aren't converting or clicking on CTAs. Brian noted one of the main reasons for UserTesting's success is due to their large panel of testers. More than 1 million users are members of their panel and represent every demographic. This allows UserTesting to provide testers who specifically match the target customers of the companies requesting services, and the panel members can deliver feedback within hours, which is essential in today's agile development world.
Brian was quick to point out panel members aren't professional testers. Rather, they're real-world representations of the customers most likely to, say, walk into a storefront or visit a travel site. The panel recruited over UserTesting's 10-year history is effective because panel members must meet strict criteria. After each test is complete, the company that ordered the test rates the testers for efficacy. This ensures UserTesting's panel is benchmarked and vetted to give the most valuable feedback that answers "the why" of what's happening on a business's customer-facing environment.
"It gives more color to the numbers," Brian said. "You can actually hear a customer struggle with or get really excited about a checkout flow or a search-and-browse experience. It brings in that human component. I can then use that information and change how I construct a website or app."
Data-Driven Decisions Positively Impact Consumer Engagement & ROI
By injecting the customer voice, UserTesting is leading businesses to making more informed, data-driven decisions about the design and functionalities of online touchpoints. Brian noted companies are turning to UserTesting to get user feedback throughout a product's lifecycle, from development to design and marketing.
"We're seeing more and more that decisions aren't made unless they've undergone user testing," he said. "That's a big change in how businesses are thinking about things. They used to just go out and do it. Now, every decision is powered by these human insights."
Because the results are so effective, UserTesting has businesses asking themselves questions that consider UX at every stage. By first consulting end users, companies can learn how to best approach product launches, gauge efficacy of sites and apps, and understand how they stack up against the competition. It's full lifecycle, data-driven development.
Initial Testing Promotes Engagement at Online Touchpoints Prior to Launch
Many companies are finding user testing enables them to catch items that negatively affect UX prior to launch. This has an incredible impact on bottom lines.
For businesses that rely on optimal customer interactions, like the travel site mentioned above, obtaining the type of data UserTesting provides can help companies avoid revenue loss.
"What we're finding is product teams are using us before they make any kind of product decision," Brian said. "Before spending significant amounts of money marketing or launching a product, these teams are coming to us to see if it resonates with their target audience."
A/B Testing with a Human Component Leads to Optimal Customer Interactions
A/B testing, just like using analytics and metrics, is a great way to see what is happening within customer interfaces. Again, though, this method only allows companies to see "the what."
A/B tests generate good data, but they're not enough to provide the rich information businesses need to make informed decisions about changes to products. To guide businesses toward making the most effective judgments on how to, say, increase conversion rates or gauge what messaging works best, companies need to know why one version works better than the other.
"I love running A/B tests. It's great data. But, even if the variation wins, I never know why," Brian said. "After every A/B test, I can user test the two different versions to understand why people are clicking on something or performing some sort of action."
Competitive Analysis Gives Businesses Advantages as They Grow
UserTesting is setting companies up for intentional growth by allowing them to evaluate where they stand in relation to their competitors. Businesses can run longitudinal tests where UserTesting's panel checks their website every quarter or every month for certain functionalities. They can then benchmark that data against a number of their competitors to see if they're falling behind or are ahead of the game.
"People are using us more and more for competitive intelligence," Brian said. "This allows businesses to better understand how customers are interacting with their brands and if they are up to snuff. You can uncover all these glorious insights as you're looking at your competition."
Democratized Testing Across Departments Gives Everyone a Voice
UserTesting knows the customer voice can play an integral role in how companies present themselves online. Disruptions in the flow of performing simple actions, such as choosing features for and booking rental cars, can lead to high levels of customer frustration, significant loss of revenue, and possible damage to brand perception.
As Brian told us, the modern business landscape is now not just about one experience. Companies have to think about a broader customer journey. It no longer works to operate in silos, with teams zeroing in on their own focal points. Departments need to work together to ensure their touchpoints are functioning to provide optimal UX, and the way to achieve this is by inserting the customer voice into every decision made.
UserTesting educates the market on how user testing isn't something difficult to do but is integral to understanding how to best serve their customers and drive revenue.
"We're teaching businesses how they can democratize the testing of a website or any experience," Brian said. "It results in every facet of a company using the customer voice to make decisions. Rather than just going on gut opinion, we help you determine in which direction to go with data obtained by real humans."
Advertiser Disclosure
HostingAdvice.com is a free online resource that offers valuable content and comparison services to users. To keep this resource 100% free, we receive compensation from many of the offers listed on the site. Along with key review factors, this compensation may impact how and where products appear across the site (including, for example, the order in which they appear). HostingAdvice.com does not include the entire universe of available offers. Editorial opinions expressed on the site are strictly our own and are not provided, endorsed, or approved by advertisers.
Our Editorial Review Policy
Our site is committed to publishing independent, accurate content guided by strict editorial guidelines. Before articles and reviews are published on our site, they undergo a thorough review process performed by a team of independent editors and subject-matter experts to ensure the content's accuracy, timeliness, and impartiality. Our editorial team is separate and independent of our site's advertisers, and the opinions they express on our site are their own. To read more about our team members and their editorial backgrounds, please visit our site's About page.