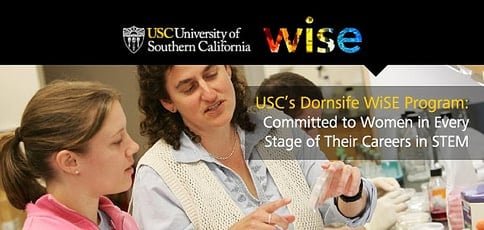 TL; DR: The University of Southern California's Women in Science and Engineering (WiSE) Program was created to support the growing number of women embracing STEM-related studies and career paths. Begun as a generously funded diversity initiative in 2000, WiSE has since tripled USC's number of tenured and tenure-track women faculty. By positioning the university to compete for the world's best and brightest women scientists and engineers, WiSE has created a more female-friendly environment where students, educators, and researchers can achieve their fullest potential and cultivate the tools and ideas that positively impact our world.
The University of Southern California in Los Angeles is home to a variety of programs ranging from cinematic arts to computer science. USC also has a long, rich history of technical innovation, offering a variety of prestigious STEM programs.
Notably, USC houses the world's most powerful quantum computer in its Lockheed Martin Quantum Computation Center and boasts a number of famous graduates, including the likes of Neil Armstrong, George Lucas, and Forest Whitaker.
In addition to cultivating success in its student population, USC encourages and highlights the achievements of members of its faculty. And the university's Women in Science and Engineering (WiSE) Program focuses a spotlight on women who've made strides in STEM.
Assistant Professor Nora Ayanian is one of those women. Driven by a passion to learn and help change the world, Nora has earned an impressive number of degrees — including a BS in Mechanical Engineering from Drexel University, as well as a PhD in Mechanical Engineering from the University of Pennsylvania. In the autumn of 2013, she was a Postdoctoral Associate working with MIT's Distributed Robotics Lab, where she created solutions for multi-robot coordination.
Nora currently teaches computer science and robotics-related courses, such as Coordinated Mobile Robotics, at USC. Because multi-robot systems are difficult to use across multiple applications, the goal of Nora's research is to develop better foundations for the planning, distribution, and control of multi-robot systems and mobile sensor networks. Nora is just one of the many women in USC's WiSE Program with a deep passion for technology and a drive to innovate.
In keeping with the spirit of progression, WiSE has taken note of STEM's infamous gender gap and the challenges women have faced in achieving success in the male-dominated technical scene. Over the years, the program has launched a number of diversity initiatives aimed at helping a growing number of women join — and strengthen — the ever-evolving STEM landscape. By changing the face of innovation, these women are helping shape our future.
"It has been a pleasure to watch the faculty women we hired since 2000 advance and succeed, reaching leadership positions, such as department chairs and vice-deans, and winning many awards," said Hanna Reisler, Lloyd Armstrong Jr. Professor in Science and Engineering and Founder of the WiSE Networking Group. "It is also wonderful to welcome every year the new women faculty who choose to launch their academic careers at USC."
A Diversity Initiative Created By Women For Women
In 2000, the USC WiSE Program was launched at the Provost office to increase — and highlight — the number of women in STEM, running the gamut from faculty members and students to career-bound graduates and highly successful figures. As with many educational programs, WiSE was largely funded by donations — including an anonymous gift of $20 million.
After the donation was received, a Provost Task Force created the current WiSE program. It includes the departments of math, chemistry, physics, earth sciences and biological sciences in the Dornsife College of Letters, Arts, and Sciences and all the departments in USC's Viterbi School of Engineering.
Dornsife is USC's oldest and largest school, encompassing more than 100 majors related to physical science, the humanities, and technology. As such, Dornsife houses some of the nation's most prominent research institutes, including the Philip K. Wrigley Marine Science Center and the Center of Excellence in NanoBiophysics.
The Viterbi School of Engineering is home to outstanding departments such as electrical engineering, computer science, chemical engineering and materials science, and biomedical engineering.
Facilitating a Female-Friendly Network for Faculty
In the beginning, the WiSE Faculty consisted of only 15 women between Viterbi and Dornsife — but that would soon change with WiSE's newfound goal to double that number within five years. WiSE faculty would meet once a month to discuss program plans and common interests, and they were invited to participate in the WiSE Task Force that launched the program. A WiSE advisory board is now responsible for overseeing WiSE's specific programs and budget.
In 2006, the number of WiSE faculty increased from 15 to 35, surpassing its initial goal. In the years since, the WiSE faculty has recruited nearly 60 members, including women in the fields of computer science, biology, and mechanical engineering, among others.
The WiSE Networking Group currently mentors female scientists, and provides a safe place for women to talk freely about issues affecting the university and women in general. The group's mission is varied and includes initiatives that aim to:
Create an environment that encourages the exchange of information
Welcome new women faculty
Mentor women scientists across departments
Provide information on activities, funding opportunities, and initiatives
Present scholarly work and initiate collaboration
Highlight achievements and provide leadership opportunities.
The WiSE Networking Group acts as an informal forum that facilitates discussion between women on topics that range from career development to personal well-being. The group is also committed to adding new programs to WiSE and communicating issues and concerns related to gender to university leadership.
Comprehensive STEM-Focused Programs for Students and Professionals
WiSE oversees a wide range of programs related to computer science, mechanical engineering, and biomedicine. WiSE-eligible departments include physics, mathematics, and engineering, and those that study the environment, aerospace, and biology.
These departments and programs are open to all who are interested, whether they are faculty, students, postdoctoral fellows, or girls in middle and high school.
To provide greater incentive to join the program, WiSE offers grants and awards to full-time students and faculty. Qualifying fields of study at Dornsife include biological sciences, chemistry, earth sciences, mathematics, physics, and astronomy.
Viterbi also has a number of programs that qualify for grants, including those covering mechanical, astronautical, biomedical, chemical, civil, electrical, and industrial engineering. By encouraging women to choose USC for study and research, these incentives allow them to join one of the most prestigious institutes for innovation. As such, USC aids women in the cultivation of successful careers that not only pay the bills, but also help change the world.
WiSE Enacts Real-World Change for Women in Tech
The staggering disparity between women and men in STEM has long been a hot topic in the field. The low numbers of women in STEM have been partly attributed to a lack of encouragement for girls as they move through the educational system. However, the discrepancy itself adds to the discouragement. When young women see the numbers heavily weighted against them, it leaves many feeling alienated or even downright intimidated to join.
Compounding the issue is the sexual bias of some employers who favor males in these fields. Even women who have successfully proven themselves as educated and competent can still find their credentials called into question in the face of persistent gender stereotypes.
To combat the bias, USC not only helps increase female participation, but also demonstrates the value of women in STEM. WiSE makes sure women receive recognition by prominently displaying their accomplishments on its site and within its annual reports and newsletters.
In the 2016-2017 academic year, WiSE hosted more than 60 events to encourage the pursuit and retention of women in STEM careers by opening up university work programs. A series of WiSE Talks were also released to discuss community-chosen topics, such as the significance of estrogen receptors in biomedical research, and a seminar on emergency intervention training. In addition, WiSE distributes awards related to professorship programs and PhD recruitment. The program also regularly issues newsletters that help fund the Young Researchers Program, which provides summertime research opportunities to local high school students.
The WiSE Program's continued growth is a testament to the power of encouragement and community support. USC boasts a list of celebrated alumni — actors, artists, scientists, and athletes. Notable among them are graduates who went on to become astronauts, including Neil Armstrong — and Nancy J. Currie, who has participated in four space shuttle missions and spent over 1,000 hours in space. By brining a growing number of women together, WiSE is able to facilitate a friendly, relatable, and supportive community for its female staff and students.