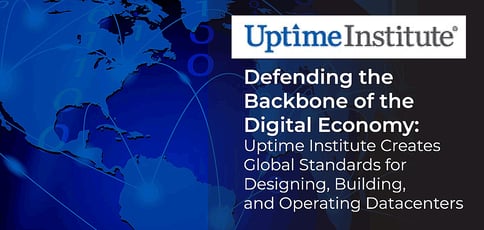 TL; DR: Uptime Institute, a global authority known for its comprehensive set of datacenter standards, has helped bring resiliency, reliability, and trust to digital foundations for more than 20 years. Members of Uptime Institute Network enjoy access to an ever-growing pool of datacenter best practices, benchmarking, analytics, case studies, and rigorous training curricula. Moving forward, the organization is focusing on helping businesses assess and report hybrid resiliency in anticipation of future industry needs.
The world was a very different place when Kenneth G. Brill founded Uptime Institute in 1993.
Bill Clinton was sworn in as the 42nd President of the United States. The first generation of Beanie Babies made their debut. "Jurassic Park," "Mrs. Doubtfire," and "The Fugitive" hit theaters for the price of $4.14 per ticket.
In the tech realm, the World Wide Web was born at CERN. Apple launched the Newton, an early personal digital assistant, and id Software released the iconic first-person shooter game Doom. Intel introduced the Pentium microprocessor. And datacenters? Well, they were still luxuries.
Mark Harris, SVP of Marketing at Uptime Institute, was there to see it all. "When Uptime Institute formed 25 years ago, datacenters weren't considered nearly as mission-critical as they are today," he said. "The average person couldn't imagine that companies would eventually bet their entire reputations and their very business on the quality of their infrastructure and its ability to react to stress."
The folks behind Uptime Institute must have predicted a different outcome because, 25 years later, datacenters serve as the backbone of the digital economy. "Successful companies now realize that an effective infrastructure strategy is the cornerstone of business success," Mark said.
Today, Uptime Institute is responsible for creating and administering the world's most adopted standards for datacenter performance management. Through best practices, benchmarking, case studies, and training, the organization helps datacenter owners and operators improve resiliency, reliability, and trust. With a forward-minded focus on hybrid resiliency, Uptime Institute continues to prepare members for industry changes ahead with on-premise, co-location, and cloud all working together.
A Global Authority Providing Expertise, Best Practices, and Innovations
Uptime Institute is recognized worldwide for its rigorous Tier Standards and Certifications, which enable datacenters to make the business case for their tech spends and defend the choices they make. Mark said that, in the past, a limited group of "really smart" tech experts within a company made all the infrastructure decisions.
"Those smart people made all the choices, asked for the money, and didn't get a lot of questions," he said. "But over the last dozen years, there's been a lot more adult supervision as stakeholders and executive teams are tasked with more substantial oversight due to the infrastructure's direct impact on the organization's fiscal performance."
Mark said board members and other high-level constituents increasingly require IT departments to strive for consistency, account for modern stress conditions, and defend the choices they've made. And an excellent way to do that is through third-party validation.
"You need to be able to tell them that you've done everything humanly possible to either make sure your business services are available at the level required by the business and fully secure," Mark said. "That's why our third-party validation is so instrumental. It's where we came from, and it's where thousands of customers rely on Uptime Institute."
Third-party validation also helps tech pros defend their decisions when mistakes inevitably occur.
"It's a lot more punitive on the people involved if they don't have any game plan that they can point to and say, 'Yes, we had a problem, but here are the specific steps we went through to prevent the problems from happening again," Mark said. "We validate those smart people's decisions and allow them to show their stakeholders they've done what's humanly possible to prevent showing up on the front of The Wall Street Journal."
Identifying and Analyzing Industry Trends Through Practical Research
For the past 25 years, Uptime Institute has seen a lot of infrastructure trends come and go. Mark said the public cloud has been a hot topic for the last decade.
"For most of the early years of the cloud, everybody wanted to somehow get involved with the cloud," he said. "Companies around the planet were waving the cloud flag like crazy, trying to get on board the trend. The right answer seemed to be put everything in the cloud and never look back. But the industry has too little experience, so those choices were premature."
In the last three to four years, however, Mark said businesses began to realize the move was too hasty.
"Being on the forefront of technology is great, and things like cloud are part of the solution, but we do not live in a binary world," he said. "We don't go from an in-house datacenter and switch overnight to colocation and then switch again to cloud. Uptime Institute anticipates that for the next 25 years or more, businesses will have some mix of cloud, colocation, and in-house resources for business reasons. Sure, the mix will change over time, but each platform offers advantages that are practical, cost-effective, and defendable."
But Uptime Institute doesn't just make predictions. The organization's research practice focuses on identifying, analyzing, and explaining trends, technologies, and changing business needs so clients can make well-informed decisions.
Mark said the Uptime Institute Research group recently published the results of a survey investigating downtime and staffing trends. The research concluded that the percent of outages is increasing as the industry grows. "Yes, the global infrastructure is getting bigger, but the infrastructure is also getting more complex and harder to maintain," he said. "It is also relying upon dated processes, and we're not preparing for the new types of stress conditions, etc."
That's where membership in Uptime Institute's unique network community comes in. The peer-to-peer community provides members access to a wealth of datacenter resources, including experience-based best practices, benchmarking, analytics, reports, and trend updates. "This immersive community changes an organization's infrastructure DNA and reduces outages in the process. Network members subconsciously take actions and look for optimizations to assure that their digital infrastructure can accommodate business services under any operating condition," Mark said.
Cultivating the Next Generation of Technical Talent
Mark told us businesses are experiencing a tremendous amount of difficulty finding the talent needed to build and operate datacenters. Many professionals who earned their stripes in this area are retiring or exiting the industry. "Largely, the technologists coming forward don't know there's something behind their smartphone apps," he said. "They have no concept that there are billions of dollars behind the scenes that make up the cloud, which powers every aspect of their smartphones."
A fundamental concern Uptime Institute has been identifying is that risks will go up as the amount of staffing and availability of infrastructure talent decreases. To prevent such an outcome, Uptime Institute recommends getting legacy procedures down in writing before it's too late. That way, when new talent comes in, they'll have something to start with before designing add-ons or making optimizations. Mark said consulting clients on operational efficiency practices is the fastest growing area of focus for the foundation.
"In general, people are curious when they first engage with us, and believe they are in much better shape than they really are," he said. "But I can't think of a case where, after we were done, they didn't look at us and say, 'I can't believe I didn't do years ago.'"
Uptime Institute also trains the industry's IT professionals to design and manage state-of-the-art datacenters through a rigorous curriculum accredited by the CPD Standards Office. Mark said the thousands who have graduated from the institute's accredited programs now represent more than 85% of the world's largest public companies on the Global 1000 list.
Comprehensive Hybrid Resiliency Assessments
Mark said most of Uptime Institute's initiatives have always come in response to customer requests. Today, many organizations are dealing with complex infrastructures made up of datacenters, colocation facilities, and cloud services, leading customers to request hybrid resiliency evaluations.
That's why Uptime Institute recently developed its formalized Hybrid Resiliency Assessment, an independent review of an organization's hybrid infrastructure and how well it supports specific business services. The assessment is designed to provide businesses with a thorough investigation of risks and expected performance of critical services that span and dynamically traverse datacenters, colocation facilities, and the cloud.
"We've already added a set of initial hybrid assessment offerings, and over the coming year or so, we'll be offering a wider range of assessments focused on hybrid resiliency," Mark said. "We've proven that we can help datacenters be built and retrofitted in a defendable fashion for definable performance — now, we're going to be consumed with all the different aspects of hybrid resiliency and helping customers get their designed and operational processes to directly support it."
Considering how much the industry has changed in the last 25 years, this forward-thinking approach seems to be a much-needed step in the right direction.
Advertiser Disclosure
HostingAdvice.com is a free online resource that offers valuable content and comparison services to users. To keep this resource 100% free, we receive compensation from many of the offers listed on the site. Along with key review factors, this compensation may impact how and where products appear across the site (including, for example, the order in which they appear). HostingAdvice.com does not include the entire universe of available offers. Editorial opinions expressed on the site are strictly our own and are not provided, endorsed, or approved by advertisers.
Our Editorial Review Policy
Our site is committed to publishing independent, accurate content guided by strict editorial guidelines. Before articles and reviews are published on our site, they undergo a thorough review process performed by a team of independent editors and subject-matter experts to ensure the content's accuracy, timeliness, and impartiality. Our editorial team is separate and independent of our site's advertisers, and the opinions they express on our site are their own. To read more about our team members and their editorial backgrounds, please visit our site's About page.