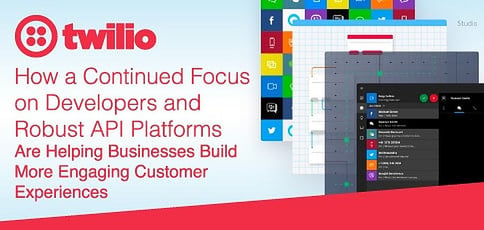 TL; DR: Founded in 2008 with a mission to innovate the software development space, Twilio has been empowering developers to seamlessly integrate communications solutions, such as messaging, voice, and video, into their applications for more than a decade. Twilio's founders recognized the need for dev teams to work with greater agility on software builds, so they rolled up their sleeves and crafted robust API platforms focused on developers and the communications apps these professionals are looking to create. We recently sat down with VP of Product Patrick Malatack, who told us how Twilio allows developers and businesses to build applications that deliver optimal customer experiences and big returns on investment.
In today's software-dependent landscape, it's tough to imagine a time when development teams weren't the center of focus for most organizations. Now, business missions are built on application development strategies, and easing software build processes is top of mind for C-level execs.
When Twilio hit the scene in 2008, the old-school mindset of relegating dev teams to the back burner was still the prevailing philosophy of many enterprises. But, as VP of Product Patrick Malatack told us, Twilio's founders aimed to change that for good.
"Until recently, the developer was often viewed as the guy or girl in the darkroom, drinking Mountain Dew, eating Cheetos, and banging out code according to some business specification," he said.
When Twilio CEO and Founder Jeff Lawson pitched investors, his team was rebuked for focusing on developers' needs. Patrick told us that, at the time, many believed Twilio's target market lacked purchasing power. Fortunately, Jeff and his partners persevered. They knew Twilio would succeed by placing value on developers and their feedback — which would, in turn, allow businesses to deliver apps to market with greater speed and agility.
Today, Twilio offers a suite of APIs that allow dev teams to seamlessly integrate messaging, voice, and video into their web and mobile applications.
"Twilio was something that could really be a tool that would empower developers to experiment and be disruptive," Patrick said. "Now, developers are core to almost every business, and Twilio has seen great success as a company by developers, for developers."
Disrupting Siloed Systems with Something Simpler: User Preferences
Patrick told us that, while consumer communications platforms have evolved at an almost exponential pace over the past 10 years, businesses have lagged behind. And the limited flexibility of the legacy systems of large enterprises are largely to blame.
"At Twilio, we asked ourselves, 'Why isn't it as easy to communicate with a business as it is to communicate with our friends,'" Patrick said. "The answer has been that siloed legacy technology systems don't integrate with new channels of communication that consumers prefer and can't be customized to serve an individual business' needs. We believe that businesses who figure out how to adapt to meet these ever-demanding customer expectations are going to be the ones that survive and thrive in the future."
Just as consumers use platforms, such as Facetime, YouTube, and Livestream, developers can implement similar technologies for business applications. With Twilio's API platforms, messaging, voice, and video capabilities can be seamlessly integrated into web and mobile apps.
The old method involved provisioning infrastructure and building out architecture that would allow for scalability and high uptime rates. And, even after that work was done, code would need to be written as the basis of an API before the actual work of developing a communications application was possible.
With Twilio, all that's out of the way upfront. There's no need to seek carrier networking solutions or rely on siloed systems. The platform's distributed software provides the network, and communications APIs are ready to go right out of the box.
As a result, more than 40,000 users — from startups to enterprises — have turned to Twilio to ease their application development processes. Whether it's Coca-Cola leveraging SMS technology to help customers connect with vendors directly, or Lyft and Uber using Twilio-built apps to power driver communications, Twilio's APIs are being used in software builds across a number of industries.
Experimentation is the Prerequisite for Innovation
With art, experimentation is key. At Twilio, the art of coding is no different; mistakes aren't so much a problem but simply a step closer to a solution.
Being a company by developers, for developers means Twilio encourages its customers to try new things. Patrick recognizes the necessity of experimenting and believes no competitor offers a platform that better integrates creativity and problem-solving.
"The nature of Twilio's platform and business model is that developers can have an idea, swipe a credit card to get started, have their idea prototyped in a few hours for a few dollars, and get it in customers hands immediately," he said.
Patrick told us this is how the development hurdles are removed. An inspired collaboration between an enterprise and dev team isn't interrupted by the need for capital, labor, or patience. Ultimately, this agile approach equates to a faster time to market with less cost overhead.
It's not often a business wants to be disrupted by its customers, but Patrick said Twilio actively seeks feedback from users to incorporate into its own product development strategies. The result is state-of-the-art tools designed to solve the pain points end users actually experience.
Deliver Apps to Market with Agility Through the Engagement Cloud
Twilio has been in business for more than a decade, and the company's longevity is a direct result of its customers' successes. Since its inception, Twilio has enabled serious innovations in the app development space. And the company's Engagement Cloud platform continues to help users collaborate and develop apps at scale.
The Engagement Cloud includes a suite of tools, including APIs, a visual editor, and no-code widgets, developers and non-devs alike can leverage to streamline workflows.
"If you're a software developer, you can build applications and hand them off to business operators for them to iterate on later," Patrick said. "And, if you're a business user, you can create workflows on your own without the help of a developer upfront."
Businesses can collaborate with dev teams throughout the build process. Stakeholders can also tinker with the application to determine their preferences before bringing in a developer to refine it. This is due to the simplicity of the programs. Twilio Studio, one component of the Engagement Cloud, is a drag-and-drop builder that allows users with no coding knowledge to contribute to an app's development.
As a result, businesses don't have to wait to have, say, a new interface built, edited, and delivered. The platform can integrate suggestions immediately. For a company seeking custom software development that's accessible, the Engagement Cloud delivers. And, for developers with more hands-on clients, the platform offers an agile approach to software development, where feedback from all stakeholders can seamlessly be incorporated.
The Philosophy: "Walk a Mile in the Customer's Shoes"
Patrick told us Twilio's company culture mirrors the type of agile software development its product facilitates. And a big part of that involves actually seeing how its platform works through the customer's eyes.
"You can't create values, but you can live them," Patrick said. "I think it's something Twilio weaves into its culture and the work we do every day."
At Twilio, it's essential that employees understand the people they serve. This is more than just a mission statement or some corporate culture posturing from the executive team. Employees are all required to build their own applications on Twilio's platform within the first few months of arriving on the job. Whether they are technical or non-technical, there are no exceptions.
"It's a rite of passage and has churned out a lot of cool Twilio-powered projects," Patrick said. "But this also puts Twilions directly in the customer's shoes."
This is just one of the many ways that the original vision at the founding of the company still informs its operations today. Twilions spend a lot of time simply talking to their customers because they know how valuable feedback is to learning what developers need to be successful.
"In fact, every product at Twilio is launched in developer preview, which means that we put it in the hands of developers, take their feedback, and iterate on our products before we make them generally available," Patrick said.
"Wearing the customer's shoes" is a core leadership principle in the company. By appreciating the insight of the experts who engage its products every day, Twilio's offerings are fine-tuned before going to market. And that kind of R&D is priceless. With developers, there's no question that the customer knows best.