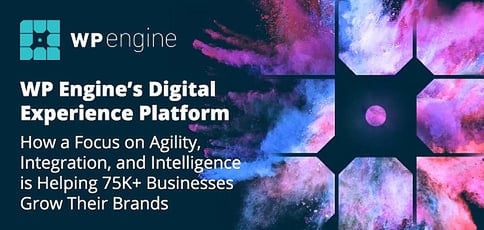 TL; DR: The jury is in — WordPress is the most popular content management system (CMS) on the market, powering nearly 30% of all websites. And, for online organizations seeking to make their WordPress properties stand out from the pack, there is a simple solution. WP Engine built its WordPress Digital Experience Platform to foster business growth on the web. The platform marries a focus on agility, integrations, and intelligence to boost performance and optimize visitor interactions with online touchpoints. We recently sat down with WP Engine's VP of Web Strategy David Vogelpohl, who told us how 75,000-plus customers are leveraging the company's platform to make their business visions a reality and enjoy big returns on investment.
When Fran decided to launch a web design startup, she anticipated her first year would be met with a handful of clients and a steep learning curve — and she was right on both counts. Her early marketing efforts paid off, and Fran hit the ground running, designing sites for a number of local businesses. But word of her skill and creativity quickly spread, and she found her business and site traffic scaling at a rate she hadn't expected.
To address this growth, Fran enrolled in a managed WordPress hosting plan to streamline her site so she could focus on strengthening customer relationships instead of worrying about performance, backups, and other technical issues. However, as time went on, Fran realized the plan wasn't as managed as advertised. The weight of orchestrating every aspect of a growing business site still rested heavily on her shoulders. That's when she stumbled upon WP Engine and its WordPress Digital Experience Platform and promptly switched hosts.
Thousands of businesses and site owners, like Fran, have turned to WP Engine to get the most out of their sites. The company's fully managed platform delivers a suite of tools that zero in on agility, performance, integrations, and actionable intelligence.
Whether it's an enterprise seeking to leverage visitor data to craft more streamlined user experiences or a beginning entrepreneur wanting to focus on core business goals instead of the technical complexities of WordPress, WP Engine's solutions were developed to directly address customer needs and help grow their business.
"The biggest challenges I've seen with our customers has been scaling WordPress within their organizations," said David Vogelpohl, WP Engine's VP of Web Strategy. "Businesses were interested in expanding WordPress beyond campaign sites, largely driven by flexibility and cost."
A Fully Managed WordPress Platform That Encourages Business Growth
Managed WordPress hosting helps streamline websites so businesses can focus less on running their sites and more on engaging their customer base. This is especially useful for smaller businesses that lack dedicated IT departments
Also, with the widespread popularity of the WordPress platform (the CMS powers nearly 30% of all websites), the demand for quality, fully managed WordPress hosting is rising. On the equipment side, WP Engine's plans are powered by high-end, reliable global infrastructure in partnership with companies like Google and Amazon Web Services that allows for peak performance and near 100% uptime. As for services, WP Engine's digital experience platform includes automatic backups, security checks, and other optimization options.
WP Engine considers itself a fully fledged digital experience platform, rather than a simple manager of WordPress sites. As such, the company helps businesses elevate the user experience with actionable insights and baked-in SEO and security features that increase traffic, conversions, and brand trust.
"WP Engine was one of the first movers in that niche," David said. "We're not just managing the equipment or Apache; we're actually helping to keep the application layers secure, and provide tools to support that application."
Aside from direct assistance, WP Engine also offers 24/7 support from its global team of WordPress experts for any problems that slip through the cracks.
A Product Road Map in Line With the Goals of Modern Businesses
WP Engine's mission is to do the complex, behind-the-scenes work for businesses so they don't have to. As such, its core philosophy stands on the four pillars of performance, agility, integration, and intelligence. In terms of performance, the managed hosting layer is fast and secure, while agility is what allows businesses to deploy experiences faster.
"We have existing products with new elements, such as the integration of Google Analytics, and others that work with Google and Amazon's cloud services," David said. "Our product road map is really in line with how we can help customers integrate even more."
As for intelligence, WP Engine offers a number of features aimed at giving customers insight into the inner workings of WordPress, including its data structure. The Content Performance plugin, for example, pulls raw data from Google Analytics and optimizes it for the WordPress platform, letting site owners know which pages, categories, and tags are performing the best. While WordPress is a suitable CMS for many businesses as is, WP Engine fortifies it for optimal reliability, conversions, and user-friendliness.
"Our mission is to help our customers win online," David said. "When looking at our testimonials, they say 'I didn't even have to worry about any of this — I just focused on my business and growing it out.'"
Plugins and Resources to Help Clients Do Business the Way They Want
To better serve businesses, WP Engine's Solution Center curates some of the most effective WordPress plugins, including Yoast SEO, Page Performance, and Lingotek Translation, among many others. However, WP Engine's focus is not simply to provide a wide variety of tools, but rather to provide the tools that are most conducive to business success.
Such tools are centered on WP Engine's four pillars, helping the site run smoothly, safely, and intelligently to make the best digital experience for businesses and customers alike.
"If you look at other digital experience platforms, there's just a laundry list of features," David said. "We approach things from a more open context — how we can allow our customers to democratize the experiences they create and make it easier to get their message to market."
Despite being described as hands-off, managed WordPress hosting — if done properly — allows businesses the freedom to pursue their goals at full speed. For enterprises, managed hosting acts as a supplement to existing IT and marketing teams, and even saves money in lieu of hiring specialized experts.
For a much smaller business, managed WordPress hosting may be the closest thing to an IT team or marketing department it has. Also, because WP Engine is highly specialized, its teams are likely more useful than internal teams with no formal WordPress training.
"WP Engine is exclusively focused on WordPress in our digital experience platform," David said. "Everyone — from top to bottom — focuses on just this one product."
The Aim: To Create a More Open and User-Friendly WordPress Experience
The purpose of upholding performance, agility, integration, and intelligence is to create a more compelling digital experience. On the business side, traffic and customers are easier to attract and retain with the help of SEO, trusted security certificates, and — ultimately — a site that runs fast and reliably. Likewise, customers appreciate a hassle-free experience when visiting the site and doing business with the company.
"The general theme for us is really the openness of our platform," David said. "This is both in the sense of supporting the open-source community and in our platform's ability to integrate with the applications and workflows of our customers."
In its continued efforts to make websites more user-friendly and efficient, WP Engine's future plans include adding new features and enhancing existing ones. Of particular interest to David is the recent inclusion of Gutenberg in WordPress 5.0, which serves as a major milestone for both WordPress and WP Engine. The Gutenberg platform — parts of which are still in development — introduces a block-based approach that makes for a cleaner UI, as well as a direct window into the eyes of customers. Gutenberg's UI eliminates distractions caused by cluttered menus and allows the site owner to see how a page looks before publishing.
WP Engine serves thousands of clients and works with over 100,000 developers to help its customers build better experiences for users. With plugins, such as LingoTek Translation, WP Engine's customers are better equipped to expand into bigger markets, while performance-based plugins make it easier to scale.
As a specialized host, WP Engine has built its entire business model on becoming a master of WordPress hosting, guiding clients to the best plugins and providing considerable expertise in other areas. By delivering a fully managed platform, WP Engine acts as an extension to one's team, advocating for greater business success. Without the burden of technical guesswork, doing business the way one desires becomes much easier.