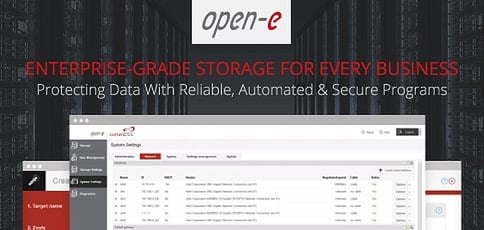 TL; DR: Seeking to make enterprise-grade storage readily accessible and affordable to companies of all sizes, Open-E leverages open-source technologies to produce lightweight, powerful, and user-friendly software that has been installed more than 30,000 times in 100-plus countries around the world. Boasting superior performance, flexibility, and compatibility, Open-E is our Developers' Choice™ winner for platforms that support high-availability data storage and business continuity. Founder, CEO, and President Krzysztof Franek shared the history of his company's engineering-heavy approach to software development and data protection.
ReadSoft, a software development company specializing in automating business processes, already used an Open-E program for building and managing centralized data storage servers. As the company's IT needs for testing, backups, research, and development continued growing rapidly, ReadSoft again turned to Open-E for a solution.
ReadSoft needed a scalable, highly secure, and easy-to-use program — and found it in Open-E JovianDSS, a software-defined storage platform based on the ZFS file system designed by Sun Microsystems. The program's thin provisioning and compression enabled ReadSoft to unlock extra storage while providing the company's engineers and storage administrators with more analytics and insights into the servers and storage area network, or SAN.
"We were looking for ways to increase our performance with proven products and relationships," ReadSoft Head of IT Per Eklund said in a case study. "With JovianDSS, we were able to achieve non-performance degradation compression that allows us to store 60% to 80% more on each SAN. Since 90% of requests are running from the cache, we achieved four-times-faster performance than with the old storage systems."
Such results are common for companies interested in deploying Open-E programs, according to Krzysztof Franek, who founded the company nearly two decades ago. Open-E, a Developer's Choice™ recipient, earned the recognition for ensuring data integrity, offering remote disaster recovery, and keeping pace with ever-evolving business needs.
"We are trying to deliver enterprise-quality storage software for a reasonable price," Krzysztof said. "This is our vision, our mission, and our story."
Transitioning to Software Development in a Crowded Market
Calling his 19-year-old company "pretty old for the IT world," Krzysztof said that Open-E didn't start developing software until the company was 3 years old. Krzysztof and his small team of developers noticed that storage solutions for large companies were typically monolithic, massive, and only compatible with other proprietary products.
"We saw that people were still not protecting their data well enough," he said.
Recognizing the opportunity, Krzysztof and his engineering-heavy team in Germany began crafting software solutions based on Linux and ZFS, an open-source file system from Sun Microsystems.
"We took the open-source project and tried to improve it by adding features that make it work better for our customers," he said. "In the past, our focus was just on data storage software and enabling people to create network attached storage (NAS). Today, we are more concentrated on creating data protection and disaster recovery tools."
The move beyond simply storing and managing data helps distinguish Open-E in one of the few IT industries that is still growing, according to Krzysztof. He reports seeing dozens of companies popping up suddenly and attracting large investments. After rushing to market, the quickly constructed technology often proves to be worse than Open-E's methodically evolved software.
"We're not trying to play a game," he said. "We are just trying to make a product that works — one that we can look into the eyes of our customers and tell them this product is really good."
How Open-E JovianDSS Delivers Data Storage, Protection, and Recovery
The company's software-defined storage solution, JovianDSS, is built on the same systems that Open-E first developed in 2001.
The ultra-flexible platform enables companies of all sizes to easily architect enterprise-sized high-availability storage environments through a variety of protocols. Whether customers are looking to create a single node or a big data cluster, JovianDSS connects data through ethernet, SAS, and Fibre Channel to promote redundancy and high availability.
Asynchronous and Encrypted Replication for Servers in Multiple Locations
JovianDSS enhances storage and disaster recovery practices by streamlining replication for local or remote servers. According to Krzysztof, the platform treats production and backup servers act as a singular unit, no matter where the machines are located. If one server fails, the other will be ready to take over.
"The distance between those servers can be two yards or 15 miles; it doesn't matter because our technology keeps it working," he said, adding that Open-E seems to be the only company that has perfected replication via ethernet connections. "That gives us an opportunity to take replication to big distances for a very reasonable price. The other way to go is Fibre Channels, which is very expensive. That is the big advantage that Open-E is giving to the market."
Frequent and Automated Snapshots With Instant Access and Restores
The other major strength of JovianDSS, according to Krzysztof, is the ability to efficiently conduct automated replication and snapshots at short intervals.
"Many people do backups once a day, and very often, they're done on tape or another way that is not managed so carefully," he said. "When a disaster is happening, and you need to recover your data from backup, then very often it doesn't work smoothly. People are having issues or people are losing work. It can be very expensive."
With JovianDSS, customers can take snapshots every minute, if desired, and store them on off-site hardware. All users have direct access to old images for rapid restoration. In the case of a ransomware attack, according to Krzysztof, an end user can simply roll back to a snapshot before the infiltration.
"He's losing just one minute of work, can laugh about the attack, and not have to pay any money," Krzysztof said. "It's a beautiful thing."
Open-E Adds Features Based on Feedback and Customer-Driven Design
Krzysztof's 50-person company comprises more than 40 engineers, making Open-E a rare storage software vendor that not only doesn't sell a branded hardware appliance but also doesn't maintain a direct sales force. Instead, sales are made through resellers and system integrators.
Despite the extra layer in between the company and JovianDSS end users, Krzysztof said the company's software "is actually designed by our users."
At least once a year, Open-E employees will travel and spend a day or two with customers to learn what kinds of features, functionalities, and user experiences they're still looking for.
"It's not just where to click with the mouse, but how the software should deliver what the customer needs," Krzysztof said. "This is a really strong focus for us. The customers tell us what is important for them and what they would like to do, and that is what we try to deliver."
Up Next for Open-E: Fibre Channels for Faster Data Delivery
At the end of the year, Krzysztof said Open-E expects to launch expanded Fibre Channel support. Employees are already seeing the improvement work successfully, but engineers and QA teams are still testing the beta product.
"This is the last part we're missing in our software to say this is truly an enterprise product," he said. "This makes our product complete and competitive with the biggest and strongest brands on the market."