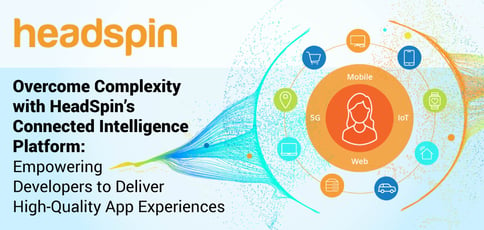 TL; DR: HeadSpin designed its Connected Intelligence Platform to unify testing, monitoring, and analytics across applications, networks, and devices. The solution, purpose-built to unleash innovation across web, mobile, IoT, and 5G technologies, helps developers optimize the app experience. HeadSpin has already helped numerous organizations reduce bottlenecks, speed time to market, and improve performance — and plans to expand its customer base in step with its growing staff.
Software development has never been an easy task. But today, the sheer number of applications, devices, and networks across which developers must test their work make the job more challenging than ever — even for the bright minds at companies like Amazon Kindle, Zynga, and Google.
Manish Lachwani and Brien Colwell experienced this complexity firsthand while working as lead product developers for the tech giants. With no efficient way to test and monitor their mobile and digital products, Manish and Brien set out to build a platform that would unify the various software tools and third-party vendors on the market.
"HeadSpin was started in 2015 to help app developers deliver phenomenal user experiences in an increasingly fragmented mobile ecosystem," said Sriram Krishnan, SVP of Product, Partnerships, and Marketing at HeadSpin. "The result is a unified, proactive approach to testing and monitoring in one platform."
The platform was an instant hit among the developer community, and it raised the bar for mobile testing. As the company evolved, it introduced even more features allowing app developers, CDN providers, network operators, operating system providers, and device manufacturers to collaborate using one universal system.
Today, HeadSpin's Connected Intelligence Platform empowers users to gain visibility into the customer experience while testing, debugging, and optimizing applications under real-world conditions enabled by web, mobile, IoT, and 5G technology. The system has earned the trust of more than 1,000 customers, including Kohl's, Microsoft, Telstra, and Uber.
In February, the HeadSpin team announced that it had raised $60 million in a Series C funding round, which it will use to grow the business through product improvements and internal expansion.
Purpose-Built for Innovation in Web, Mobile, IoT, and 5G Technology
The Connected Intelligence Platform was designed to test, measure, and monitor any application, from mobile and cloud apps to IoT software; on any device, including handsets, wearables, and desktops; and on any network.
HeadSpin's Global Device Cloud allows developers to experience their app or site the way users around the world do. The solution provides them with access to over 32,000 devices fitted with SIM cards on real networks, with points of presence in more than 160 countries.
The company also offers on-prem solutions that can be managed by HeadSpin or a third-party provider to offer admin controls and robust security when necessary. A portable physical box and AnyWear Mobility Unit can be used for driving and walking tests, or any scenario that requires a portable solution.
The cloud, on-prem, and portable solutions capture network traffic, performance data, and video input, which are then fed into the HeadSpin AIEngine. This detection tool alerts developers of issues before they happen, providing actionable insights via a performance session report complete with user-friendly visualizations.
The engine not only identifies client-side performance bottlenecks, but it also helps to identify their root causes.
"The platform eliminates the hurdle of complexity, allowing developers to deliver amazing user experiences without having to resort to multiple platforms or build teams in multiple locations," Sriram said. "You don't have to migrate data from one platform to another and attempt to connect the dots."
In other words, Sriram said, with HeadSpin, developers no longer have to "boil the ocean."
A Trend Toward Unification in the Mobile Ecosystem
Sriram said HeadSpin's mission is well-aligned with the mobile revolution underlying much of today's digital transformation — which is making the landscape all the more fragmented.
"Back in the day, it used to be one source, one vendor for everything digital," he said. "Now that we have become accustomed to relying on multiple tools and vendors to build various digital solutions, we see a trend toward single-platform solutions that can help you build a more nimble and agile organization."
In the past, companies also used to build products targeted at the average consumer — a demographic Sriram said no longer exists.
"You can't put all your users in the same group anymore," he said. "Even if you and I have the same T-Mobile plan on the latest iPhone, if you're in New York and I'm in Hawaii, we will have a very different consumer experience with an app based on the location of the servers we're accessing."
Delivering an outstanding customer experience in this individualized environment is more difficult than ever, but that's where the HeadSpin Connected Intelligence Platform comes in.
"In the shift from delivering digital assets properly to delivering unique, customized, amazing experiences to each user, a lot of the tools and processes have also shifted," Sriram said. "We provide you with the insights and intelligence that you need in this complicated environment so you can deliver quality experiences to your consumers."
Sriram said it's the type of platform that you don't know you need until you test it out. "The aha! moment is very evident once you use it," he said.
A Wide Range of Use Cases Spanning Multiple Industries
HeadSpin's platform has made a real impact on businesses in the media, entertainment, retail, banking, tech, and gaming industries. Its ability to identify the root cause of poor performance and bottlenecks — and prevent them from happening before it's too late — boosts the bottom line.
"It's allowing you, as part of continuous integration and continuous delivery (CI/CD), to pick up on and address these issues before you shift to production," Sriram said. "As a result, user engagement is improved. We've seen companies improve revenue from 3% to 20% in clear use cases after using HeadSpin."
For example, HeadSpin helped 8×8, the provider of a unified communication and contact center platform, to automatically test performance in seven geographic areas inside the U.S. The resulting insights allowed the company to understand the real-world performance of its technology.
"With HeadSpin, we were finally able to identify some of the difficult to reproduce problems," said Mayu Patel, Director of Quality Assurance at 8×8. "You sometimes get into situations where customers say, 'Oh, I experience this.' But then you try and try, and you can't reproduce the problem. Having the ability to run a broad number of devices enabled us to go back, experience, and fix some of those hard-to-find problems."
In another scenario, HeadSjpin helped Akamai, a CDN provider, validate the improvements it makes in its customers' app performance.
"We're able to go back and compare the initial report we produced with one created after the implementation of our technology," said Gareth Oullette, Senior Director, Project Management at Akamai. "That not only helps us, but also helps our customers because then the teams we work with can show how they are helping their business."
A Small, Nimble Company with a Focus on Scaling Up
The future appears bright for HeadSpin. In February, the team announced that it raised $60 million in a Series C funding round led by ICONIQ Capital, Dell Technologies Capital, Tiger Global, Alpha Square Group, and leading angel investors.
Sriram said the company's immediate focus is to scale up efficiently. 'We're punching above our weight from an employee card perspective," he said. "We're still very small and nimble for a company of our size."
As the company grows, it hopes to offer faster access to testing, expanded deployment models, and enhanced AI-driven insights.
"We're looking to hire more people to address customer demands centered on 5G, IoT, mobile, and across different functions, from telcos and device manufacturers to OEMs and app developers," he said. "That's our biggest challenge and priority."