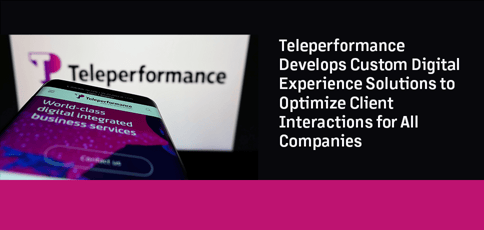 TL; DR: Teleperformance is the global leader in outsourced customer and citizen experience management and related digital services. The company creates engaging customer experiences that help organizations strengthen customer relationships, emphasizing omnichannel management. By using artificial intelligence (AI) and machine learning (ML), Teleperformance helps customers leverage automation to streamline customer communication. Teleperformance's Technology and Analytics and Process Excellence (TAP) program helps customers optimize customer experiences, thereby reducing costs, improving customer retention, and increasing sales.
Digital Transformation has been around for many years, but what does it truly mean? According to analyst firm Gartner, digital transformation refers "to anything from IT modernization (for example, cloud computing), to digital optimization, to the invention of new digital business models. The term is widely used in public-sector organizations to refer to modest initiatives such as putting services online or legacy modernization."
For Teleperformance, a global company with operations across 88 countries, leveraging digital transformation and focusing on omnichannel management helps companies improve the customer experience (CX). Teleperformance collaborates with companies across multiple sectors, including healthcare, financial services, travel and hospitality, and retail, to name a few.
The key to successful CX is creating systems that support data-driven decisions leading to lasting, tangible benefits. Creating a road map based on a company's unique structure is imperative to secure digital transformation's benefits and increase customer loyalty.

Sidharth (Sid) Mukherjee, the chief digital officer at Teleperformance, believes that the emphasis on providing better customer experiences results from the evolution of multiple technologies. "The increase in the use of social media, messaging, chat sessions, and email has changed the way companies think about how to engage with customers. People are used to engaging across multiple channels, and companies need to have systems in place that support how customers want to interact."
Using Technology, Applications, and Process Excellence (TAP)
To actively engage with customers, companies must have a robust omnichannel management system. Providing superior CX is essential since more than 89% of companies see customer experience as a primary factor driving customer loyalty and retention, according to Invesp.
Corporate IT teams must have a combination of experts who understand domain expertise, analytics, and how specific industries operate. To help companies build and implement systems, Teleperformance uses a proprietary model called TAP, which stands for Technology, Analytics, and Process Excellence.
Using a proprietary assessment toolkit to compare a company's current systems against industry benchmarks and best-in-class methodologies helps identify gaps in existing systems — think of it as a gap analysis. This helps companies understand where they need new systems and processes and helps them prioritize improvements throughout the company. More importantly, this assessment pinpoints customer interactions.
Companies across multiple industries partner with Teleperformance to develop tools to tackle bottlenecks in their customer experience platforms and streamline operational processes. Leveraging AI and machine learning guides the development phase and drives the creation of its end-to-end digital integrated business services.
"We combine the best of Lean Six Sigma, design thinking, homegrown proprietary solutions, and partner solutions, along with the rich data and insight of domain experience to be able to build custom solutions for our clients across all the channels, such as chat, messaging, and social media, offering our clients a truly omnichannel experience," said Sid.
The TAP assessment is divided into six stages: Define, Diagnose, Design, Develop, Implement, and Sustain. The transformation journey is outlined in the first three steps, and new business processes are implemented in the last three. These engagement processes are collaborative and iterative, using Lean Six Sigma and Design Thinking principles.
Teleperformance focuses on building expert teams with the necessary skills and knowledge to secure the best digital transformation results. They help organizations create a plan that supports their key progress indicators (KPIs). Following TP's methodology, organizations can reap the benefits of a custom CX solution.
Leveraging Industry Knowledge to Provide Tailored Solutions
What sets Teleperformance apart from competitors is its industry knowledge across many verticals. Understanding the intricacies and nuances of specific industries allows Teleperformance to map to industry standards and best practices.
"Clients value us for the knowledge we bring to their industry, not just the broader customer experience themes like automation and AI that apply across industries. And that's the differentiator for us, having that close intimacy and knowledge of the end-to-end process of the client in terms of how they operate their business," said Sid.

Teleperformance follows a three-pillar structure that includes consulting, data analysis, and technology. Its consulting pillar is the foundation of its process, where dedicated team members work with clients to find solutions tailored to their industries. These team members also take care of everything related to industry domain mapping.
"The consulting team is the people who understand the industry domains very well. That could be a banking expert, a healthcare expert, a travel expert, or a telco expert. And these people are also embedded into our industry-facing teams, those who are managing BPO and outsourcing operations," said Sid.
Once the team understands a company's pain points and how it relates to a specific sector, they can move on to gather the proper analytics and build tools, such as chatbots or office automation dashboards.
The organization recently worked with a social media company that needed assistance developing an omnichannel customer experience solution for a smoother customer onboarding and servicing process. Instead of navigating multiple browsers and screens, Teleperformance deployed a unified desktop solution that allowed the client to look at all the customer information in one frame. This tool helped reduce the turnaround time, improve first-call resolution, and increase customer satisfaction and same-day closures by 32% and 15%, respectively.
Enhancing Customer Experience with Tools Rooted in AI and ML
Technology plays a massive role in Teleperformance's output and operations. The technologies used fall into three categories: intelligent automation, predictive analytics, and human productivity augmentation. AI and machine learning help power all three categories and drive their development.
Intelligent automation: AI and machine learning tools facilitate end-to-end automation. Although Teleperformance has its proprietary technology, it also teams up with best-in-class partners, including AWS, Flow.ai, and UiPath, to develop its products.
Predictive analytics: These technologies examine where interactions occur and what the predicted outcomes will be. The value derived is based on the recommendation engine that provides responses for subsequent service actions, customer loyalty, and inventory.
Human productivity: The newest part of the solution triangle, human productivity, which focuses on helping those involved in operations, whether in hiring, training, or coaching. The value humans provide cannot be replaced.
"Human value and empathy are still relevant. They are needed to be able to solve complex queries. Therefore, we are focused on delivering solutions to make our customers feel empowered and have all the information they need at their fingertips to assist the end customer, resulting in a wonderful customer experience," added Sid.
Digital Transformation is the Path to the Future
Creating superior and engaging customer experiences should be a priority for all companies. For those companies looking to streamline business operations, improve the customer experience, and have a positive impact on the bottom line, it is critical to find the right partner. Teleperformance understands digital transformation, has a proven history of securing positive ROI for customers, and has domain expertise across multiple vertical industries.