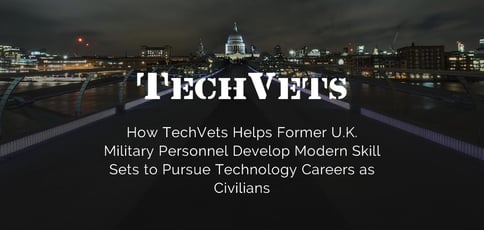 TL; DR: Thousands of U.K. servicemembers leave the military each year to pursue civilian careers. But many lack the expertise necessary to thrive in the modern digital workforce. U.K.-based TechVets helps those who have served in Her Majesty's Armed Forces learn advanced IT skills to land in-demand tech jobs. TechVet's founders know the transition from a uniformed soldier to a civilian tech worker can take a bit of adjustment. That's why they created the community-based platform that delivers support and guidance tailored to those who serve.
The global technology skills gap continues to grow, and in the U.K., the problem is most acute in the cybersecurity sector.
A recent survey by the government's Department for Digital, Culture, Media & Sport reported that approximately 653,000 businesses, or 48% of the total number in the U.K., have a cyber skills shortfall. Although colleges and universities are increasingly offering cybersecurity as an academic discipline, those programs may not help close that gap significantly for years.
Employers and cybersecurity solutions providers have started recruiting candidates with career experience in other disciplined and rigorous work environments. They also seek workers from fields that require a degree of technical aptitude.
Former military personnel can make ideal recruits for the cybersecurity sector, but many lack cybersecurity training to reapply their skills in the civilian jobs market. That's why TechVets was set up in 2018 to help veterans learn the cyber/tech skills they need to thrive in the modern world.
The nonprofit organization provides guidance and support for U.K. military veterans interested in pursuing tech careers.
"TechVets has a dual purpose," said James Murphy, the nonprofit's CEO, and a former military member himself. "Our tagline is: 'Building on the strengths of veterans.' But we also provide a bridge for veterans and ex-servicemembers into cyber and technology careers."
TechVets offers an immersive Cyber Academy that allows participants to develop skills in a hands-on virtual environment. The organization gives members access to a vibrant community, CV assistance, and a job board where they can find suitable opportunities.
Connecting Reskilled Veterans with Tech Employers
TechVets was launched in March 2018 and was the brainchild of Co-Founders Mike Butcher, MBE, Peter Connolly, Euan Crawford, and Mark Milton. The co-founders identified two problematic challenges that both the U.K. military and civilian worlds faced, and they leveraged their combined experience in both the armed forces and technology industries to solve them.
"The first challenge is the tech skills gap," he said. "Try as we might, we are never going to close that gap completely. However, there is still much that can be done to narrow it and provide support to organizations and their various tech teams by improving their ability to access talent that's not always visible."
TechVets provides U.K. employers with access to a pool of skilled veterans. Many have recently left the armed services and are looking to start new careers as civilians. They also may have extensive professional experience in other fields.
"Military veterans have diverse skill sets that can prove invaluable for many organizations when they are properly focused and used," James said. "Although former military technicians, for instance, may not possess knowledge and experience that aligns directly with enterprise IT operations, they do have the basic understanding and ability to learn new skills relatively easily."
And the organization's ultimate goal is for every military veteran to understand that they can join TechVets.
Participants Develop In-Demand Tech and Cyber Skills
About 15,000 trained and untrained servicemembers exit the military each month and join a U.K. veteran community of approximately 2.4 million people. Of that community, some 950,000 are generally considered working age — but they aren't necessarily working.
"Figures indicate that more than 200,000 working-age veterans are unemployed or economically inactive. That incurs a cost to the U.K. economy that can be quite staggering," James said. "Furthermore, there is a higher proportion of veterans who do not move into sustainable new careers."
According to reports, about 15% of U.K. veterans go on to work in manufacturing, and around 11% go into construction. But only about 4% of veterans find careers in the information and communications technology sectors, which, given the increasing economic and societal reliance on ICT, should offer a more assured career path.
And TechVets isn't only meant to help veterans who had technological roles during their enlistment. James said that many occupations that may currently be relatively manual will come to require more sophisticated technical skills on the part of the workforce, as digitization transforms industries.
"Over the coming decade, many sectors are going to be impacted by automation and robotics," he said. "There will likely be a major shift toward jobs that deal with the operation and maintenance of those new systems. That presents employment opportunities for veterans — opportunities that TechVets will equip them to pursue."
Developing Web-Based Training and Learning Tools
TechVets provides veterans with free and comprehensive opportunities to upskill while also supporting the U.K. tech sector by providing access to a talented workforce.
TechVets offers both direct and indirect support and guidance in key tech areas. Its resources include a wide-ranging online community where veterans can contact peers for advice on how to transition into IT and cybersecurity fields.
The organization's Cyber Academy, powered by Immersive Labs, offers Tier 1 vocational training. Its CV distribution service is available thanks to a community partnership with CREST, a global leader in cybersecurity accreditation. The TechVets job board also alerts members to employers in their area that have tech positions to fill.
"Our CREST CV service enables us to get our members' CVs into 150 U.K. CREST member companies," James said. "And industry partner learning resources have proved highly successful. We affiliate with Splunk, Immersive Labs, and Fortinet — of which we are a Fortinet Network Security Academy."
The platform has information about events and meetups across the U.K., cyber team events, and forums, among other resources.
"We grow at a rate of 200 new members per month on average, and have built up a TechVets community of more than 5,000 members," James said. "That membership comprises veterans, service leavers, serving personnel, and reservists."
TechVets is driven by its diverse membership and community. Over 2,000 of the organization's 5,000-plus members are veterans, with many of those employed in IT and security at various levels.
"And they provide an incredible wealth of experience for the TechVets community. They are phenomenal when it comes to advising members who are at risk of making some uninformed decision or spending money on training when they can avail themselves to cost-free options."
TechVets: Providing Service Members a Path Forward in Civilian Life
The strength and underlying camaraderie that military service inspires is also a key driver of TechVets success. And the organization leverages that bond to help them find employment in IT.
"I served for 19 years and left the Army without fully leveraging TechVets. TechVets provided me with a ready-made network," James said. "Looking back now, I wish I had joined them earlier in my transition from the military so I could have capitalized on all the resources they have rather than using all my funds for training."
TechVets continues to build on its achievements and develop more features and support capabilities. It also plans to expand its current offerings.
"We want to go beyond certifications and help members build career pathways," said James. "The translation between service skills and civilian skills hasn't fully materialized, so we want to demonstrate practical experience to potential employers. The bottom-line message for veterans is that tech jobs can be fun, innovative, creative — and great places to work."