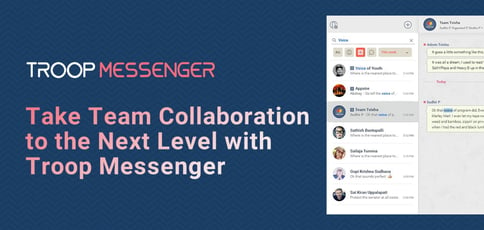 TL; DR: Troop Messenger's instant messaging app was designed to streamline communication for businesses small and large. First launched as an internal company resource, the affordable solution now helps organizations worldwide enhance teamwork, productivity, and security. With a comprehensive feature stack and seamless integrations with Google Drive and Dropbox, Troop Messenger is becoming a contemporary staple in many communication toolboxes.
Instant messaging is an essential tool for real-time communication in the workplace, often allowing for faster and more effective interactions than email.
But not all instant messengers are created equal. While apps like Facebook Messenger empower users to perfect the art of self-expression with animated GIFs, playful stickers, and customizable Avatars, others focus on facilitating collaboration and boosting productivity.
Troop Messenger is one of those apps, designed explicitly as a business communication platform for promoting streamlined and secure internal and external communication.
"By the time we launched in 2018, there were a good number of team collaboration applications on the market, but we felt they strongly lacked features that simplify work collaboration," said Mohsin Ansari, Marketing Manager at Troop Messenger. "This inspired us to include multiple user-friendly features that make for intuitive business communication."
Because of this comprehensive feature stack, as well as seamless integrations with commonly used business apps like Google Drive and Dropbox, Troop Messenger is becoming a staple in many communication toolboxes. Enterprise-ready features include one-on-one and group messaging, high-definition video calling and desktop sharing, read receipts, restricted vendor access, and end-to-end encryption.
Troop Messenger also allows users to forward and reply to messages in groups or individual chats, access unlimited storage and multimedia sharing, and save personal ideas and data with an innovative self-chat feature.
As COVID-19 leads to more employees working from home than ever, the app is also proving valuable in enabling company-wide communication remotely.
An Internal Tech Asset Goes Worldwide
Like many other successful innovations, Troop Messenger was inspired by a company's need to scratch its own itch.
The product was originally developed by Tvisha Systems as an internal communication tool designed to connect the company's teams, clients, vendors, and customers. In 2018, it was made available to the global public and has experienced rising popularity ever since.
Today, it is used by a wide-ranging customer base, including small businesses, enterprises, governments, associations, and non-governmental organizations (NGOs).
The platform's multilayered security, admin privileges, and server-side data encryption mitigate the risk of data theft and other malicious attacks, making it suitable for governments and businesses alike.
In addition to a SaaS model, APIs, and custom application offerings, Troop Messenger can be deployed on private networks, such as those required by governments and defense organizations, via self-hosted delivery.
A private chat burnout window allows for confidential conversations that cannot be stored to expire within a predetermined time. This feature was designed to satisfy the needs of governmental entities, policymakers, and other authorities.
The company's website suggests that the tool's live location tracking can be used by militaries to monitor troops during missions in real-time while sending and receiving updates.
Troop Messenger also aims to cater to the needs of nonprofits and NGOs with its Orange Member feature, designed to help organizations collaborate with individuals from an outside entity, such as government officials. The feature is also helpful for businesses looking to work closely with vendors and freelancers.
Enhance Communication and Boost Productivity in a Secure Environment
Several shifts in the communications and collaboration software space have occurred since Troop Messenger first hit the mass market — specifically in the way people work and interact.
"Faced with tasks of ever-growing complexity, it has become essential for businesses to transform their collaboration systems to ensure better communication," Mohsin said. "That's why, from Troop Messenger's inception, our teams have come up with multiple features designed to increase communication, productivity, and security."
From a productivity standpoint, Troop Messenger's flagging feature allows users to identify high-priority messages and view them all at once using a simple filter. Users can also tag messages with a "Respond Later" notice accessible via filter or search. Finally, an advanced global search allows users to view messages by users, groups, Orange Member designation, time, and keyword.
Troop Messenger users enjoy the ability to reach others quickly, whether they're sending work updates or files. The platform delivers a seamless communication experience that ensures all team members are on the same page. And removing opportunities from miscommunication can ultimately boost an enterprise's ROI.
The latest trend, of course, is the rise in at-home work caused by the novel coronavirus. Fortunately for Tvisha Systems, an uptick in business helped the company avoid much of the economic sting felt by organizations worldwide. With increasing needs of connectivity across remote clients and in-house teams, it's likely that Troop Messenger will enjoy continued growth.
Troop Messenger aims to help its customers reduce the effects of an economic downturn, as well. No matter where team members are situated across the globe, the technology allows them to maintain their work routines without negatively impacting business revenue.
Competitive Pricing and Customization Options
The common factor uniting Troop Messenger's rich feature set — from instant messaging, calling, and group communication to various customization options and a user-friendly dashboard, among others — is that every inch of the platform was created with the customer in mind.
And that includes its pricing structure, with plans starting as low as $1 per user each month. Before making a commitment, users can get a feel for the software with a free week-long trial.
Troop Messenger's competitive pricing also makes the solution popular among businesses. Even the most affordable plan includes highly collaborative features designed to improve team collaboration across various locations and devices.
Beyond pricing, customer feedback indicates that the platform also reduces unnecessary time spent sorting through emails. In reviews, Troop Messenger customers often say the solution allows their teams to save hours each day via features such as an easy-to-navigate interface, quick access to data, and easy retrieval of contact information.
Customer-Inspired Development and Integrations
The development team behind Troop Messenger completes updates in sprints — set periods of time in an agile product development methodology that helps companies create new features based on user input.
Each sprint is meticulously executed, beginning with a planning meeting where the team determines what work it will accomplish. In brainstorming new products and updates, the company takes feedback from our clients and users into account, as well as the newest trends.
Integrations allow Troop Messenger to work in tandem with popular business applications, including Dropbox, Google Drive, Cattle Call, and Mailtrim. Moving forward, The company also plans to release integrations with the Github developer community and Jira Software's development tools.
"We never wanted our teams to switch between many applications to perform myriad tasks during their busy work routines," he said. "Instead, they can work on the apps that they use daily right within Troop Messenger."