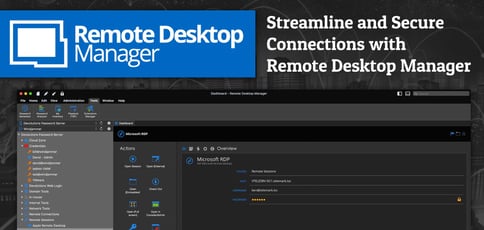 TL; DR: Devolutions' Remote Desktop Manager (RDM) delivers a solution for centralizing, managing, and securing remote servers, computers, and devices. The software, designed to meet the needs of SMBs and MSPs, provides a secure yet affordable approach to boosting productivity. With each new product update, Devolutions is closer to achieving its ultimate mission: to democratize access management solutions for all organizations — even those with tight budgets.
When David Hervieux was working as an IT and software development consultant, there was one thing missing from his toolkit: a solution for managing the various remote connections he needed to access daily.
It wasn't for lack of trying — David had searched far and wide for a tool that would fit his needs. In 2006, frustrated with the options on the market, he began developing an application that would centralize his remote connections and credentials into a straightforward platform.
For the next four years, David spent much of his spare time in his basement tinkering with the project. By 2010, he had crafted a solution so effective that he was confident enough to share it with friends and colleagues.
Word spread like wildfire, and later that year David received a call from Desktone, a provider of one of the industry's first virtual desktop hosting platforms (the company was acquired in 2013 by VMware). In exchange for $100,000, Desktone wanted a white-label version of David's software suitable for the company's specific needs.
In an economy still reeling from the Great Recession, the offer was hard to turn down. So, while still working as a consultant, David put his earnings toward hiring a full-time employee and founding his company, Devolutions.
"At that point, he made a plan to leave his job once he made $5,000 a month in revenue from the commercial version of the software, Remote Desktop Manager (RDM)," said Max Trottier, VP Sales and Marketing at Devolutions. "Once he released the first version and built our CRM, ecommerce platform, and online store, he started to get some traction."
Within six months, David hit the $5,000 mark and never looked back. Today, Devolutions serves more than 300,000 customers across the globe and offers a full product suite of IT solutions designed to put productivity-boosting management tools within reach for SMBs.
Empowering SMBs and MSPs to Consolidate Remote Connections
The Devolutions team, currently made up of more than 100 employees, has grown rapidly since its founding 10 years ago — and the company shows no signs of slowing down anytime soon. In fact, in anticipation of further growth, the company recently built an extension to its previous office that doubles the space available for employees.
Max told us the company has formed strong relationships with its customers and long-time partners. About half of the customer base at Devolutions consists of MSPs, with SMBs constituting much of the remaining half.
Devolutions' objective in serving these customers is simple: to help them secure and manage access to accounts by offering effective technology at affordable price points. Max said the company strives to meet that challenge daily.
"Those in the SMB market often don't have the same resources in terms of money or time as you would find in larger organizations," Max said. "They have to look at costs first. But even if the price is right, they often won't have the time to deploy these solutions."
To that end, Devolutions has carefully designed software solutions such as RDM for ease of use. In addition, the customer service team strives to offer the best user experience possible, with 24/7 support and knowledgeable advice from the 5,000 active members on the Devolutions Forum.
"The ability to form long-term partnerships is ingrained in our DNA at Devolutions, and we work on a daily basis to achieve that goal," Max said.
A Simple, Security-First Approach to Boosting Productivity
Max told us that customers using RDM reap a number of significant benefits, with productivity and security at the top of the list. In terms of productivity, he said the software simplifies the process greatly.
"You don't need to look around for passwords, you don't need to open up Excel sheets to gather credentials — everything is in one place and organized in a simple, neat way," he said.
At the same time, Max said the industry is experiencing an upward trend in security awareness on the part of consumers. "We see a lot of demand coming from SMBs," he said. "They're looking for solutions to better manage the security around their permissions and passwords."
That's why Devolutions designed RDM with security firmly in mind. In addition to making it easier to view and manage remote connections and protocols, the software has features that ensure the network, including passwords and credentials, is secure.
With RDM's unified password and data storage, for example, IT professionals can access the information they need in one centralized solution while keeping remote sessions secure. The software also facilitates easy integration with other password managers, such as KeePass, so that IT can access usernames and passwords stored with third-party tools.
RDM also secures, organizes, and stores sensitive data in one system that controls permissions and user rights with role-based access control. Max said such features are essential as IT teams become increasingly aware of insider threats.
"We provide solutions that help users protect their own environment," he said. "When you launch your connection, for example, the end user doesn't have access to any privileged passwords. So if an employee leaves or gets fired, he never had inside information concerning the organization's credentials."
A Full Product Suite of IT Management Solutions from Devolutions
In addition to RDM, Devolutions provides several other access management solutions designed for IT pros in the SMB market.
Password Hub, for example, is a cloud-based password manager that empowers teams to securely store and manage user passwords and other sensitive information. The software combines enterprise-grade password management with a user-friendly web interface, resulting in an optimal user experience.
The Devolutions Password Server, an on-premises privileged account management platform, enforces password management best practices to enhance security while eliminating the need for manual tracking. It can be used in conjunction with RDM to provide a single pane of glass from which users can control access to privileged accounts and manage remote sessions.
Wayk Now, on the other hand, is an intuitive, lightweight remote desktop access solution that cuts implementation time while ensuring compliance with the latest security standards. When used with RDM, Wayk Now creates a single platform for all remote sessions that facilitate simplified management, increased scalability, and efficiency.
"We see Wayk Now, our proprietary remote access and support technology, as an alternative to LogMeIn or TeamViewer," Max said.
Democratizing Access Management Solutions for Smaller Companies
Moving forward, Devolutions' primary goal is to provide privileged access management solutions that securely store data, leverage role-based access controls to delegate actions, and provide monitoring and reporting for compliance requirements and audits.
These solutions are easily within reach for large enterprises, but SMBs often find them difficult to implement, highly complex, and financially restrictive. After working with SMBs for a decade, Devolutions understands the challenges they face.
"What we want to do here at Devolutions is democratize these solutions by finding an easy, secure way to deploy them at a more affordable price point," Max said. "That's our niche. That's where we're at right now. And we will continue to offer simplified solutions to SMBs worldwide."